With coronavirus concerns dominating not just the news cycle but also people's thoughts, you probably forgot that we're nearly in April, and Easter is just a few days away. This year, Easter falls on April 12th, which means that it's about two weeks away. Depending on where you are, where your family is, or your health and the health of your loved ones, you may not be able to celebrate the holiday all together. With the novel coronavirus still keeping most of us quarantined at home or in social isolation, it's becoming apparent that the likelihood of being able to celebrate as family or community is low.
But that doesn't mean that you can't show your family and other loved ones that you're thinking about them this Easter holiday. In comes Harry & David: our top pick for the best gift baskets has a great deal on their wares - get 10% off the purchase of gift baskets, 15% off two, and 20% off three.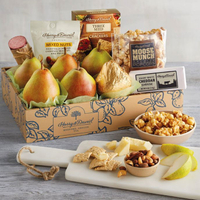 In our Harry & David review, we loved our gift basket and deemed it the best overall option with quality food and snacks that would delight anyone on any occasion. Pick a more family-friendly option with chocolate to delight children, or opt for a classic wine and cheese gift basket for adults to savor. There are a ton of options to choose from, so much so that you may want to order one for yourself. But hurry - today is the last day to take advantage of this deal, and order in time so your gift basket arrives on the right day.
Comfort during the coronavirus
If you're not keen on sending a gift basket, Harry & David has a wonderful selection of ready-to-eat food that you can send to friends and loved ones not just to show you care, but to also ensure that older and more at-risk individuals don't have to risk their health to get food or groceries. Choose from monthly fruit deliveries, meat and cheese platters, pre-made meals like chicken pot pie, and more.
Still not for you? Opt for one of the best flower delivery online services to brighten anyone's day with a beautiful bouquet, or send one of the best photo cards to make a loved one smile.