Image 1 of 4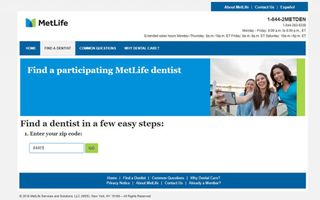 Image 2 of 4
Image 3 of 4
Image 4 of 4
With dental insurance, coverage may not kick in until you've been with a provider for a specific amount of time. For example, fillings may not be covered for three to six months after you start a plan, and major care, like root canals and orthodontia, may not be covered for an entire year. This means you're looking at buying a plan for years to come.
If you have a family, you want an affordable plan from a financially stable company. And this is why MetLife Dental is our pick for best provider for families. It offers the second most affordable comprehensive coverage plan for families. Additionally, because it's among the biggest insurance providers in the world, you know it's not going to go out of business before your major care benefits kick in.
For this review, I got quotes for individuals, couples and families of four. And since available plans and premiums vary by region, I got quotes in each region of the U.S. With MetLife Dental, the average premiums for comprehensive coverage for individuals and couples were good but not elite. However, the premium for families averaged just $124.25 per month. The average premium for similar coverage by other providers is $177.79 per month. Some, like Spirit Dental, cost as much as $277.19 per month for a family of four. So, the savings are significant.
By comparison, only Physicians Mutual had a better average premium, at $118.12 per month for a family of four. That said, MetLife Dental's PPO-High plan is likely better because it pays the dentists directly rather than reimbursing you. In addition, if you choose an in-network dentist, you save between 30 and 45 percent on procedures, as they have pre-negotiated fees with MetLife.
The coverage differences between the PPO-High and the PPO-Medium is primarily just in the annual maximum and the deductibles. You might pay less per month on the mid-tier plan, but you have a higher deductible and a lower annual maximum. For example, PPO-High pays up to $2,000 per person each year and covers 50 percent of orthodontics with a deductible of $25 while the PPO-Medium has a $1,500 maximum and a deductible of $50. And it only costs about $5 less per month, making the premium plan of greater value.
The basic plan, PPO-Low, was the most affordable plan in the Rocky Mountains and the South, but was consistently around $35 per month for individuals in other regions. However, it differs from most basic coverage plans in that it covers a lot more than preventive care and basic restorative procedures. In fact, it covers 100 percent of preventive care (as do all of the MetLife plans), and it comes with a $1,000 annual maximum (per person) for all other procedures. In addition, the plan pays 70 percent of basic restorative care, like fillings and 50 percent of major procedures, like root canals and crowns. However, it doesn't cover orthodontics.
So, while the basic plan is more expensive on average, at about $32.25 per person each month, it covers a lot more than most basic coverage plans. This makes it ideal for people who have good oral hygiene but want additional coverage just in case.