eTutorWorld comes with great reviews and credentials, so it's definitely worth considering if you're currently looking for a new tutoring service. It offers 24/7 online tutoring to all children in K-12 and has a robust framework of learning and development.
At a glance
Grades: K-12
Price: $24 for a one-off session
Subjects: Math, English, Science
Programs: SSAT, SAT, ACT, PSAT, NMSQT, AP exams and placement tests.
Times available: 24/7 (at tutor's discretion)
Founded in 2008, the company has solid learning foundations but has also kept abreast of the changing educational landscape. There is a lot of information on the eTutorWorld website, which can be a little overwhelming, but it does mean that you can find answers to any questions you have somewhere on the platform.
Like many other digital tutoring companies, the site has multiple tools available to help students with their learning, including interactive white board features and after-session worksheets. What really sets this platform apart, though, is its focus on personalized learning.
We think this is an excellent option for young children, because of the gentle and individualized approach to education. The platform also ranks highly in our round-up of the best online tutoring services available in 2022.
eTutorWorld review: Personalised learning
The focus at eTutorworld is very much on support and care. The website speaks of the importance of raising confidence as well as grades, and also states that the company's aim is to help children be the best individuals they can. All of this suggests a holistic and well-rounded approach to development that goes beyond the exam room.
'Personalized' is definitely the brand word of choice, alongside phrases such as 'compassion' and 'encouragement'. The company wants to make tutoring empowering and impactful, at the same time as encouraging children to enjoy learning. In fact, every session starts with a simple question: 'what do you want to learn today?' Putting the child at the centre is key.
Although there is obviously a set curriculum to meet US test standards, children are encouraged to work at their own pace and ask questions, making sure that everything is understood and the child feels comfortable before moving on to the next step. As well as being age and grade appropriate, the lessons are designed to be appropriate for the individual.
eTutorWorld review: Learning tools
As with other companies, like TutorMe and Wyzant, the sessions take place via a dedicated web platform. But this goes beyond your standard Zoom call. With a calendar function, downloadable worksheets, an interactive shared whiteboard, documents and an assessment toolkit, lessons have plenty of features to keep children engaged and on the right track.
Sessions are also recorded for longevity and are available for reference for a period of 30 days. The scheduling function makes it easy to see what's coming up in your child's calendar (you can schedule lessons six weeks in advance, or on the same day if you need immediate help). You can also get a completely free trial session, to see if the platform suits your learning needs, and there's a 30 day money back guarantee in case of dissatisfaction.
Working online means that the tutoring is available to young people around the world, but the company is primarily focused on the US. Specifically, the site offers sessions for K-12 student, focusing on the Math, English and Science curriculum. Tutors are available to help students get up to speed on SSAT, SAT, ACT, PSAT, NMSQT and AP exams, as well as Accuplacer, HSPT, STAR-TASK, Math Olympiad and TJ tests.
eTutorWorld: Tutors and team
The founders bring a wealth and breadth of expertise from across education, coaching, marketing, HR and IT – collectively, the leadership team has over 100 years experience in the field.
It seems that each tutor is very rigorously selected, through many meetings and interviews. Employees must not only be well educated, but on board with eTutorWorld's ethos and mission. Full compliance with Children's Online Privacy Protection Act is something the company is very proud of.
All tutors are graduates with subject specific expertise. They have at least 400 hours of tutoring experience – and crucially are deemed to be patient and friendly. eTutorWorld trains them for two weeks, but over 90% of the tutors have more than five years of experience in teaching.
However, it's not clear how young people or tutors are matched together. It's done internally by eTutorWorld, but they haven't really explained how. Unlike other platforms like Wyzant there doesn't seem to be a 'marketplace approach.' While this might mean each tutor is assigned based on expertise, some people may prefer to select their own tutor.
At the start of every tutoring relationship there is a free diagnostic test to evaluate a child's skills. The curriculum is then personalized to meet their academic requirements. The one-to-one live and interactive sessions enable better learning, and curated tests and worksheets for homework help cement the skills learned in sessions. At the end of each course the child gets a certificate of completion.
eTutorWorld review: Cost and ratings
A one-off lesson on the platform costs $24, but bulk buying sessions can save you money. For example, if you buy 10 lessons, this will cost you $219, which works out as $21.90 per session. The company also offers free trials which include a 30 minute session, access to 500+ free practice questions and the option to contact academic counsellors.
The platform has 4.6 out of 5 on TrustSpot - a good score for anyone. There are plenty of testimonials on the site, with the focus on tutors being called 'mentors' a key selling point for some. There is also some feedback from users saying that it was difficult to cancel courses once they started.
Should I use eTutorWorld?
In short, yes if you want tailored and customized tutoring within a comprehensive system of onboarding, support and information. By focusing on individualised learning that offers flexibility, this platform offers a more personal approach that sets it apart from others in the marketplace.
If you want to pick your tutor based upon prices, it might not be for you. But the benefits far outweigh any costs. And as every tutor is vetted and has masses of experience, you know that you are getting good quality teaching.
With a mix of learning programs, customized packages, online tutoring, online tests, free worksheets and test prep, it offers a broad range of support that is geared towards to not only attainment but passion for learning.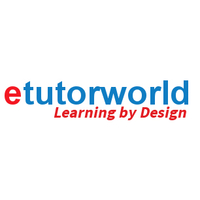 Get a free trial on eTutorWorld
With individualise lesson plans and carefully vetted tutors, this platform provides excellent tutoring services for all K-12 students. You can currently get a completely free 30 minute trial.