If you'd hadn't heard of a bidet until several months ago, don't worry, you're not alone. Until toilet paper started flying off the shelves earlier this year, and folks started panicking about how they were going to handle the delicate matter of personal hygiene, bidets weren't on the radar for many. But here we are, in a year when all bets are off and bidets are officially a thing. So much of a thing, in fact, that Amazon is having a bidet sale.
Yes, while we used to spend past Amazon Prime Day sales feverishly snapping up KitchenAid deals or buying a new-fangled electric toothbrush to tackle our plaque, this year we're all about the bidet. And when it comes to bidet sales, Amazon has served up an unmissable treat with 59% off the BioBidet Bliss smart toilet, plus discounts on bidet seats and accessories.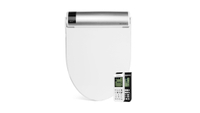 BioBidet Bliss BB2000 | Was $1,499.99 | Now $627.22
This smart bidet comes with a comfort-adjustable heated seat and on-demand water heating, one of the quickest water heating methods. The 3-in-1 stainless steel nozzle offers posterior, feminine and vortex washes, while an energy-save mode reduces electricity use. Oh, and it has a night light for twilight bathroom trips, and you can control all the bidet action via wireless remote.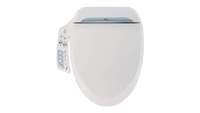 BioBidet BB600 Ultimate Advanced Bidet Toilet Seat | Was $799.00 | Now $329 at Amazon
This mid-range bidet with various wash modes is perfect for the whole family. With a dual nozzle that offers posterior and feminine washes, anti-bacterial front and rear warm water cleansing, and pulsating massage tech with bubble infusion, this is a luxury bidet at an affordable price. Thanks to the tank-type water reservoir, you get a steady stream of warm water without any cold shocks.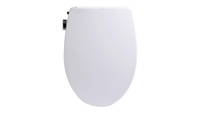 BioBidet SlimZero Non-Electric Bidet Seat | Was $129.00 | Now $112.94 at Amazon
Constructed with materials that are built to last, this bidet seat uses solid brass fittings for durability. The dual nozzle offers the option of robust or gentle cleansing and is accessed via a convenient side lever. Its compact design and oval-shaped lid make it look more like a standard toilet seat than a bidet, which makes it a discrete choice. There's also a nightlight for middle of the night bathroom trips.
Well, there you have it, you now know more about bidets than you probably ever imagined you'd want or need to know. So the question is, have we converted you? With prices slashed to over half on some bidets on Amazon, these last few hours of the Prime Day sale are the best time to shop.
Other Prime Day home sales to discover
Not ready to quit your sales shopping just yet? We can help there, as we've been scouring the sales of various retailers to bring you bargains on a variety of home buys. These are some of the best sales to shop right now for home and garden goodies...