Valentine's Day has come and gone, and if you forgot to buy flowers for that special someone, you're in luck. Here's a deal from 1-800-Flowers.com that you'll love: save 22% on bestselling flowers and gifts with code VDAYSAVE when you have them delivered 2/15 and 2/16! With savings like this, your loved one can't be too mad that you missed sending them flowers on Valentine's Day!
Choose from lovely Valentine's Day roses or something a little more unique, and you're sure to wow your Valentine with your choice - check out our 1-800-Flowers review and you'll see that you really can't go wrong with our best overall choice of the best flower delivery online. With a varied selection of flowers and plants that you can buy at fair and often very affordable prices, this 22% discount should be more than enough to persuade you to go big or go home. Is your loved one quite mad that you forgot about sending Valentine's Day flowers? Say you're sorry with some quality gifts, also available on the 1-800-Flowers website. Choose from chocolate, snacks, and more - with so much to pick from, you'll want to order something for yourself, too.
Need some inspiration? We loved the Always On My Mind Flower Bouquet and the Pink Petal Roses. But don't be afraid to get creative an opt for a bouquet like the Exotic Breeze Orchids or the Be Mine Pink and Gold Roses. With so many options, there's bound to be a little something for everyone.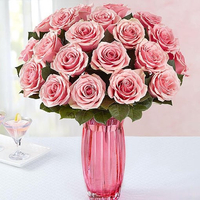 Save 22% on Valentine's Day flowers at 1-800-Flowers.com
If you forgot to send your Valentine flowers this year, don't fret: 1-800-Flowers has a fantastic deal for you. If you have your flowers delivered on 2/15 or 2/16, you can save 22% on your order with code VDAYSAVE at checkout.
Is your Valentine not sweet on flowers? Don't worry - check out our list of best gift baskets to send a delectable treat to your loved one. Want to keep it simple? Read our rundown of the best photo cards for a more personalized gift - pick your favorite photo of the both of you and make a beautiful card that will never be forgotten.