If you're in the market for a new refrigerator then look no further than Home Depot this 4th of July, with discounts on a range of appliances including Samsung's groundbreaking Family Hub. Right now you could bag the 27.7 cubic feet refrigerator for your kitchen for just $3,418 from Home Depot, down from $3,799 - a saving of $381.
Though it's expensive, the Samsung Family Hub packs in a lot of functions for its price, with a touchscreen stretching across the door of the refrigerator that can stream music and TV, share pictures and so much more.
The Samsung Family Hub has plenty of standard features that you'd expect for this price; it's fitted with a water and ice dispenser, an Energy Star certification, and a fingerprint-resistant exterior. There's no denying this is one expensive purchase, but if you're looking for an appliance to transform your kitchen, there's no doubt it should be this one and that 10% saving is one of the biggest discounts we've seen on it for a while.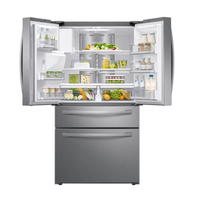 Samsung Family Hub Refrigerator Stainless Steel: was $3,799, now $3,418 at Home Depot
With this Samsung refrigerator, your days of disorganization will be long gone, with the chance to effortlessly sync all your home devices to the central hub of your home. Stream TV, answer your Ring doorbell and so much more, with this now discounted, and highly rated appliance which has more than enough space for all your groceries.
You also cash in on all the benefits of the best French door refrigerators with the Samsung Family Hub, including plenty of easy to organize space. That's built upon by features like the Flex Control drawer, a pull-out space where you can control the temperature from four available settings, and toggle your divider to sit exactly where you want.
Aside from space, the crowning feature of this refrigerator is its Family Hub capabilities, which can truly give you Smart Home status. With Wi-Fi connection and a whole store of apps to choose from, you can now dim the lights or speak to someone at your front door with your refrigerator, after hooking it up to your other smart appliances. To top it off, our favorite trick is the three inbuilt cameras inside your refrigerator which can be used to write your grocery list, so that you'll never waste what you have in there again.
The Samsung Family Hub 27.7 cubic feet side-by-side refrigerator has an impressive 4.7 out of five-star rating on the Home Depot website, with 95% of customers saying they would recommend their purchase. Reviewers were quick to comment on both the practical aspects of the refrigerator, including the ample space and bright LED lights throughout, alongside the standout smart features.
Many customers loved being able to check their fridge from the grocery store, get up recipes on the touchscreen, and leave notes to their family members if they were out of the house. This refrigerator is certainly an all-rounder, and now at an even better price with 10% off.
If you want to check out the other range of kitchen appliances available, why not check out our guide to the best side-by-side refrigerators or the best freezers, for even more space.