The latest phones are always expensive, but right now you can get a free Samsung Galaxy S21 Plus - which doesn't even deliver until January 29 - when you switch over to Verizon Wireless. This latest Verizon smartphone deal will get you Samsung's latest 5G phone for free, and a Premium Unlimited contract that lasts either 24 months or 30 months, depending on what price you want to pay. If you're looking to spread the cost of the contract, you pay $33.33p/m for 30 months, or you can get 24 months at $41.66p/m. Both prices work out at the same total cost. What you're getting here is $250 for switching your line, and a $750 credit on your old phone, which covers the $1000 cost of the Samsung Galaxy S21.
We rate Verizon as the best cell phone provider this year, and it has superb speeds across both its 4G LTE network and 5G network. While it isn't quite the fastest for 5G in terms of total national coverage, it does offer some of the best speeds in larger urban areas, so if you live in a city then this deal essentially pairs one of the best smartphones right now with the quickest network. It's that simple.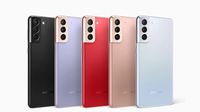 Samsung Galaxy S21 Plus FREE on Verizon
You're getting a $999 value phone for nothing here. But this only applies to new lines, when you switch to Verizon, and you do need to trade in a qualifying handset. If you can manage it, though, it's a superb deal.
If you're interested in this Verizon deal, there are a handful of things to note (before you sign up). This deal is only available on the Samsung Galaxy S21 Plus, which is the larger handset of the regular S21 range. It's also for the 128GB model, and not the handset with 256GB storage. For most, this won't be a huge problem, especially as the Galaxy range has long supported microSD cards for expanding the amount of stuff you can store. You'll need to take out a new line with Verizon, and a fresh contract, but that's to be expected. Verizon doesn't have all the colors, but you can choose from Phantom Black, Phantom Silver, and Phantom Violet.
The kicker is that you'll need an eligible handset to trade-in against the cost of the phone when you switch to a Verizon line, and this means that many older phones simply won't qualify. We've put together a list of all the phones that you can trade-in to get this deal, and you can see it below.
All new Apple iPhones through to (and including) iPhone 8
All new Samsung Galaxy phones through to (and including) Galaxy 8 Plus
Google Pixel 5 through to 3
OnePlus 8 Pro through to 7 Pro
Motorola Edge, Razr, Edge+, One
LG Velvet, Wing, V60, V50, G8 series
The Samsung Galaxy S21 is one of the hottest phones of 2021 and, while not a huge improvement over the S20 series, it makes some smart improvements in areas that make a real difference. The battery has been enhanced on this model, making it even more efficient than last year's model, and Samsung is claiming up to 28 hours of usage time, and 12 days of standby. The camera software has been enhanced to make the most of the powerful lenses already in the device, and you're also getting an enhanced fingerprint sensor and a better range of colors.
If you already own the Samsung Galaxy S20 Plus, well, we can't wholeheartedly recommend the upgrade, unless you're really struggling with the battery. For anyone a couple of generations behind, or looking to switch from Apple, this is absolutely the best phone to get (we'd even suggest that the absolute premium model - the S21 Ultra - is overkill for most people).
Anything else? Well, you'll also get 50% off Verizon accessories, if you need any extras for the phone, but aside from that, well, isn't a free Galaxy S21 Plus enough?