Pitbull shavers are the first port of call for people looking to maintain a smooth, bald head look with minimal fuss. The Pitbull Skull Shaver Gold Pro is one of the most popular models in the range and it's currently on sale for $99.99 (was $139.99) at Walmart. Pitbull makes the best electric head shavers bar none, and because they're so easy to use, they're especially good for beginner users.
There are a few Pitbull shavers to pick from, with the water-resistant Skull Shaver Gold Pro sitting just behind the flagship model, the Platinum Pro. The Gold Pro is built for shaving bald heads, but it can also handle facial hair, making it a versatile grooming tool if you don't own one of the best electric razors for tackling face fuzz. It's younger sibling, the Silver Pro, is also on sale at Walmart for $89.99 (was $109.99).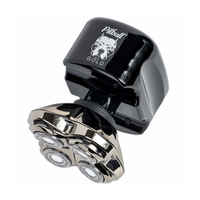 Pitbull Skull Shaver Gold Pro | Was $139.99 | Now $99.99
Use it wet or dry, on your head or your face. The USB-rechargeable Gold Pro is a durable, travel-friendly bald head shaver with an easy-grip design for speedy shaving, plus multi-directional rotary heads to glide over (not drag) your skin.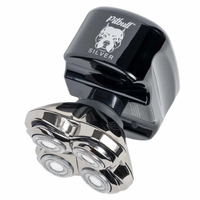 Pitbull Skull Shaver Silver Pro | Was $109.99 | Now $89.99
The younger (and cheaper) sibling to the Gold Pro, the Silver Pro has a shorter runtime of 60 minutes per charge, and has a less powerful 600mAh battery, but it's a great step into the world of sleek Pitbull shavers.
The Pitbull Skull Shaver Gold Pro dishes out roughly 90 minutes of cordless use per charge, with a battery indicator on the LCD display showing you how much charge is left. The Gold Pro also features multi-directional rotary heads that contour closely to your skin, with Japanese Stainless Steel Pro blades for a closer shave. The removable blades also double as a retainer for shavings so that they don't drop everywhere.
As mentioned earlier, you can fire up the Gold Pro in the shower or bath to tackle regrowth as part of your daily grooming routine. While it can be used on dry skin, we'd recommend lathering up first if you have sensitive skin - all Pitbull shavers are safe to use with shaving foam.
The Skull Shaver Silver Pro has a less powerful battery at 600mAh compared to the Gold Pro's 1,400mAh, and it doesn't have a fancy LED display either. The blades are also different, with the Silver Pro sporting cheaper Carver Pro Blades, but it's still a solid bald head shaver for beginners up. Both models come with a one-year warranty.
Going bald is a big step, so if you're thinking of shaving your head, make sure you've thought it through properly beforehand. If you're confident in your decision yet you have hair right now, you'll need to cut it first. If it's long, cut it with hairdressing scissors before firing up one of the best hair clippers to shave it down to the lowest grade. Then you can draft in a Pitbull or similar to create a smooth bald finish.
Ready for more grooming content? We'd recommend our guide to the best hair dryers for all hair types, as well as the best teeth whiteners and electric toothbrushes for a bright and healthy smile.