From now until February 12, you can get 33% off Audible Premium Plus audiobook subscriptions, if you're new to the service. Audible has the largest number of audiobooks of any provider, and you can sign up to the Premium version of the service for $9.95 per month, for the first six months. This differs from the regular membership, as you get additional access to thousands of Amazon Original audiobooks, guided wellness programs, and podcasts.
We rate Audible as the best audiobook service overall, thanks to the library of over 200,000+ audiobooks, and the good value of the subscription itself. For the price you pay (currently the deal is $9.95) you get one credit per month, to spend on ANY audiobook on Audible, and you have access to a vast range of podcasts and free books and articles. Most audiobooks cost between $25-35 each, so that's great value, and even if you leave Audible at any time, you get to keep every book you've downloaded forever.
When you're a new customer at Audible you automatically get a free audiobook, just for signing up, and even if you cancel within 30-days, you get to keep that book. So it's well worth a try.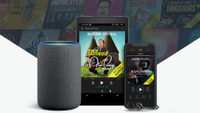 This represents a change in the Audible subscription options, and if you're an existing subscriber, it's quite confusing to digest. Whereas before you could get all the benefits of Premium Plus as part of your regular subscription, you now have the option to pay less and, er, not actually get any audiobooks. Premium Plus costs the same as the previous membership, $14.95 per month, and if you're already signed up, this is what you still get. However, the lower priced, regular 'Plus' service gets you access to all the podcasts and guided meditations for $7.95 per month. However, you don't get any audiobook credits here, and you don't get access to any of the sales events, which can get you new listens for more than 30% less.
We like Audible as a service because of its huge library, but also because the app is really user-friendly, and it connects easily to Amazon devices like Echo Dots, allowing the whole household to listen to whatever audiobook you choose to download. While Audible isn't the same proposition as something like Netflix, which lets you stream as much as you like, it does still offer good value as most digital books run to 10+ hours of listening. What's more, you can actually exchange a book within 14 days of purchasing it, if you don't like it (and haven't listened beyond a certain percentage of its total running time).
This offer on Premium Plus only runs until February 12, and after that time the price will be $14.95 per month for new customers. If you're an existing customer, well, too bad - you still pay the same and don't get access to the 33% discount, which doesn't quite sit right with us.