Rosetta Stone is one of the best-known language learning programs in the world, offering users the chance to master up to 24 different languages. You can currently grab the year-long version of the unlimited languages package for just $95.88 instead of $179, which means you'll be saving over $80 if you buy it before the end of March.
The program is, quite rightly, recognized as one of the best language-learning programs for digital learners. When we tested it out, it immediately topped our list of the best ways to learn Spanish online and we think it's one of the best ways that you can learn French online too.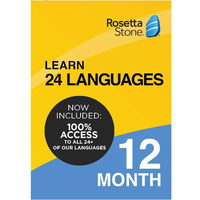 12 months unlimited languages package | Was $179 | Now $95.88
Here's your chance to save over $80 on this 12-month package, which grants you access to all 24 languages currently available on the Rosetta Stone syllabus.
One of our favorite things about Rosetta Stone is that it completely immerses users in the language they want to learn, stripping away all English instructions so that you can't navigate the platform in your mother tongue. This forces you to absorb the language in new ways and is especially useful if you're learning a language outside the English alphabet.
There are options to help you get to grips with new symbols in languages like Russian or Japanese if you're feeling overwhelmed. But in general we found that the user interface is so intuitive that you'll be able to navigate it without any problem, even if it's presented in another language.
Most Rosetta Stone courses are best-suited for beginners, as they start with very basic lessons before sessions move on to slightly more complex constructions. A lot of the lessons are presented in a kind of flashcard style, prompting you to name items, but you'll also be able to tackle quizzes, tests and games throughout the program.
The courses have a comprehensive progress tracker, which shows you how well you're advancing in different areas such as pronunciation and spelling. We found this tool incredibly helpful, as it shows you the areas where you most need to improve.
The platform regularly offers discounts on some of its more popular programs, so this isn't the first time we've spotted this particular deal. However, it doesn't frequently go below the $95.88 amount, so if you're serious about language-learning now is a great time to take advantage of this discount.