If teaching yourself a new language is on your list of things to do, there's no better time to get started than now, with Rosetta Stone on sale now in this early Black Friday 2020 deal. Make your move, and you can save 50% on a 12 month subscription to the Rosetta Stone Learn Unlimited Languages package at Dell, taking the price down to just $89.
This 12-month package is perfect if you're undecided over which particular language you'd like to learn, because the subscription means that you've got direct access to each of the 24 languages that Rosetta Stone covers for an entire year. Italian, German, Arabic, Chinese, Japanese and Hindi are just some of the languages on offer. The choice is up to you, but as Rosetta Stone features at the very top of our guides to the best learn Spanish online courses and the best learn French software, you can be assured that whichever dialect you choose to pursue, you'll probably be using the best online language software that there is.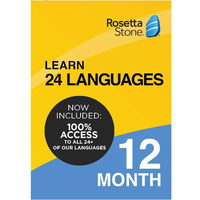 Rosetta Stone Unlimited Languages 12 month subscription: $179 now $89 at Dell
Save 50% on Rosetta Stone Unlimited Languages and have the chance to learn 24 different languages. Now just $89 at Dell, you'll have access to this learning software for a whole year in which you can find the perfect language for you to learn and then do it. State of the art online learning is supplemented by real life coaching when you need it.
Of course, if you're a quick learner, then a year might be long enough for you to get fully up to speed with your chosen language too. If not, then maybe unlimited access to the 24 language Rosetta Stone package would be better suited to you. While not as money saving as the 12-month discount, you can still save $10 off the Rosetta Stone Unlimited Languages Lifetime Subscription at Dell too, making it available for $289.
In terms of how you're taught, Rosetta Stone uses what it calls the Dynamic Immersion approach to teaching languages - this means you'll effectively learn in a similar fashion to how you learnt growing up, so predominantly by context and interacting in how you speak, hear, see, read and write. And you'll be schooled in the art of pronunciation by both the TruAccent speech recognition engine and through real person coaching support as well.
In order to give you the maximum opportunity to learn, Rosetta Stone and its learning materials can be accessed through all types of device too. So, if you want the best chance of succeeding in your learning journey, it's probably worth keeping an eye on all the Black Friday computer deals and Black Friday cell plan deals too. Some of the best laptops, best smartphones and best tablets are all being discounted among the best Black Friday USA deals as well.
More great Rosetta Stone deals