Wondering where the best place to buy TurboTax is now that the tax season is underway? Well, you need look no further than the Best Buy Presidents' Day sale, where you can save $15 on TurboTax Premier 2020, making it $74.99 for a short period of time. Or if your tax filing needs are more straightforward, TurboTax Deluxe 2020 is currently available for $10 less than usual at $49.99.
Few people relish the task of filing their taxes, but these deals mean you can save money on software that will make the job a whole lot easier. What's more, with TurboTax coming out on top in our shortlist of the best tax software, you know you're getting access to a package that you can trust.
Both the Premier and Deluxe editions will search over 350 deductions and credits to make sure you get the maximum refund possible, and include the options to deduct mortgage interest and property tax. The ability to automatically import W-2s and mortgage and investment information (from participating companies) will save you time, while these packages include everything you'll need to file your state taxes too, so you can tidy everything up in one go. The Premier edition costs more because it comes with extra functions on top to assist those with investments and rental property meet their filing requirements.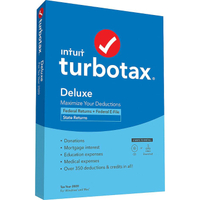 TurboTax Deluxe Edition: was $59.99 now $49.99 at Best Buy
Save yourself $10 on tax software that we rate as the best. It checks over 350 deductions to make sure you get the biggest refund possible, and saves time by taking information directly from your W-2. The Deluxe Edition is perfect for most tax-filing needs, and with this package, state returns are included too.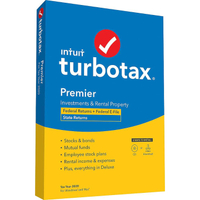 TurboTax Premier Edition: was $89.99 now $74.99 at Best Buy
If you have investments or rental property, the Premier Edition is for you. With $15 off right now, this software has everything from the Deluxe edition, but with extra features to take care of filing requirements surrounding stocks and bonds, mutual funds, rental income and expenses, and more.
If your needs are slightly different again, Best Buy is discounting a number of other TurboTax editions too, including Home & Business 2020. This one's designed specifically for the self-employed, small businesses, independent contractors, and freelancers, and is available with a saving of $15, at $84.99.
Whichever package you take, you'll receive all the guidance required to file quickly and accurately, with coaches and double-checks on hand every step of the way to make sure that there are no mistakes. Once you're finished, the encryption technology common to all TurboTax software will ensure your tax data isn't compromised when you e-file the completed return to the IRS and state agencies.
If these packages don't quite meet your needs, you should check out all of the Best Buy tax software Presidents' Day deals to find one that suits you - if TurboTax doesn't have a solution, H&R Block probably will, and is enjoying some excellent discounts too. However, with the sale coming to an end on February 15, you'll need to move fast.
And if you're in the mindset of sorting your finances, take a look at our guide to the best personal finance software, which includes everything you'll need to better manage your money going forward.