For more Citizens Bank informationView Deal
Image 1 of 11
Image 2 of 11
Image 3 of 11
Image 4 of 11
Image 5 of 11
Image 6 of 11
Image 7 of 11
Image 8 of 11
Image 9 of 11
Image 10 of 11
Image 11 of 11
As one of the largest banks in the country, Citizens Bank is one of the few private student loan providers in our review that has physical locations. While nothing about the private student loans provided by Citizens Bank stands out as extraordinary, this bank gives students options for loan consolidation, variable and fixed interest rates and a generous 0.50% rate discount. Because of these solid student loan options.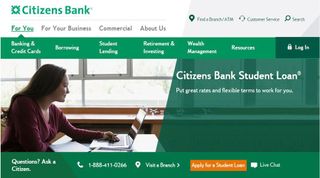 While Citizens Bank offers one of the lower loan limits for its private student loans, $120,000 can fund almost any education, especially if you maximize federal student loan options before taking out a private loan. Sallie Mae and LendKey have higher limits. Citizens Bank requires that you borrow at least $1,000 if you're going to take out a student loan.
This company offers the ability to consolidate both federal and private loans, a service many lenders don't provide. This can be helpful if you have a federal student loan and take out a private student loan as well. After you've graduated, you can consolidate both loans into one payment for easier record keeping and bill management.
Many of the private student loan providers we reviewed only offer a single repayment length with their loans, but Citizens Bank lets you choose between a five-year, a 10-year and a 15-year repayment period. Each of these different periods has different interest rates attached. The five-year repayment plan generally has the lowest interest rates, but that short time frame could be difficult for you to manage.
This lender offers students both fixed and variable rates for its student loans. You can choose whether you want to know exactly how much you'll be paying each month with a fixed rate, or you can get a variable rate and hope that the interest rate doesn't go up.
One negative aspect of Citizens Bank's student loans is the long cosigner release period. While some loan providers in our review offer to release a cosigner after 12 on-time payments, Citizens requires 36 payments before a cosigner can be released.
This bank also offers just an average number of months of forbearance. If you lose your job or run into financial hard times while repaying your loan, Citizens Bank will let you skip paying your monthly loan payments for two months while you get back on your feet. You can take these two month breaks six times throughout the length of the loan for a total of 12 months over the life of the loan.
Like all of the best private student loan providers, this bank gives college graduates six months after graduating before they must start making full payments on the interest and principal of the loan.
Citizens Bank will give you a 0.50% discount on your interest rate if you sign up for a checking account and schedule an automatic loan payment out of that account. This rate reduction matches the highest rate reduction that we saw in our reviews and is worth the extra time and hassle it might take to set up the account and schedule the automatic payment.
You can use the loan calculator on the Citizens Bank website to see how much your student loan services will actually cost you in the long run. You can change the type and amount of the loan and even toggle through the different repayment options that the lender offers to see how much you will be paying each month and over the life of the loan.
This is one of the best student loan providers in our review because it offers multiple ways to receive help with its loans. If you have questions you can call, email or chat online with a customer service representative to get help with your account.
Like many of the student loan providers we reviewed, Citizens Bank contracts out its student loans to be serviced by a different company. This means that you may have to call someone outside of Citizens Bank for specific help with your loan. Fortunately, the customer service agents were very helpful in giving out the servicer's phone number.
In our live chat testing, this bank responded and answered our test questions in approximately three minutes. This matched the best response times we found from other student loan providers. In our email response tests, however, Citizens Bank took well over a full day to respond. If you have questions, it's much better to call or chat with a service rep.
Citizens Bank is the most well-rounded of all the private student loan providers that we tested because of its multiple repayment lengths, high max rate reduction offer and great customer service options. While you should be careful and diligent in researching private student loans, Citizens Bank offers loan consolidation, fixed and variable rates and up to 12 months of forbearance if you fall on hard times financially and can't afford to pay back your student loan. These features make this the best private student loan provider in our reviews.
For more Citizens Bank informationView Deal