College Ave Student Loans was founded in 2014 and is one of the newest private student loan providers in our review. That doesn't mean it's lacking in any areas, though. College Ave offers loans that will cover 100% of your college costs and four different repayment lengths for its student loans. Our reviewers valued this flexibility and the other solid student loan options.
College Ave will loan you enough to cover 100% of your college attendance. If you need a higher loan amount, Citizen's Bank may be a better option.These loans can be consolidated with federal student loans. This can make it easy for you to schedule payments and understand exactly how much money you owe and how much you are paying toward your student loans each month. Only a handful of the private student loan providers we reviewed offer this ability.
When it comes to repayment lengths, College Ave is the best private student loan provider in our review. The lender states that it was created to help do away with a "one size fits all" attitude in private student lending. It offers four different repayment lengths for its student loans: eight, 10, 12 and 15 years. These different lengths are important because they affect interest rates and the total amount you will be paying on your loan.
Another benefit to College Ave's student loans is the ability to choose between a fixed and a variable interest rate. Being able to choose between the two types of rates lets you make choices about your financial future. Do you want to have a regularly scheduled, predictable loan payment? Then pick a fixed rate loan. If you'd rather pay less in interest now, but potentially pay more in the future, you can pick a variable interest rate.
One downside to College Ave's student loans is the long cosigner release period. If you sign up for your college student loan with a cosigner and later want the cosigner to be released from the loan, you have to make on-time payments for more than half of the loan repayment period before your cosigner can be considered for release. That means that if you sign up for the eight-year loan repayment term, you must make 24 on-time payments.
College Ave offers 12 months of forbearance, which can help you if you lose your job or run into financial difficulty. This forbearance can be used for up to six months before you have to resume making full payments on the loan. Only 12 months of forbearance can be used over the life of the loan, but this is a nice option offered by the best private student loans.
While you're in school, College Ave offers four different options for beginning payments on your loan. Students who can afford to make full payments on their loans can pay the full amount and pay off their loans in the shortest amount of time possible. Another option is to make interest-only payments on the loan while in school. You can also choose to pay only $25 a month toward your loans while in school. Or you can defer payments until after you graduate.
After you graduate, the lender gives you a six-month grace period before you have to begin making full payments on the interest and the principal of your loan. If you pay even the $25 a month while in school, you can significantly decrease the amount of money you pay over the life of your loan.
Like all of the private student loan providers we reviewed, College Ave offers a 0.25% discount if you sign up for automatic payments from a checking or savings account. This can represent significant savings over the life of your loan. However, there are other student loan services which offer better discounts if you also sign up for a checking account – something that College Ave doesn't offer.
This company has a useful student loan calculator on its website that lets you determine how much you will pay for your loan based on the type of interest rate you choose, what payments you make during school and how long you want to take to repay your loan. This tool can help you estimate how much you'll be paying per month and over the life of your loan.
College Ave offers phone, email and chat support. Only four of the nine private student loan providers offered all three ways to get help.
To test the company's help and support services, we sent an email and a chat message asking three questions about its loans. The chat service responded the fastest, taking only three minutes to get answers to our questions. The email service took a little longer, over an hour, but still responded quickly and answered our questions.
College Ave is a private student loan provider that excels because of its flexible loan repayment lengths. You can choose between four different loan terms, something that very few private student loan providers offer. College Ave offers a moderately high loan limit of $150,000 and offers great customer support with some of the fastest response times we found in our reviews. If you're looking to help pay for your college education with a private student loan, College Ave has many features which make it a good option.
Need a better alternative?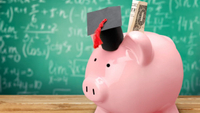 Top Ten Reviews has reviewed the Best Student Loans of 2019 so that we're able to offer you the authoritative buying advice you expect.