Image 1 of 3
Image 2 of 3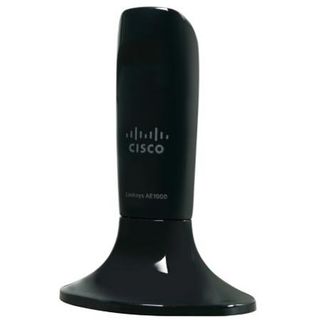 Image 3 of 3
Editor's note: The Cisco Linksys AE2500 is now available. Clicking the Buy button will take you to this version for purchase. We will evaluate, rank and review the [new version] when we next update the Wireless Adapter reviews. Meanwhile, enjoy our review below about the Cisco Linksys AE1000.

Top Ten Reviews Gold Award winner Cisco Linksys AE1000 provides high performance wireless network connectivity for any Windows based desktop or laptop computer. The range and data transfer rate achieved by its Wi-Fi Certified n technology rival that of a wired network without the inconvenience and complexity of being tethered. At home or in an office environment, the device makes network connectivity simple and flexible. At public hot spots like cafés or hotels, making an internet connection is secure and fast. For comparison to other highly rated products in this category, please see our wireless adapters site for objective reviews.
The Linksys AE1000 can operate in either the 2.4GHz or 5GHz frequency ranges that are available using the Wi-Fi n standard. This user-selectable option is ideal for avoiding interference from other devices like cell phones, remote controlled toys or microwave ovens that can be problematic for wireless networks. The 2.4GHz range of channels is ideal for surfing the internet, keeping up with email and other interactions with the network that aren't particularly demanding from a data throughput perspective. This band also means that wireless n devices are backward compatible with older Wi-Fi a, b and g devices, so they don't become obsolete as a result of technological advances.
There are a couple of distinct advantages of opting for the 5GHz band. First, there are far fewer competing devices operating at these extremely high frequencies. Though Wi-Fi's good neighbor standards keep interference in the lower band to a minimum, it's still a crowded neighborhood. Moving on up to the 5GHz realm where few products operate markedly limits the possibility of problems. Perhaps more importantly, more data can be moved in the range making it a natural for the high bandwidth requirements of streaming audio, video and graphics-intensive gaming.
Wi-Fi Multimedia, generally referred to as WMM, is a fundamental technology of the Wi-Fi n standard. It's specifically aimed at improving the user experience for audio, video and voice applications. At its heart, it gives the user the ability to prioritize data traffic in a multitasking environment. It's this functionality that allows for streaming high definition entertainment and making top quality video phone calls over the wireless network connection.
Network and internet security should be a concern for any user. Further, wireless networks have vulnerabilities beyond those of traditional wired connections. Linksys effectively mitigates the risks with a variety of encryption standards beginning with 128-bit WEP, or Wired Equivalent Privacy, protection. This was the original security standard used for Wi-Fi and has numerous widely known weaknesses, and therefore isn't singly adequate protection for sensitive information.
The second level of protection is known as Wi-Fi Protected Access, or WPA. This protocol incorporates the Temporal Key Integrity Protocol (TKIP) to make communications over a Wi-Fi network private. WPA has been upgraded to WPA2 which is the current wireless encryption standard. It incorporates Advanced Encryption Standard (AES) which is used by governments and major enterprises to protect critical information. Tested support for WPA2 is required for a product to be designated as Wi-Fi CERTIFIED.
The AE1000 is compatible with Windows 7, Windows Vista with Service Pack 1 installed, and Windows XP Service Pack 3. It doesn't operate, however, with Mac operating systems. Set up is simply a matter of inserting the installation CD and following the directions in the setup wizard. Though the process is easy to follow, the manufacturer provides a 90-day assisted setup service for any issues that might arise.
The device comes packaged with a handy USB extension cable and mounting base. It's particularly convenient for the semi-permanent installations that one might want to make on a desktop PC. Plugging it into a rear panel USB port and placing the base in an optimal location makes attaching the adapter as easy as it is on a laptop. The base affords the additional benefit of allowing for placement of the adapter in a location that can offer improved radio signals.
Cisco provides customer support via numerous routes including live chat, email and toll-free telephone. The company's web site also features an extensive and very useful FAQ section and a helpful Guide Me option which provides simple, step-by-step assistance for problems and troubleshooting advice. The product is covered by a 1-year hardware limited warranty.
The Cisco Linksys AE1000 wireless adapter offers high speed, wireless data transfer for home and business users. It complies with all current Wi-Fi security standards and is Wi-Fi CERTIFIED. The USB extension cable and mounting base add an element of convenience that is available with very few adapters and further helps radio reception and transmission. Just as Cisco Linksys wireless routers set the standard in that category, this device is hard to beat among wireless adapters.