Samsung robot vacs are the answer to all your cleaning prayers, and today, you can save $250 at Samsung.com. This impressive low price is the best we've seen since Black Friday for models with as many features as this, including smart controls. Up there with some of the best robot vacuums around, the Samsung POWERbot Smart Robot Vaccum is available in two finishes and power suction strengths - Neutral Grey and Satin Titanium, both of which are $250 cheaper today.
Smart-enabled, these Samsung robot vacs have a flat edge design so that they can get up close and personal with the edges of your room. You'll also be able to connect this vacuum to your phone using Samsung's own smart app. Whether you're sitting on the sofa or you're out of the house, you'll be able to get your Samsung robot vac working its way around your home. And if that sounds too strenuous, you can simply use voice command to tell this robot vac what to do, providing you have a smart speaker.
You won't have to worry about the Samsung robot vacs bashing into things either as these clever bits of kit are fitted with Samsung's Visionary Mapping system which includes an on-board camera and highly sensitive sensors that will help this vacuum navigate its way around furniture and other items.
We've included details of Samsung's robot vac savings below.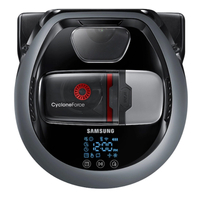 Samsung POWERbot in Neutral Grey: $499 | now $249 at Samsung
With 10W of suction, this powerful bit of kit maps its way around your home cleaning up dirt, dust, allergens, and debris in its path. Fitted with high-tech sensors, this Samsung robot vac will ensure it reaches the whole room, even up to wall edges.
Samsung POWERbot in Satin Titanium: $599 | now $349 at Samsung
If you want serious suction power from a vacuum, this is the one for you. Complete with mapping, scheduling modes, and now under $350, this is a deal not to be missed.
It's not uncommon to stumble across a cheap robot vacuum these days, but often what you'll find is that they don't offer sophisticated mapping and the sensors aren't great at picking up edges of walls or furniture legs. Because of that, you'll likely end up with parts of your home that haven't been cleaned, and a vacuum that bashes into furniture all the time.
With that in mind, these Samsung robot vac deals are particularly impressive, not just because of the hefty $250 discount, but because each of these models is fitted with intelligent sensors and a coverage map will highlight where your vacuum has been. The Samsung POWERbots will also automatically return to their charging bases when they need more power, and that's after using the decent 60-minute battery run time.
Powerful suction also makes the Samsung POWERbots a great choice for pet owners, and when it is time to empty the dust, the filters are also easily removable so that you can simply pop them in the wash.
Only on sale for a limited time, don't miss these discounts while they last.
More great vacuum deals