Demand for mortgages has dived on the back of a surge in interest rates, the latest report from the Mortgage Bankers Association reveals.
Overall application volume fell by 11.9% for the week ending October 18, while refinancing took a 17% hit over the same period.
The downward trend is being attributed to the recent increase in interest rates, which has seen the average for a 30-year fixed-rate mortgage rise to 4.02% from 3.92% the previous week.
However, while even the best mortgage lenders are likely to be affected by the recent market turbulence, homebuyers are still in a strong position.
Brexit to blame?
The Mortgage Bankers Association contends that this fall's interest rate rollercoaster is due to global economic uncertainty and events like Brexit in Europe – the portmanteau referring to the process by which the UK is proposing to leave the European Union in the near future.
"Interest rates continue to be volatile, with Brexit votes and ongoing trade negotiations swinging rates higher or lower on any given day," said Mike Fratantoni, MBA senior vice president and chief economist.
Mr Fratantoni added: "Borrowers with larger loans are the most sensitive to rate changes, and with rates climbing higher last week, the average size of a refinance loan application fell to its lowest level this year."
However, it also notes that total mortgage applications are 6% higher compared to the same week in 2018, while refinance demand is up 93% year-on-year.
Current interest rates, however volatile, are still considerably lower than they were last year – so if you can manage to keep tabs on the ongoing fluctuations, you could bag yourself a great deal.
Best for Low Rates and Fees: Lending Tree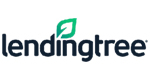 Compare mortgage rates at LendingTree
LendingTree is a marketplace where you invite mortgage & refinance lenders to come to you. It is a great place to start your search, as it has a large selection of lenders that offer competitive rates and terms.