Demand for mortgages has stagnated as interest rates have risen to their highest level in nearly three months.
As reported by the Mortgage Bankers Association (MBA), total mortgage applications were up by just 0.6% for the week ending October 25, while refinancing was down 1% during the same period.
Although still markedly lower than they were this time last year, average contract interest rates for 30-year fixed rate mortgages with conforming loan balances ($484,350 or less) jumped to 4.05% from 4.02%.
Thirty-year fixed rate mortgages backed by the FHA also got pricier, with interest percentages rising from 3.79% to 3.83% last week.
Bounce back likely as Feds cut interest rates
Nevertheless, it might be a good time to consider whether one of the best mortgage lenders is right for you, as the market for homebuyers and refinancers is competitively positioned compared to 2018.
The MBA puts refinance demand as 134% higher than this time last year, while its unadjusted Purchase Index notes a 10% year-on-year increase, thanks to lower interest rates.
"The 10-year Treasury rate rose slightly last week, as markets expected more progress toward a trade deal between the U.S. and China. Considering how much lower rates are compared to the end of 2018, purchase applications should continue showing solid year-over-year gains," commented Joel Kan, MBA associate vice president of economic and industry forecasting.
Moreover, mortgage demand seems likely to rebound quickly from last week's blip, after the Federal Reserve decreased its interest rate benchmark to a range of 1.5% to 1.75% – its third cut of the year.
Best for Low Rates and Fees: Lending Tree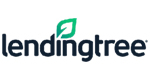 Compare mortgage rates at LendingTree
LendingTree is a marketplace where you invite mortgage & refinance lenders to come to you. It is a great place to start your search, as it has a large selection of lenders that offer competitive rates and terms.