Need to replace your mattress? These Saatva mattress deals have landed at a great time that could see you save up to $600 on new mattresses, and a new bed frame if you need.
Yep; for a limited time only Saatva have gone 'live' with their early Labor Day sale on a selection of our best mattress picks but you'll need to be quick because this offering from the brand ends August 31 - that's tomorrow, guys. There's nine mattresses to choose from in the sale which includes the Saatva Youth for kids and the popular Saatva Classic, a luxury hybrid innerspring mattress.
If you're ready to shop then keep scrolling to see a selection of Saatva mattress deals. As this is a large sale, you don't need to worry about scouring the internet for coupons or using extensions like Honey - your savings will be automatically applied when you checkout on their website.
Saatva mattress deals: Labor Day sale
Saatva mattress deals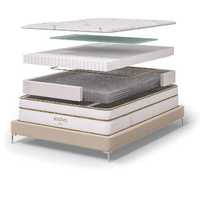 Saatva Classic Mattress, Queen | was $1,995, now $1,695 at Saatva
The Saatva Classic Mattress is a great mattress for people who want a comfortable night's sleep, and thanks to this extended deal you can save up to $350 on a purchase. This mattress features a dual-coil design that prevents sagging and is environmentally friendly using recycled carbon steel. The Lumbar Zone technology keeps your back supported and spine aligned in any sleeping position and the organic cotton cover allows more airflow to disperse body heat.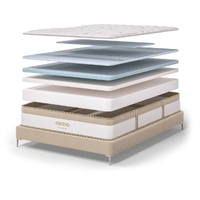 Saatva Loom & Leaf Mattress, Queen | was $2,395, now $2,095 at Saatva
The Loom & Lead Mattress is Saatva's ultra-premium 5lb memory foam mattress that gives a body-hugging feel. The memory foam contours to your body to relieve pressure while offering support and back alignment. The mattress also has a breathable gel-infused foam that keeps you cool throughout the night, and the hypoallergenic cotton cover will keep you from sneezing or itching when you're trying to sleep.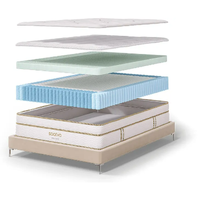 Saatva Latex Hybrid Mattress, Queen | was $2,195, now $1,895 at Saatva
This Latex mattress hybrid gives you the pressure-free support of a natural hypoallergenic latex while also providing the responsive feeling of an innerspring. All of the materials are 100% natural and eco-friendly, and the mattress is guaranteed to be free from any pollutants and emissions thanks to its GREENGUARD and eco-INSTITUT certification. The latex is naturally hypoallergenic and will repel dust mites, mold and other allergens.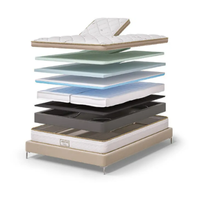 Saatva Solaire Adjustable Firmness Mattress, Queen | was $3,595, now $3,345 at Saatva
This adjustable firmness mattress features 50 precise adjustable firmness options so that there is something for everyone. This mattress is perfect for couples as there is little motion transfer, so you can stay sound asleep while your partner is tossing and turning to get comfortable. This mattress comes with a 1 year home trial, so you can sample the mattress for a full year to see if it is the right fit for you.
Saatva mattresses range
The Saatva Classic mattress follows a hybrid innerspring design. It uses a coil-on-coil innerspring system to support your entire body as you sleep, and to ensure the mattress doesn't sag over time. Those coils also enhance breathability, keeping you cooler as you sleep.
The Saatva Classic is designed with active Lumbar Zone tech to better align your spine as you sleep. A memory foam layer doubles down on that pressure relief to reduce tension in your lower back. Like all Saatva mattresses, the Classic is approved by the Congress of Chiropractic State Associations.
The plush Euro pillow top is superbly cushioned, as it should be to support your hips, waist and shoulders to relieve pressure when you lie down. Saatva's own antimicrobial fabric treatment has been added to the organic cover to keep any nasties at bay.
As you can tell, this Saatva mattress is all about taking the load off your body as you rest, and you can choose how firm you want it to be. Saatva says that Luxury Firm is the most popular choice, as it replicates the comfort level used in luxury hotels. It's also ideal for couples.
Not for you? Then pick either Plush Soft for a proper body-hugging sensation (also suited to lighter people), or Firm if you want to feel as though you're lying on the mattress, rather than sinking into it. The latter is good for back sleepers and heavier bodies. If you're over 300lbs, check out the Saatva HD instead.
With a Saatva mattress discount you can save $200 on the Classic (Twin XL up), making it a real bargain for anyone who wants a good natural mattress for back pain support.
---
If you've shied away from buying a memory foam mattress because of the smell they sometimes produce, you have nothing to worry about here. That's because the allergen-resistant Saatva Loom & Leaf Mattress is made with odor-free CentriPUR-US foam. Also, Saatva ships its foams stable (not shrink wrapped), so there's no off-gassing.
Saatva's engineers created the Loom & Leaf Mattress to rival premium memory foam mattresses by brands such as iComfort and Tempur-Pedic… then slashed the price to make it a lot cheaper. You won't find this mattress coming to you in a box any time soon either - it gets the same 'white glove delivery' as Saatva's premium mattresses, such as the Solaire.
There are four unique layers to the Loom & Leaf Mattress and a heap of technology to ensure you stay cool and comfy. Our favorite inclusion is the 5lb viscoelastic memory foam that sits at the heart of the mattress, dishing out deep contouring support. Elsewhere, cooling gel draws away excess heat and channels it into the layer of foam beneath.
You won't feel any of that when lying on the Loom & Leaf mattress, though. All you'll feel against your skin is the soft brush of the organic cotton circular knit top, quilted with a plush 5/8" foam layer and treated with a natural thistle flame retardant.
Essentially, if you want to enjoy premium sleep luxury for less, make a beeline for the Loom & Leaf in the Saatva sale.
---
The Saatva Latex Hybrid is one of the brand's most hypoallergenic mattresses, as it's antimicrobial and free of harmful chemicals. The latex, cotton and wool used to make the mattress are certified organic, making this hybrid a good choice for anyone who wants as natural a sleep setup as possible.
The main player here is natural Talalay latex, chosen by Saatva because it's responsive (elastic) and durable, so it won't sag over time. The Latex Hybrid provides pressure relief for your back and hips. Individually wrapped coils towards the base of the mattress reduce motion transfer, which is good if you share a bed with someone who tosses and turns.
We also love the layer of New Zealand wool that lives beneath the organic cotton cover, aiding breathability and ensuring the mattress doesn't store up heat. The Latex Hybrid Mattress, which can be found among this month's best Saatva mattress discounts, delivers medium comfort and is suitable for every sleep style. So whether you're a back sleeper, stomach snoozer or somewhere in between, you'll be sleep soundly with this one.
---
Are you a side sleeper looking for a handcrafted mattress? Then the Zenhaven Mattress is your ideal Saatva, especially if you love to feel as though you're being hugged by your mattress. This beauty is all about relieving pressure quickly, so that you feel pretty weightless when lying in bed.
There are four distinct layers to the Saatva Zenhaven Mattress. There's a five-zone latex comfort layer to boost support in the lumbar region while also relieving pressure, followed by a latex support core. On top of that lies an organic New Zealand wool layer for enhanced airflow (cooling), topped by a quilted organic cotton cover protected by Saatva's Guardin botanical antimicrobial treatment.
But the big draw with the Zenhaven is how you can experience a different level of firmness on each side of the mattress. On one side is Luxury Plush, created by Saatva engineers to support your body as you sleep but to give you more huggable comfort.
Flip the mattress for a Gentle Firm level of support to relieve pressure across your body. The Zenhaven is pretty special, so if you see this one on sale, give it serious consideration.
---
What users say...
The Saatva HD Mattress has an average rating of 4.8/5 stars on Saatva's website. Users praise its cooling property and impressive support. People are also fond of its comfort in a variety of sleeping positions.
The Saatva HD is expensive compared to the average hybrid mattress, but that's reflected in the excellent build quality and flagship features. The HD features a Euro top quilted with polyfoam padding, backed up by zoned layers of natural Talalay latex to take pressure off your body and to support your back, shoulders and hips.
The robust support core comprises transitional polyfoam over anti-sagging low-gauge offset coils and a high-density polyfoam base layer. These work together to provide a durable mattress that keeps your body on an even plane and delivers increased lumbar support. There's good edge support too, thanks to foam rails encasing the top, bottom and sides of the mattress to protect against deep sinkage. This also makes it easier for you to get up.
As the Saatva HD Mattress is designed for sleepers who weigh 300-500lbs, you might find the mattress too firm if you weigh less than 200lbs. For anyone else, including heavier sleepers, the mattress is most supportive for back sleepers.
For those who sleep hot, the HD Mattress maintains a comfortable sleeping temperature by promoting steady airflow. That's thanks to a combination of layered organic cotton, 100% natural latex and open coils. With a Saatva mattress discount you can save anywhere from $200 to $225 on this flagship hybrid.
---
What users say...
Users are very happy with the Solaire mattress, giving it an average rating of 4.7/5 stars on Saatva's website. People praise the customer service from Saatva as well as the deep level of customization that the mattress features. Saatva's customer service is heavily praised for helping a lot of people to choose the perfect mattress for them.
Wondering what Saatva's ultimate take is on a luxury mattress? You're looking at it. The Saatva Solaire is the pinnacle of hybrid airbed (not that kind of airbed) technology, and is suitable for all types of sleeper and body types. In fact, it's utterly unique in that it has 50 adjustable firmness settings, each measured in mm/Hg.
How is this possible? Dual-sided air chambers that enable you to individually adjust each side of the mattress to your personal preference, even if it's wildly different to your partner's ideal level of firmness. Vulcanized air chambers inflate or deflate to deliver your preferred firmness, from soft to firm. Each side is controlled by a remote.
Not only do those vulcanized air chambers increase the durability of the mattress, they also contribute to how the Solaire relieves multiple pressure points and regulates in-bed temperature. It's a game-changer if you sleep hot and your partner sleeps cool, or if you have very different body weights and sleeping positions.
We love the plush organic cotton pillow top, and how it contrasts with the more buoyant layer of zoned natural latex underneath, there to deliver moderate contouring and to support your lower back. A layer of premium gel-infused memory foam further conforms to the shape of your body and relieves pressure on multiple pressure points along the length of your body.
Even though this is a non-flippable mattress, you don't need to worry about hygiene because it has a moisture barrier to protect the inside of the Solaire from bacteria growth. That combined with the Guardin antimicrobial fabric treatment on the top of the mattress keeps bugs at bay to ensure the Solaire lasts longer.
---
What users say...
Saatva mattress toppers are highly praised with an average rating of 4.8/5 on Saatva's website. People praise its ability to cool you down and provide ample support for your back and body while sleeping.
If you aren't quite ready to buy a Saatva mattress, or you already own one and want to add to its comfort and support, we'd suggest buying a Saatva Mattress Topper. When you first land on Saatva's page it may look as though it only sells one topper, whereas in reality it sells three mattress toppers, each made of a different material. The full-line up of Saatva Mattress Toppers are (in ascending order of cost):
Each Saatva mattress topper is available on a 180-night trial, which is ample. And that also gives you an idea of just how confident Saatva is in the quality and performance of these toppers - and how much of a difference they'll make to your new or existing mattress.
The three-inch thick Saatva Graphite Mattress Topper utilizes cooling technology (via a Graphite layer inside) to draw body heat away from the surface to keep you cooler as you sleep. This is brilliant during hot weather, or if you're naturally a hot sleeper.
The high-density foam used to make the topper also reduces motion transfer, so you shouldn't be disturbed by your partner moving on the other side of the bed. Being Saatva, this topper is also designed to relieve pressure on key parts of your body.
The 1.5-inch thick Saatva Latex Mattress Topper is very long-lasting and durable, so you won't need to replace it anytime soon. It's allergy-friendly too, and has a natural buoyancy that makes it a real pleasure to rest upon. Little pockets inside the topper enable good airflow to once again keep you cool during sleep.
Another 1.5-inch thick Saatva Mattress Topper, the Performance Foam model is a good choice if you have a new mattress that hasn't yet 'bedded in'. That's because the high-density foam inside is super-comfy whilst also being supportive and capable of relieving pressure across your back, hips and waist.
Saatva mattress deals FAQs
What to look for when buying a Saatva mattress
There are a few important things to look out for when buying a Saatva mattress. Luckily, Saatva has something for virtually everyone so if you know what you want Saatva customer service will be able to find the perfect match for you. Here are some of the most important features to consider to find one for you:
Comfort and Support
You should consider your preferred level of support and comfort. Saatva mattresses come in a variety of firmness options, ranging from pillow soft to firm. Choose one that aligns with your sleep preferences and any specific needs you may have such as back pain or pressure point relief.
Materials
Almost every product on Saatva's website is natural or made from recycled materials, so you don't need to worry about the environmental impact when purchasing a Saatva mattress. You will want to examine the materials used, as some will feature a coil-on-coil construction with the individually wrapped coil, while others will feature a combination of memory foam and natural latex.
Cooling features
If you tend to sleep hot, or if you live in a warmer state then you may want to consider a mattress with some cooling features. Some mattresses and toppers use a graphite layer to draw heat from the surface of the mattress to help cool your body.
Price
Think about your budget and the value you're getting for the money you're spending. Saatva mattresses are expensive, but you do get what you pay for. Mattresses are one of the things that are worth the investment, as a cheap mattress will cost you more in the long run, especially if you develop a bad back.
---
How to get a Saatva mattress discount
Unlike other sleep brands, Saatva makes it easy for you to secure a discount. In fact, whenever there's a saving on a mattress, bed or bundle, you'll see the sale price displayed alongside the product. That discount is automatically added to your order. So you'll clearly see your total and any savings you made before you check out.
There are other deals available too, and these relate to your job. We cover this below in more detail, but if you're military personnel, a first responder, or another qualifying person (and you can prove it), the best Saatva mattress discount for you is $225 on qualifying orders.
---
Is there a Saatva mattress discount for military personnel?
Saatva doesn't participate in as many sales events as other mattress brands, but it does reward active military personnel, veterans, teachers and first responders with bigger discounts. In fact, Saatva will give you $225 off your order if you are one of the above. This is hands down the best Saatva mattress discount if you're eligible.
How do you know if you're eligible? Click on the 'Discount for Military, First Responders and Teachers' box at checkout. You'll then be asked to register with ID.me to verify your status in order to receive this exclusive discount.
---
What is Saatva's White Glove Delivery service?
The Saatva White Glove Delivery service is one of the best we've seen, and means you can have your new Saatva mattress delivered to your bedroom of choice, free of charge. Saatva's expert staff will take the mattress in for you, and ensure it's placed exactly where you want it to be positioned, all as part of the brand's concierge service. How wonderful is that?
Even better, if you arrange it in advance, Saatva will even remove your old mattress for while delivering your new one.
If you're wondering how long it will take for your new Saatva mattress to be delivered, the times do vary as these mattresses are made to order and are not stacked up in some dusty warehouse somewhere. You can get an idea of the waiting time by entering your zip code on the delivery section of the Saatva website.
---
Saatva return policy, trial period and warranty
There aren't a huge amount of Saatva discount codes flying around, despite what coupon sites might try and tell you. Saatva is one of the simplest companies in terms of sale offers, as it's usually either a $200 or $225 discount.
What do we mean by the latter? If you are a verified first responder or military personnel, for example, you can receive a $225 discount whatever the weather.