If you're looking for a proper, cheap Rosetta Stone deal this Prime Day, we've found the best out there. Rosetta Stone's Unlimited lifetime subscription allows you to access the platform's full range of lessons, across all 25 different languages available on the app and website. This subscription is usually priced at $199, but Amazon Prime members can currently get themselves a membership for just $159.
Although we regularly see the membership discounted to $179, we don't often see it offered at this price. That's why we rate it as one of the best Amazon Prime day USA deals currently available. These special deals are only open to people with a Prime membership. Currently, anyone can currently grab the subscription for $179, but you can only get the extra $20 off if you're an Amazon subscriber. Luckily, the platform is offering a 30-day free trial period, so you can access the sale without immediately committing to a membership.
Rosetta Stone is one of our highest-rated learning tools; it takes top spot in our guides to the best learn Spanish online courses and the best learn French online apps and websites too. Established in 1992, it has a wealth of learning practices and techniques weaved into its courses.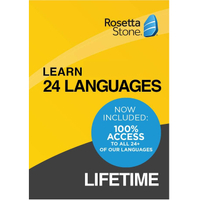 Rosetta Stone Lifetime: Was $199 | Now $159 at Amazon
With 25 languages available, this lifetime subscription will provide you with ample materials to help you master several different lingos. This is one of the lowest prices we've ever seen on the subscription, which is currently exclusive to Prime.
The language platform has an immersive approach, meaning that when you dive into the platform you'll immediately be forced to navigate around it in your chosen language. Getting the unlimited lifetime subscription means that you can opt to learn multiple languages, too, including German, Greek, Portuguese and Korean.
We were particularly impressed by the tracking tools available on this platform, which allow you to monitor your progress in key areas like grammar, pronunciation and vocabulary. At the end of each lesson, you'll also be given a review unit, encouraging you to revise what you've just learned.
It comes with clever AI technology, which uses your device's in-built microphone to detect any mistakes in pronunciation. Committed learners can also opt to buy live lessons through the platform with expert speakers and multi-linguists, who can give grammar and vocabulary tips.
More cheap Rosetta Stone deals
Looking for more Amazon Prime day deals? Then take a look at our round-up of the best Amazon Prime day USA deals