FreshDirect provides grocery delivery to the greater New York City, Philadelphia, and Washington DC metropolitan areas, with seasonal service to eastern Long Island and the Jersey Shore. The FreshDirect business model is based on short supply chains: it works directly with farmers, fishermen, and other food producers, so the produce spends as little time as possible in the warehouse before heading out to the customer.
If you're not a resident in these areas, we've reviewed other best grocery delivery services which might be better suited for you.
FreshDirect: Essential info
Fresh, local food
Website is easy to navigate
Same-day delivery available
Fresh produce, meats, bakery, and prepared food
Partnered with local community organizations
Only available in selected metropolitan areas
Yearly/half-yearly DeliveryPass available
Delivery trucks are refrigerated
Exclusive loyalty program
Tips can be added at checkout
The state-of-the-art warehouse facility in the Bronx has its own butcher and fishmonger, cutting and filleting to order so the customer gets the freshest available fish and meats. FreshDirect also makes prepared meals and has an in-house bakery, preparing foods to order which minimizes waste and gives the customer fresh products that haven't been sitting on supermarket shelves for several days.
FreshDirect says it is committed to addressing food insecurity locally and it partners with community organizations including New York Common Pantry to help provide food to those who need it most. It also recently set up Operation 5 Borough Food Drive as a way of getting food boxes delivered to those in need during the pandemic.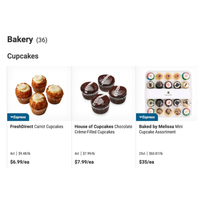 Browse the FreshDirect website to see the full range of fresh produce, meat, seafood, prepared meals and baked goods on offer. You will also find frozen foods, wines, ciders and spirits.
FreshDirect: Shopping experience
With FreshDirect the emphasis is on good quality, fresh, wholesome produce: food is sourced directly from farmers, fishermen, and producers, bringing you the best of what's in season. The FreshDirect folks even assign daily quality ratings to fruit, vegetables, and seafood, helping you to choose the best of what they have on offer.
The website is clearly laid out and divided into sections such as seafood, bakery, and deli so it's really easy to navigate your way around and find exactly what you're looking for. After you've started shopping regularly with FreshDirect, you can save time ordering by heading to the reorder page to quickly shop for your essentials and favorites from previous orders.
It's not all kale and organic meats, as you can buy lots of other things from alcohol to meal kits and store cupboard essentials like canned goods and baking supplies. There's also a deli, a bakery, and a frozen foods section, as well as household supplies like laundry detergents and pet foods, so you can do all of your shopping on one website and have it delivered directly to your door.
There are plenty of ways to save money with their sale and coupon sections, where coupon discounts are applied directly to the product! Every Thursday the Fresh Deals are updated with discounts on the best peak-season products.
FreshDirect offers an exclusive program that rewards customers for their loyalty called Chef's Table: if you place 12 orders or spend $500 or more for three consecutive calendar months, you'll automatically be enrolled. Members can enjoy benefits such as preferred delivery access and exclusive discounts.
FreshDirect: Fees
There's a minimum order of $30 ($99 if you want delivery to the Hamptons during summer) and delivery fees for most areas are $5.99 to $7.99, except for summer deliveries to the Jersey Shore and the Hamptons when it'll cost you $9.99 and $15.99 respectively.
If you plan on ordering regularly, it makes sense to get the DeliveryPass, which is $79 for six months or $129 per year. Alternatively, if you can stick to deliveries Tuesday through Thursday, you can get a six-month DeliveryPass for just $39. The DeliveryPass gets you unlimited free deliveries, time slot reservations, and additional perks, so it makes sense to sign up.
FreshDirect states that you're under no obligation to tip, but you can choose to add a tip at the checkout stage of your order and the tip will go directly to the person who delivers your order. Alternatively, you can tip them in cash at the time of delivery if you choose to.
FreshDirect: Delivery
FreshDirect offers same-day and express delivery, or you can order up to a week ahead to secure your time slot and then edit your order until the day before delivery. Your order is delivered in a refrigerated truck so you can trust that the products stay fresh.
If delivery doesn't suit your needs and you live close enough to the FreshDirect pickup location in the Bronx, you can take advantage of the pickup service. Arrive within your selected time slot and an employee brings your groceries from the refrigerated facility and places them directly in your trunk.
Should you use FreshDirect?
FreshDirect offers an easy way to get your hands on the freshest produce, the website is simple to navigate and there's plenty of choice on offer. We like the fact that FreshDirect puts a lot of emphasis on the quality and freshness of the food it offers as well as working with local community groups to provide food to those in need. If these factors are important to you, then this is a great grocery delivery service, but you should check if your area is covered.