Screen size: 6.8 inches
Memory: 8GB or 16GB
Battery life: Up to 10 weeks
Charging: USB-C
If price is your main concern, the Kindle Paperwhite is the e-reader we recommend. It has a range of smart features available if you spend a little more, such as automatic light adjustments and a wireless charging option, but even its cheapest version has a responsive screen and impressive battery life.
For
Affordable option
Small dimensions
Very responsive screen
Warm light controls
Against
Cheapest versions is ad-supported
Only goes up to 16GB storage
Screen size: 7 inches
Memory: 8GB or 32GB
Battery life: Up to 6 weeks
Charging: Mini USB
The more expensive Oasis goes beyond the essential requirements of an e-reader, using Bluetooth and Wi-Fi compatibility to synchronise with the Kindle app and even pair with headphones or speakers for access to Audible. While it costs more, this would be the e-reader we'd choose if money was no object.
For
Waterproof
Pairs with Bluetooth speakers or headphones
Synchronises with the Kindle app
Against
Users express concerns for battery life
It's Black Friday, which means it's the best time of the year to invest in a new e-reader. If it's a question of Kindle Oasis vs Paperwhite, we're here to tell you everything you need to know to help make your mind up. What this does mean is that you've decided on a Kindle, which is one of the most popular brands for e-readers thanks to its access to the seemingly endless book listings you'll find on the Amazon Kindle store.
The Kindle Paperwhite is a classic, first launched 10 years ago but with a more recent version that was released last year, the Paperwhite 2021. There are a number of Paperwhites available, including the Paperwhite Signature which has a few more smart features than the classic Kindle, but these e-readers are generally more affordable than their Oasis counterparts.
The Kindle Oasis was designed for those who wanted a more premium experience from their e-reader. It's wider than the Paperwhite, but just as portable, and it comes with buttons that can be used to turn the page as opposed to a touch-screen.
One thing is for sure, you'll be able to find a brilliant Black Friday Kindle deal on either model when you shop today. For our complete head-to-head of the Kindle Oasis vs Paperwhite, keep reading.
Kindle Oasis vs Paperwhite
We've rounded up every aspect of Kindle Oasis vs Paperwhite to help you decide which e-reader is best for you.
Kindle Oasis vs Paperwhite: Price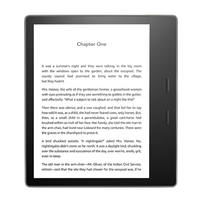 Kindle Oasis 8GB | was $249.99, now $164.99 at Best Buy
This is the lowest price we've seen on the most premium Kindle and it's even lower than Amazon is offering. The Oasis can last for up to six weeks with a singular charge making it a great option for travelling. It can also use cellular networks to download new books - great if you find yourself soaring through your e-library.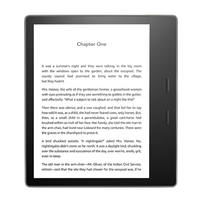 Kindle Oasis 32GB | was $349.99, now $254.99 at Amazon
The Kindle Oasis also comes with a larger 32GB storage that offers space for as many books you could dream of. The current discount puts it at the $250 mark which is the lowest you're likely to see this premium model. You can also pair it with a speaker or headphones to ensure your audiobooks get just as much airtime.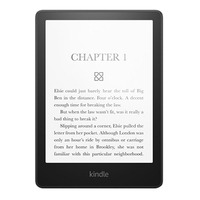 Kindle Paperwhite 8GB | was $139.99, now $94.99 at Best Buy
If you're looking for a solid middle ground both price and feature wise, the Paperwhite is a reliable choice. It's brighter than the basic Kindle but not as premium as the Oasis, offering up to 10 weeks of battery life, a 6.8" display and thinner borders that make for easy reading.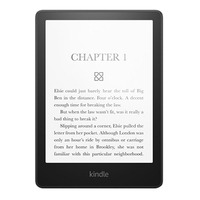 Kindle Paperwhite 16GB | was $169.99, now $119.99 at Amazon
Now with an adjustable warm light, up to 10 weeks of battery life and 20% faster page turns, the 16GB Kindle Paperwhite has a bunch of great features for under $120. 16GB is a solid middle-ground option that will offer you enough storage for frequent, everyday use.
When it comes to price, the Kindle Oasis is no match for the Paperwhite in value. There are some additional nice-to-have features that you'll get with the Oasis, but there are also very few complaints that we have with the original Paperwhite.
We can't say the Oasis offers more responsive screen times, longer battery life, or a more enjoyable reading experience. All you'll get are additional Bluetooth features or buttons to make turning the page a little easier. Unless this sounds like it's worth the additional money to you, we recommend the Kindle Paperwhite for price.
Kindle Oasis vs Paperwhite: Experience
Our review of the latest Kindle Paperwhite is in progress, but we're enjoying its warm light settings which will soften the often-harsh glare of the screen at night. The screen lags slightly when expanding text size, likely because it requires re-formatting every page, but the font sizes are very broad reaching and will suit those with sight difficulties as well as those who want to cram as many words as possible onto one page.
The Kindle Oasis claims to be an e-reader for those who don't like e-readers. It does this with crystal-clear pages and an adaptive front light that adjusts the brightness of your screen depending on your specific lighting. Although we also had no trouble turning the pages on the Kindle Paperwhite, you might enjoy having a physical button to press on the Kindle Oasis.
Millie Fender is Head of Reviews at TopTenReviews. She has tested a number of e-readers including the ONYX Boox and the Kindle Paperwhite 2021. She received an original Kindle for Christmas when she was a teenager, and has been a convert ever since. Millie is currently working on a review of the Kindle Oasis, and will update this page with her side-by-side comparisons when it's complete.
Kindle Paperwhite: Specs
The Paperwhite comes in a number of models. They are:
• Kindle Paperwhite (16 GB)
• Kindle Paperwhite (8 GB)
• Kindle Paperwhite Signature Edition
• Kindle Paperwhite Kids
It's Amazon's flagship e-reader, and among these models you can also find variations in ad-supported and ad-free models.
The Signature Edition comes with a few extra features such as wireless charging and an automatically adjustable backlit screen to adapt to any lighting condition. It's a good middle-ground between the Kindle Oasis and the Paperwhite.
Kindle Oasis: Specs
The Kindle Oasis has fewer models than the Paperwhite, but is also available in ad-supported and ad-free models.
• Kindle Oasis (8GB)
• Kindle Oasis (32GB)
• Kindle Oasis, ad-supported
All of these feature an aluminum body and 7" display, which is marginally larger than the Paperwhite. All of them also feature a side panel that can offer something useful to hold onto, and also houses buttons to turn your pages.
What is ad-supported?
We're choosing between Kindle Oasis vs Paperwhite, but no matter which one you pick, you'll have to decide if you want to pay a little more to go for an ad-free version. An ad-supported Kindle is less expensive because you'll have to deal with ads between uses, such as on your lock screen. This can slightly ruin the charm of your e-reader, but that might be a price you're willing to pay if it means you can save some money on your new Kindle.
We don't think the ads will get in the way of your reading itself, but it can definitely take you out of your reading zone if you're being targeted by ads by your e-reader. It's not something you'd ever find if reading an actual book, after all!
Kindle Oasis vs Paperwhite: Which is right for you?
Kindle Oasis vs Paperwhite: which should you choose? Well, if money was no object, we would go for the Oasis for its slightly enhanced reading experience. However, value is always a factor, and we'd sooner pay more for an ad-free paperwhite than an ad-supported Oasis.