For anyone looking to buy a new multi-cooker, the decision often comes down to the question of Ninja Foodi vs Instant Pot. Although Instant Pots have been around a little longer, the Ninja Foodi multi-cookers have quickly caught up, offering countless smart settings and the ability to pressure cook, slow cook, bake, and even air fry in one clever kitchen appliance.
We're long-time fans of the best Instant Pots , which can speed up cooking times thanks to their wide-ranging and easy-to-use cooking functions. Many Instant Pots work by simply throwing all your ingredients into the appliance, pressing a button, and letting the handy kitchen appliance work its magic. Since they were first introduced in 2010, they've gained a loyal army of cooking fans – and it's for good reason.
The first Ninja Foodi multi-cookers burst onto the food scene eight years later, in 2018, offering modes for steaming, sautéing, air frying cooking functions, and more. Yes, they might sound the same on paper, but they are actually more different than you might think.
To help you decide between the two different brands of multi-cookers, we've looked at the similarities and differences between Ninja Foodi vs Instant Pot and weighed up the pros and cons by testing them hands-on. In our tests, we tried the Instant Pot Pro Crisp, and the Ninja Foodi 14-in-1 8qt. XL head-to-head. Both are recent examples of the capabilities you'll find in either brand, with signature differences you'll see across the Ninja and Instant Pot ranges. Without further ado, let's find out which came out on top.
Ninja Foodi vs Instant Pot: What you need to know
Functions: Air fry, broil, bake, roast, dehydrate, reheat, rotisserie, toast, warm, convection ovenfry, roast, bake, broil and dehydrate
Lids: Two, interchangeable
Capacity: 8 Quarts
Safety: Overheat Protection, locking lid, steam release switch
RRP: $249
For
New stovetop-friendly inner pot
11 different modes and two interchangeable lids
No hinged lid, good for countertops
Against
Extra storage space needed
The display smudges easily
Pre-heat takes a while
Ninja Foodi 14-in-1 SmartLid Multi-Cooker
Functions: Pressure Cook, Steam & Crisp, Steam & Bake, Air Fry, Broil, Bake/Roast, Dehydrate, Sear/Sauté, Steam, Sous Vide, Slow Cook, Yogurt, Keep Warm, Proof
Lids: One, with a slide switch
Capacity: 8 Quarts
Safety: Auto pressure release, non-slip base, cool handles
RRP: $279
For
Just one lid, with three modes
14 cooking settings
Smart control panel
Dishwasher-safe parts
Against
The lid can struggle to sit under counters
A very heavy option
Reviewed by
Millie Fender started her career as a Staff Writer at TopTenReviews in 2019. Now our Head of Reviews, she oversees our review content to make sure that we're always testing the latest and greatest products for your home.
Millie is a cooking pro who used to be in charge of kitchen reviews on sister sites Real Homes and Homes & Gardens. She has tested countless air fryers, multi-cookers and other small appliances, and put the Instant Pot and Ninja Foodi head-to-head for this review.
Ninja Foodi vs Instant Pot: Prices and products
To put it simply, Instant Pots are standalone electric pressure cookers. But they do so much more than that. At the most basic end of the spectrum, Instant Pot multi-cookers act as a 6-in-1 pressure cooker. This means that all models in the Pot range can pressure cook, slow cooker, steam, sauté, cook rice and act as a food warmer.
While some of the more premium models can also air fry, sous vide food, make yogurt and sterilize baby bottles. Most of the Instant Pot multi-cookers come in 3, 4, 8 and 10-quart options.
Instant Pot Duo (MSRP $125)
Instant Pot Duo Nova (MSRP $137)
Instant Pot Smart WiFi (MSRP $177)
Instant Pot Duo Evo Plus (MSRP $180)
Instant Pot Duo Crisp (MSRP $250)
Instant Pot Ultra (MSRP $150)
Instant Pot Max (MSRP $119)
Instant Pot Duo Plus (MSRP $165)
Instant Pot Lux (MSRP $148)
There are three different Ninja Foodi multi-cookers available in its pressure cooker range. Just like Instant Pot, Ninja Foodi's most basic model is classified as a six-in-one multi-cooker. This is because it can pressure cook, air fry, steam, bake slow cook, yogurt, and sear/sauté.
What makes Ninja Foodi stand out from Instant Pot is the fact even its most basic model has air frying capabilities. Ninja Foodi's multi-cookers are available in 5,6.5 and 8-quart size.
Ninja Foodi 5 qt. 7-in-1 Compact Pressure Cooker & Air Fryer (MSRP $169.99)
Ninja Foodi Air Fryer Max XL (MSRP $159.99)
Ninja Foodi 8-qt. 9-in-1 Deluxe XL Pressure Cooker & Air Fryer (MSRP $249.99)
Ninja Foodi 11-in-1 6.5-qt Pro Pressure Cooker + Air Fryer (MSRP $199.99)
For us, Instant Pot's range comes out on top when it comes to price and the sheer range of great products available. The brand has far more multi-cookers to choose from, each of which is kitted out with a whole host of different features. It also beats Ninja Foodi on price every time.
Cooking in the Instant Pot
Overall, the Instant Pot is a bit less chic than the more modern Ninja Foodi, but we think it's a brilliant workhorse with a large enough capacity to cook any meal. It's typically less expensive, and if cost is a big consideration for you we think it's a safe option. We also give it top marks for safety settings, and liked being able to add the pressure cook lid into the dishwasher.
We tried the Duo Crisp in our reviews, which has an in-built air fry function that's great for pressure cooking a chicken before crisping up the skin, for example. In fact, that's exactly what we did in this multi-cooker, and we were seriously impressed by how juicy the meat remained despite the fact that it had been crisped for the last 20 minutes of cooking.
We also enjoyed being able to use the juices that had dripped away from the chicken to make a gravy sauce. To do this we removed the lid of the multi-cooker and added other seasonings and some thickener to the pot, cooking on a sauté mode. It was easier to use this sauté setting on the Instant Pot than the Ninja given the fact that the lid can be removed. When you do remove the lid, the Instant Pot comes with a base that will allow you to rest the lid without scorching your kitchen counters, which does take up storage space but also makes life a bit easier when switching lids.
The control panel was a little less interactive than the Ninja, but you can still fully adjust the time and temperature using the dial that sits below the main display. When releasing steam pressure, the slow-release switch made us feel extra secure.
Cooking in the Ninja Foodi
The Ninja Foodi scores full marks for a sleek and modern design. We love the new lid, which allows you to switch between cooking types using one sliding switch. The wide and slightly shorter cooking pot is good for cooking large cuts of meat, but this more expensive model won't be the right choice if your only cooking surfaces sit under kitchen cabinets.
The Ninja Foodi's most recent iteration is the Ninja Foodi 14-in-1 SmartLid Multi-Cooker. It has a SteamCrisp function which combines steam cooking (great for keeping moisture in your bakes) with air-fry-style crisp cooking.
We tried this out on a Ninja recipe, for a carrot cake. Unconventional, but a good test of what the Foodi can achieve. Our cake was moist, if not a little dense, but it was clear that cooking on steam mode meant it didn't go fry in the baking process. The proximity to the air fry lid did mean the top got a little scorched, but it's nothing we couldn't cut off the cake before icing.
Other recipes we tried in the Ninja Foodi showed how well-made this machine is. We browned some onions before adding ingredients for a rustic beef stew and simply twisted the dial on the front to transition into pressure cooking. If you like a high-tech option and aren't afraid of spending a little bit more, this would be our top recommendation.
Ninja Foodi vs Instant Pot: Design
One major thing to notice about Ninja Foodi's design is how big its multi-cookers are. For example, the 6.5-quart Ninja Foodi is 17 inches wide, 14 inches deep and 13 inches long. Plus it weighs 25lbs. That's hefty.
Instant Pots are more compact in their design. They're also available in smaller quart sizes compared to Ninja Foodi cookers. This means that even if you're a one-person household, you don't have to miss out on all the brilliant features these multi-cookers have to offer.
Unlike Instant Pot's lid design, you can't fully take Ninja Foodi's Air Crisp lid off. This can prove tricky when it comes to cleaning Ninja Foodi's exterior. When we tried the Foodi in our own kitchen, we found that it was hard to fully lift the lid on some kitchen counters without hitting the underside of the cabinets. This limited the spaces where we were able to test the machine, but the one-lid design does mean that you'll never need to find the storage space for an extra lid in your kitchen.
Winner: Ninja Foodi
We loved the interactive control panel on the Ninja Foodi, which has a slide lid to pivot between air frying, steam crisp, and pressure cooking. It's a more forward-thinking model than the Instant Pot, but we did think the hinged lid will be a significant setback for some kitchens.
Ninja Foodi vs Instant Pot: which should you buy?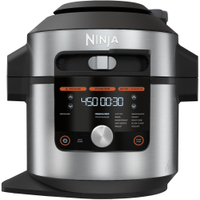 For the high-tech buyer: Ninja Foodi
We love the sleek and modern design of the Ninja Foodi, and its extensive range of functions shows that it's designed with air frying front and center. The machine is hefty, and not easly moved around your kitchen. We also think it's best suited to those who aren't restricted by kitchen cabinets, because that hinged lid could cause issues. However, there's no denying that this is the smarter choice and worth the extra money for most buyers.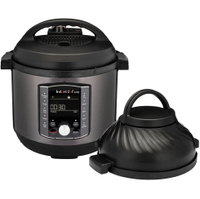 For the pressure-cooking traditionalist: Instant Pot
We felt that the Instant was a pressure cooker first and foremost, but it has the option of buying one with a perfectly functional air frying lid, should you want one. If your main priority is making your day-to-day bakes and stews in one easy-clean pot, this lower-cost option is a top choice.
Both Instant Pot and Ninja Foodi's multi-cookers would appeal to both chefs who want to use the top-of-the-range cooking devices to try out new recipes and cooking techniques.

These multi-cookers would also appeal to those who like batch cooking or food lovers who want to experiment in the kitchen, because you get at least six different kitchen appliances in one machine.
Both multi-cookers offer you the ability to mix up your cooking. You can air-fry one day, warm up food the next day and cook a big pot of rice the following. Plus, these handy kitchen gadgets can save you time.
They can cut down on the amount of minutes (or hours) you spend cooking, as you just have to put all your ingredients in one pot and they can cut down on the amount of time spent washing up – as there's just one dish to clean. For other top recommendations, read our guide to the best air fryers.