Sunbasket offers a different way to shop for groceries, it's one of the many new online companies offering a meal kit delivery service. This subscription service offers either meal kits or ready prepared meals and shoppers are required to set up a weekly subscription for between two and five meal kits per week or between four and ten single portion, ready-to-heat meals per week.
Unlike some of its competitors, Sunbasket puts a lot of emphasis on quality of ingredients and strives to use 100% organic fresh produce in all its meals as well as responsibly sourced meats and seafoods, the kits also feature housemade sauces and spice blends. Recipes are very health focused with seasonal ingredients and there are options available for almost any dietary requirements.
Essential Info
Minimum order cost: Meal kit plans start at $55.96 per week and Fresh & Ready plans start at $47.96 per week
Delivery fee: $9.99
Delivery times: Sunday - Thursday delivery depending on zip code
Membership required: Yes this is a subscription service (plan costs vary)
Sustainability is another strong focus for the folks at Sunbasket, most of the packaging used is recyclable or compostable and they're working towards getting this to 100%. Aside from paper insulation to keep your order cold, Sunbasket also uses shredded reclaimed denim insulation and the innovative ice packs are made from a gel that's 98% water and 2% non-GMO cotton. Some plastic packaging is necessary but it's kept to a minimum as much as possible.
Sunbasket also has strong community values, each week it donates around 1000 pounds of food to food banks and in addition to this it's got a food program called Feed It Forward which sends healthy meals to frontline workers, cancer patients and those facing food insecurity.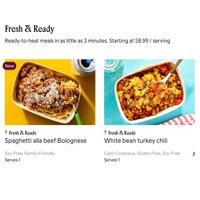 Visit the Sunbasket website now
If you're a lover of organic, sustainably produced food and you want to cook fresh meals for your family, it's a great service to sign up to.
Sunbasket: Shopping experience
You can order via the website, or the app, and both are simple to use. It's really easy to navigate around the different meal kits and other options available. An appetising recipe-book-style photo accompanies each meal kit listing so you get a good idea of what the finished meal should look like. You can even read through the preparation instructions before adding a kit to your cart - this way you won't order something you're not comfortable preparing. Just by clicking on a meal you can check the preparation time, ingredients list and the full calorie and nutrition breakdown. There's even a fun section detailing which tasks kids can help out with. In our opinion, it's even slicker than FreshDirect, which has an excellent online presence too.
There are ten custom meal plans to choose from based on dietary needs or taste, these include vegetarian, paleo, carb-conscious, chef's choice, lean & clean, diabetes-friendly, pescatarian, Mediterranean, gluten-free and fresh & ready (ready-to-heat meals) or you can mix and match any of the weekly recipes, so it's simple to tailor the plan to you. When browsing the meal kits you can save time by sorting the dinners by categories like gluten-free or vegan so you only see options relevant to you. Meal kits come in two or four servings and the menus change weekly so you won't get bored.
This is primarily a dinner kit service, but there are also breakfast, lunch and snack options that you can add to your order. Sunbasket has recently expanded the other foods available, there's now extras like pasta, meat, fish and even some cheeses that can be added to your cart alongside your meal kits, which means you can avoid visiting the grocery store altogether.
The flexible plan allows you to skip weeks or you can forward your box to a temporary address which is a great option if you have a vacation house or you're renting an Airbnb but still want the convenience of your regular Sunbasket delivery.
Sunbasket: Fees
Ready-to-heat meals start at $8.99 per serving when ordering ten meals per week, but the fewer meals you order, the higher the price, maxing out at $11.99 per serving if you order the minimum of four meals per week.
For meal kits the average price is $10.99 per serving but this increases to $13.99 per serving for smaller orders of just two two-person meal kits per week.
There's an additional delivery cost of $9.99 and this is a weekly subscription, so you're committed to getting it regularly but you can skip a week or cancel your plan at any time.
Sunbasket: Delivery
Sunbasket delivers to most states and depending on your zip code customers can choose a preferred delivery day from Sunday to Thursday.
Delivery isn't via refrigerated vehicles, but Sunbasket packs orders in insulated boxes with extra thick insulation when the weather's warm as well as ice packs to ensure your food reaches you in the best possible condition.
Should you use Sunbasket?
If meal times are getting boring and you need an injection of inspiration, but you don't have the time to scour recipe books and do all the grocery shopping - Sunbasket offers the ideal service. For little more than the price of a take-away pizza per person, you can make a fresh healthy meal using good quality organic ingredients from a company that reassuringly values sustainability and community partnerships. There are plenty of flexible subscription options and the weekly changing menus ensure dinner times will be varied and exciting whatever your dietary needs, so it gets a thumbs up from us.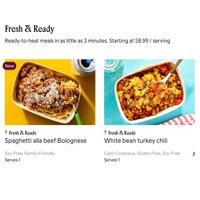 Visit the Sunbasket website now
If you're a lover of organic, sustainably produced food and you want to cook fresh meals for your family, it's a great service to sign up to.