According to 2020 grocery sales, Walmart is the largest food retailer in the US, with over 3,500 supercenters across the country. Walmart's wide reach makes it well-placed for the grocery delivery market: it now offers same-day grocery delivery from over 3,000 stores thanks to the surge in demand caused by the pandemic, a number which is only set to grow further.
If you've found that you're not in the delivery zone for other online grocery delivery services, it's likely that Walmart Grocery will service your area due to the scale of its service. It's easy to check this on the Walmart website by simply entering your zip code.
Essential info: Walmart Grocery
· Minimum order cost $35
· Delivery fee between $7.95 and $9.95
· Free delivery with Walmart+
· Delivery in as little as 3 hours
· Wide variety of products available
· Free pickup option available
· Low prices
· Same prices as in-store shopping
· My Items section for repeat orders
· Option to create shopping lists
Walmart Grocery guarantees that you'll pay the same low prices online as you find in stores, and your grocery shop can include much more than just standard groceries and cleaning supplies. Alongside the dairy and vegetables on offer you can also browse school supplies, electronics, clothing, tools, and garden supplies all for pickup or delivery, making it a convenient one-stop-shop.
Most people are familiar with Walmart and the groceries on offer, so while it may not be the most inspiring place to shop - it's certainly not your local farmers' market - it does offer products you know and love. The simple delivery service means you can stock up on heavy canned goods and drinks without feeling like you've just done a weightlifting class at your local gym.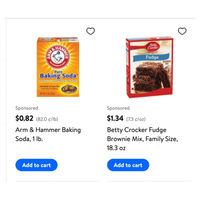 Browse the Walmart Grocery website to view the full range of products on offer, from fresh product, meat, and prepared meals to home wares and tech.
Walmart Grocery review: Shopping experience
The Walmart Grocery website is really simple to navigate: you can search for an item in the search bar or browse departments, which are then divided into shelves so you can navigate your way around as you would if you were walking around your local store.
You'll find all the usual Walmart groceries online, so you're not missing out on anything by shopping online. The only difference is you can't use paper coupons when you shop at Walmart Grocery.
We like the lists feature on the website, which allows you to create different shopping lists for different purposes: for example, we created a kids list, a Christmas grocery list as well as a general weekly shopping list. You can keep adding to the lists and add it all to your cart in one go when you're ready, which is ideal for busy times. There's also a 'My Items' section where all of your past purchases are stored so you can easily find your favorites.
You can enable substitutions for items that are out of stock, and you can specify which items in your order you don't want them to substitute. If you're not happy with a substituted item when it gets delivered, you can request a refund online.
Walmart Grocery review: Fees
There's a minimum order of $35 for Walmart Grocery and depending on your location you can expect to pay between $7.95 and $9.95 in delivery fees.
Delivery is free if you sign up for Walmart+ (previously known as Delivery Unlimited): for $98 per year or $12.95 per month you'll also get free delivery on orders from Walmart.com, savings on prescriptions and you'll save 5c per gallon on fuel from Walmart & Murphy stations, so there are plenty of incentives to sign up.
If you're in a hurry, there's an express delivery option offering delivery in two hours or less which can cost up to $19.95 or a flat fee of $10 for Walmart+ members.
Walmart automatically adds a tip to your order at the checkout stage: the amount is based on the order total, you can edit or remove the tip at checkout as well as after delivery.
Walmart Grocery review: Delivery
Delivery can be scheduled for a time slot that suits you, depending on availability in your area. Once your order has left the store you can track it so you know exactly when it'll arrive.
Walmart Grocery partners with several different delivery companies to get your groceries to your door, but that means your food won't necessarily be transported in a refrigerated vehicle.
Walmart also offers the option to pickup from your local store for free: just choose a one-hour time slot and drive to the designated pickup area, where an employee will load your groceries into the trunk of your car. You'll need to order by 3pm for same-day pick up. This is a good option if you can't guarantee when you'll be at home.
Should you use Walmart Grocery?
If you dread the weekly trudge around the grocery store, Walmart Grocery is a great way of saving time and avoiding too many impulse purchases. With Walmart, delivery is cost-effective and you'll make other savings too. It's ideal if you're already a Walmart customer, but if you prefer to inspect the fresh produce, choosing the highest quality items on the shelf, it might not be for you.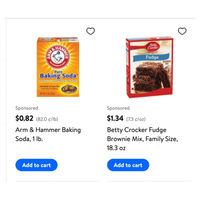 Browse the Walmart Grocery website to view the full range of products on offer, from fresh product, meat, and prepared meals to home wares and tech.