The Amazon Prime Day steam mop deals might officially be over for now, but if you are still keen to strike a bargain, you'll be pleased to hear that TechRadar is reporting that there might be a second 'Prime Fall' event later this year. So check back to keep updated with Prime Day related news, or get prepped ahead of Black Friday which promises some great steam mop deals.
Steam mops are a great chemical-free alternative to manual or spray mops, simply using the power of water to give your floors a thorough clean. In fact, they can be so effective that the best steam mops can kill up to 99.9% of bacteria on floors. While they're more expensive than standard mops, steam mops are a great investment for anyone who finds themselves having to clean their floors more often than they'd like.
It's worth noting that not all steam mops are suitable for hardwood floors, so it's worth checking the manufacturer's instructions before using it on hardwood or laminate flooring. You will also want to look for models with swiveling heads (perfect for cleaning under furniture) or even removable heads (great for cleaning up the stairs).
If you've got a large space to clean, keep an eye out for large water tanks and long cords as well – otherwise you'll be stuck having to constantly refill the water and change outlets.
We've rounded up the best Amazon Prime Day deals on steam mops below, so have a look and see if any catch your eye!
Amazon Prime Day steam mop deals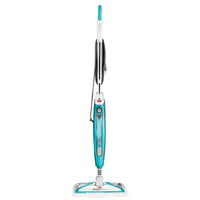 PowerFresh Steam Mop | was $64.99 | now $39.00
This 2-in-1 steam mop works as both a floor mop and a handheld steam, enabling users to clean multiple types of hard surfaces. Plus, the chemical-free nature of the product means that it's safe to use around kids and pets. The steam is ready in just 30 seconds and this mop provides steam-on-demand triggers so you can control the amount of steam you use.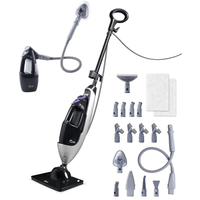 Light n' Easy Steam Mop | was $179.99 | now $149.99
This 2-in-1 multi-purpose steam cleaner features a handheld mode that's perfect for hard surfaces around the home. Plus, there are three different settings that are perfect for floor surfaces including marble, tile, grout, ceramic, stone, vinyl and sealed wood flooring. The steam reaches heights of 230ºF and will work with tap water.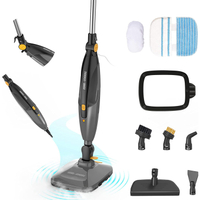 Rock & Rocker Steam Mop | was $159.97 | now $99.97
Not only does this steam mop produce 248ºF steam, it also vibrates at a rate of 6,000 times per minute to help more easily dislodge stubborn stains. Meanwhile, this particular steam mop is advertised as being suitable for floors including marble, tile, hardwood and even carpet.
Discover more Amazon Prime Day deals…
Amazon Prime Day deals for the home
Amazon Prime Day scams
An Editor's Amazon Prime Day wishlist
Amazon Prime Day air fryer deals