Looking to upgrade your home office? These Cyber Monday printer deals are a great place to start so you can begin printing in-house. Whether you work from home, run a business, need to start adding to your photo albums, or just need a printer for occasional admin needs, there are many options below for you. Plus, with Cyber Monday deals now underway, now is the prime time to make that purchase you've probably been putting off.
If you're after a strong all-rounder, you might benefit from opting for one of the best all-in-one printers (opens in new tab). They're ideal for printing, scanning and copying documents with relative ease and can handle large amounts of printing, too.
For those that care more about printing high-quality images - whether you're a keen photographer or run a business - you should go for specialist photo printers (opens in new tab). While some are specialised in small formats and can only print from mobile, others can handle larger sizes.
And for the digital nomads, there are plenty of portable printers (opens in new tab) to choose from that will easily slot into your backpack for on-the-go use.
We'd recommend being quick with these Cyber Monday printer deals as they tend to disappear quickly. We'll be updating this page with the best discounts out there so you can find the model that works for you, and suits your budget.
Cyber Monday printer deals
• Amazon: shop deals on HP, Canon, Epson, and more (opens in new tab)
• Walmart: find the best prices on printers (opens in new tab)
• Target: browse discounts on photo, all-in-one, compact printers, and more (opens in new tab)
• Lowes: shop early Black Friday printer deals from various brands (opens in new tab)
• Best Buy: up to 50% off printers (opens in new tab)
• HP: shop the brand's printers at a discount (opens in new tab)
• Dell: deals on printers, scanners, and more electronics (opens in new tab)
Cyber Monday all-in-one printer deals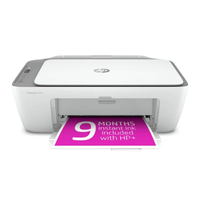 (opens in new tab)
HP DeskJet 2723e Inkjet Printer + 9 Months Instant Ink and free HP+ | was $69.00, now $49.00 at Walmart (opens in new tab)
With all of the essentials that you need to print color documents, and a 9-month supply of Instant Ink, this great value deal will set you up with everything that you need to start printing important documents instantly. It also comes with a plethora of smart features, and free HP+ so that you can print directly from your smart devices.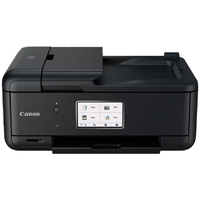 (opens in new tab)
Canon PIXMA TR8622a All-In-One Wireless Printer | was $199.00, now $139.00 at Walmart (opens in new tab)
With front and rear paper feeding, a 4 individual ink system and a 4.3-inch touch screen, this printer truly shines as one of the best All-In-One deals. It can be connected to your smartphone and computer simultaneously - perfect for printing when in a hurry.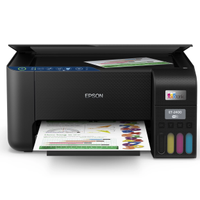 (opens in new tab)
Epson EcoTank ET-2400 All-in-One Printer| was $249, now $179 at Walmart (opens in new tab)
While it doesn't have the same fancy screen as the 2720, this EcoTank printer still benefits from the money-saving ink system and voice-control printing. If you can handle the more basic controls, this printer has the same 10 page-per-minute printing rate and DPI, and is amazing value.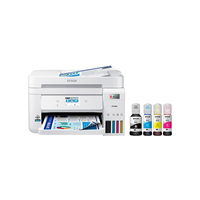 (opens in new tab)
Epson - EcoTank ET-4850 | was $549.99, now $449.99 at Best Buy (opens in new tab)
The EcoTank is a premium, cartridge-free solution that uses high-capacity refillable ink tanks so you can worry less about running out of ink. It's also better for the environment as you're reducing the amount of cartridges ending up in landfill. With a built in scanner and copier too, you can fulfill every office need.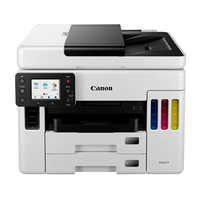 (opens in new tab)
Canon MAXIFY MegaTank GX7021 | was $799.99, now $699.99 at Best Buy (opens in new tab)
This is a great option for small businesses as it delivers high-quality, low-cost printing as well as wireless connectivity. You can print up to 14,000 color pages per full ink bottle and it has a 600 sheet plain paper capacity. Plus, you can copy, scan and fax to meet all of your business needs.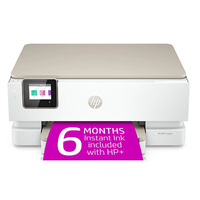 (opens in new tab)
HP ENVY Inspire 7252e Wireless Color All-in-One Inkjet Printer | was $219.00, now $189.00 at Walmart (opens in new tab)
Style is just as important as functionality in this HP Envy printer. Whether you need to print homework or office documents, this printer comes with six months free Instant Ink subscription to get you started. Customizable touchscreen shortcuts also make it easy for anyone in the family to use.
Cyber Monday compact and portable printer deals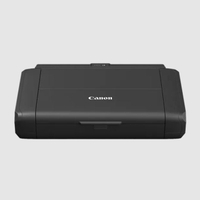 (opens in new tab)
Canon PIXMA TR150 | was $249.99, now $219 at Amazon (opens in new tab)
This small but mighty wireless printer is light enough to be carried around, so it's ideal if you're often on the go. It boasts speeds of up to 9 pages per minute in black and white, and is WiFi compatible so you can print directly from your phone, laptop, or with your home assistant. However, it's worth noting that the battery is not included with this printer, so you'll have to purchase it separately or as part of a bundle (opens in new tab).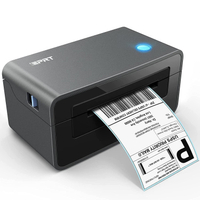 (opens in new tab)
iDPRT thermal label printer | was $174.99, now $139.99 at Amazon (opens in new tab)
Perfect for small businesses that print a lot of labels, this thermal label printer has one-click setup on multiple systems, including Mac OS and Windows. Its intelligent paper return function can automatically adjust label position and is designed to be so portable that it can be lifted by one hand. And currently, you can save 20% on ticket price.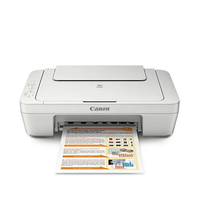 (opens in new tab)
Canon PIXMA MG2522 Printer | was $49, now $39 at Walmart (opens in new tab)
If simple is all you're looking for, then you can't go wrong with the Canon PIXMA which is now under $40. It's super lightweight and fits perfectly on a desk, so it's great if you have a make-shift home office that needs to be packed away. It comes with a USB cable that is required for connectivity, and it can hold up to 60 pages of plain paper in the tray.
Cyber Monday photo printer deals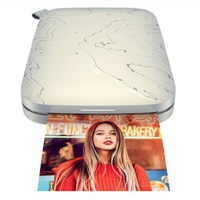 (opens in new tab)
HP Sprocket Select Portable Instant Photo Printer | was $99.99, now $77.63 at Amazon (opens in new tab)
This is the cheapest we've found this teen-friendly photo printer, which create 2.3x3.4" Instant prints on sticky-backed paper. Download the HP app for iOS or Android and you can customize your photos with frames and filters. Just be wary that Zink self-inking paper costs $29.99 for 50 sheets.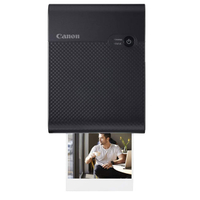 (opens in new tab)
Canon SELPHY Square QX10 | was $149, now $128.98 at Amazon (opens in new tab)
We've tested this photo printer (you can read our full review here) and found the printing quality very impressive. It does only create 2.7-inch square prints, but if you're looking for a way to instantly print photos from your phone, it's a great little machine.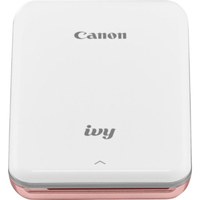 (opens in new tab)
Canon IVY Mini Photo Printer | was $129.99, now $79.99 at Dell (opens in new tab)
If you are looking for a compact, portable photo printer then look no further. With the ability to print 2"x3" photos directly from social media, without the need for ink, this thing would be the perfect addition for photographers and photo album creators alike. With the Canon IVY Mini Photo Printer app you can also edit and customize your photos before printing them, with the option to add emojis, frames, filters and text.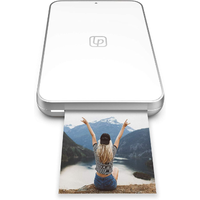 (opens in new tab)
Lifeprint Ultra Slim Photo Printer | was $99.99, now $68.41 at Amazon (opens in new tab)
With an ultra-slim design and inkless photo printing technology, this photo printer is portable, convenient and cost-effective. Producing high-quality 2"x3" in full color with impeccable detail, it is a great piece of equipment for both photographers and people who just want their photos in physical form. With a full photo editing suite you can crop, adjust brightness and add text or filters to your favorite photos easily.
Cheap printers to consider
We've rounded up some great all-purpose printers that we consider to always be a good deal thanks to their mixture of affordability and features. Our special deal-finding system will give you the best prices on these products from across the internet.
If running costs are your primary concern, then the Epson EcoTank ET-2720 is a fantastic choice that won't break the bank when it comes to up-front price either. It uses Epson's EcoTank technology, which gets rid of disposable ink cartridges in favor of a large refillable ink tank. This brings running costs down by as much as 90%, which will offer staggering savings over the lifetime of your printer. It comes with a full ink tank worth of ink too, so you won't need to refill it for ages.
For the price, you're getting great quality prints and a solid scanner too. The print speeds are decent for a home printer, but the paper capacity could be a little bigger. It's a full wireless printer that works with all your devices, and you can even set it up with Alexa for voice-activated printing. It's lacking some creature comforts like an ADF, and it can't do automatic duplex printing - you'll need one of the more expensive Ecotank models for that.
We think the reasonable device cost and extremely low running costs make this an incredible printer for budget concerned buyers. You're paying a little bit more up front, but you're saving a ton in the long run.
---
The Canon PIXMA TR150 topped our list of the best portable printers to buy now. Weighing in at just 4.5 pounds, it collapses down small enough to be stowed in a drawer or even a handbag, while still being able to handle 50 sheets of A4 paper, which it can print on a detailed 4500 x 1200 DPI.
Forget fiddly buttons, too. It's possible to hook up the PIXMA TR150 to either your Google or Amazon Alexa smart speaker and use your voice to command it to print. Not at home? Print directly from your smartphone with 2.4GHz and 5GHz WiFi connectivity. You can buy a separate battery pack to power it when you're on the move, too.
Canon is a great brand for photo printing – not surprising, really, given that the company also makes cameras. The main drawback, however, is that although the ink is long-lasting it's expensive, so not cost effective for printing a ton of paperwork. It really is best for photos.
---
It's on the large side of portable, but the HP OfficeJet All-in-One 250 is a mobile printer with a built-in battery that can print 200 pages before it needs a charge. And it can hold up to 50 pages at one time. That makes it our best compact printer on the market today.
You can connect via WiFi and Bluetooth to almost any device you can think of – including your phone. It prints at 4800 x 1200 DPI quality, copies, and scans and the color quality is great. It's not that great at picking up lighter colors when scanning, but that's its only flaw.
---
Calling all business professional who needs to print high quality documents on the go! The Epson WF-110 offers the best package of high print quality, style and mobility.
And although it's great at churning out paperwork, it can also print 6 x 4 borderless photos, which very few compact printers offer. The rechargeable lithium-ion battery should be able to keep you going for around 100 printed pages, but you can also buy additional external batteries for bigger jobs.
The Epson WF-110 is easy to use thanks to it's intuitive controls and LED screen which means you won't have to mess around with complicated settings while you're trying to print a last minute document for a meeting, or keep customers waiting while you print an invoice.
Printer Buying Advice
If you're shopping for a printer, there are a few things to consider first.
1. Ink types and costs
Ink costs are a big deal. To keep them down, it's worth buying a printer where you can change ink colors separately, or where you have separate cartridges for color (CMYK) and black.

It's worth considering systems like Epson's Ecotank, which you refill with ink from bottles rather than cartridges. It can save you up to 90% on printing costs, not to mention it has saved millions of tonnes of plastic from cartridges from hitting landfill.
One last thing to think about when it comes to ink is its longevity. Look for printer manufacturers that promise ink colors that are vibrant, natural and won't fade over time, and don't be tempted by cheap imitations.
2. Paper sizes
Are you snap-happy but with nothing to show for it? Those in the market for a photo printer should shop for a model that can handle a range of paper sizes (including typical photo dimensions like 4x6in and 10x8in) and thicknesses. Specialist photo papers can be stocky, so it's worth considering what thickness of paper your printer can handle before you buy.
Anyone looking for a workhorse printer to deliver long documents, or many copies of one thing – a teacher's class assignment handout, or event poster, for example, might not need as many paper options. For them, the capacity of A4 that their printer can handle at any one time may be more important, not to mention the speed of the printer and how many pages it can print per minute.
3. Connectivity
Printer connectivity can vary from model to model. You should expect any all-in-one workhorse printer worth its salt to connect via WiFi – Bluetooth might also be an option. Most models will include a USB cable so you can connect directly to your computer. This is handy if your internet goes down, or you are trying to print from an old machine with compatibility issues.
Compact photo printers may exclusively connect to your smartphone via an app, or to both your phone and computer. Fujifilm's Instax printer range, for example, is smartphone/tablet only, but works with both Apple and Android devices.

Some printers may also have 'voice assistant' capabilities, meaning that you can command them to print via Amazon Alexa, Google Assistant, or Apple's Siri. This is still a relatively new option, so don't expect it on older models.
How to get the best Black Friday Printer deal for you
1. Do your research
There are a lot of choices out there when it comes to printers, and it can be overwhelming. You should do some research and figure out what kind of printer you need before hunting for deals. If you live in a small apartment or have limited space then a compact printer will suit your needs best, whereas photographers will want a dedicated photo printer. If you just need an all-rounder then an all in one printer will be your best choice.
2. Check the price history
Just because a website says something is discounted, that doesn't mean you're actually making a big saving. Many retailers have been known to raise prices just before a sale, so they can then say they're offering a bigger discount.
If you want to check on a particular product and see how good a deal is, we'd recommend using a website called CamelCamelCamel (opens in new tab). Peculiar name aside, this website lets you enter a product name or URL and view the entire price history of that item on Amazon. This means you'll be able to see how often the item you're looking for goes on sale, and if it has even been available cheaper than it is now.
Another good tool is a Google Chrome extension called Honey. Run by PayPal, it allows you to check the deal you've found at any retailer, and will check to see if there are any discount codes available to bring the price down even further.
3. Know when to buy
As we've said before, Black Friday actually lasts for several days and many of the deals and discounts that pop up won't be around for long, so you can miss out on a bargain if you're not quick. At the same time, new deals are always being introduced so you can end up buying a printer only for a better deal to come up a few hours later in the Lightning deals. It's a difficult balancing act to manage.
Our general advice is that you should always go for a deal if it's on the model you want. There is no point hanging around waiting for a potential deal when there is a great offer on a printer you want staring you in the face. If you're not set on a specific model of printer though, then it might be worth waiting to see if a better deal comes up.