'I can't wait to do the dishes,' said no one, ever, which is why you'll want the best dishwasher money can buy to do the job for you. Contrary to popular opinion, they use a lot less water than doing the job by hand. Plus, you won't have to keep spending on dishwashing gloves and moisturizers to protect your hands.
There are a few basics any good model worth its (dishwasher) salt will have. First, there should be a range of cycles – at the very least a quick wash so you can use your appetizer plates for dessert, a glassware cycle that's delicate on glasses, and an intense cycle to blast baked-in dirt from pans and casseroles.
There should be no need to pre-rinse dishes in a modern dishwasher, as it will do this for you. You'll also notice how quiet they are – as quiet as a library in many cases. For this reason, you might want your dishwasher to have a light that shines n the floor when it's operating, so no one accidentally opens it mid-cycle.
Larger households may need a three-rack dishwasher that can fit enough dishes, cutlery, and glasses for 14-16 people. However, students and smaller families might want a lower-capacity dishwasher with fewer racks that takes up less space in a kitchen. We recommend trying to find one with excellent cleaning systems, and with a decent filtration system that removes chunks of food easily.
Finding the right dishwasher for you means balancing efficiency, quality, convenience, and price; luckily, we have collected a list of the best dishwashers 2022 has to offer. This list focuses on under-counter models, but we have also discussed the best countertop dishwashers (opens in new tab) for those who need to save space. For those who have chosen their dream model, we have also discussed our tips and tricks for installing a dishwasher yourself (opens in new tab).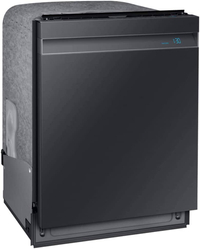 (opens in new tab)
Samsung Smart Linear Wash Dishwasher | was $1,299, now $799 on Samsung's website (opens in new tab)
If you're unfamiliar with "smart" dishwashers, these appliances can connect to your WiFi so you can control the cycles from your smartphone. This Samsung dishwasher also features AquaBlast jets to clean more efficiently and an AutoRelease door that automatically opens at the end of a cycle to improve drying performance
Best dishwashers 2022
Want to find the best dishwasher for you and your family? We've rounded up the best picks around, whether you're looking for a wallet-friendly bargain that will get the job done or a high-end offering that comes packed with all the bells and whistles. Discover your next dishwasher below…
We've selected the Bosch 300 Series SHSM63W55N as our best dishwasher overall thanks to a variety of factors, including its 3-rack system that enables you to make the most of the space available, the Speed 60 quick cleaning function and the 24/7 Aquastop 4-part leak prevention system that is designed to detect and stop leaks (and can even turn on by itself!).
The 24-inch width of this dishwasher means that there's room for up to 16 place settings, which is perfect for larger families who can struggle with fitting every dirty plate into their current dishwasher. Plus, there are five wash cycles, including the five-level wash, the aforementioned Speed 60 that cleans and dries in just one hour and another cycle that sanitizes.
One of the best aspects of this Bosch dishwasher is its noise levels, with a veritable whisper-quiet decibel rating of just 44 dBA. In fact, this dishwasher is designed to be so quiet that Bosch has included an exterior Infolight that will let you know whether the appliance is running or not.
Those looking for a sleek design will be pleased with the out-of-sight controls that Bosch have placed on the top of the door. This means that when the dishwasher is closed, there will simply be a blank, inoffensive panel. Meanwhile, inside the dishwasher you can find the RackMatic system that features three different height levels and up to nine possible rack positions, giving you the ultimate flexibility when stacking your dishes.
---
If you don't fancy spending over $1,000 on a dishwasher, then the Frigidaire Gallery FGID2476SF is a great option for those who want an appliance that performs well without a steep price tag. With a stylish smudge-proof stainless steel design that's made to resist fingerprints and the ability to clean up to 14 place settings in one cycle, this is a good budget-friendly choice.
If you're a sucker for smart features, you'll love the DishSense Technology that automatically adjusts the cycle time based on the level of clean that your dishes need. Plus, the FGID2476SF is designed to clean a full load of dishes using 15% less water. This means that your dishwasher will be more energy-efficient, helping both the planet and your wallet. In fact, this dishwasher is also Energy Star-certified, so you know that you're purchasing a great investment that will save you money in the long run.
Offering seven different types of cycles, some of our favorites include the OrbitClean wash system, which is designed to provide four times better water coverage, a delay start that can be set to run between one to 24 hours in advance and a 30-min Quick Clean cycle for those times when you're caught short without a clean dish.
Inside the dishwasher, you'll find the SpaceWise Adjustable Rack, which can be adjusted to fit oversized dishes and kitchen tools of all shapes and sizes. Meanwhile, the stainless steel interior features a removable filter that's designed to prevent the re-depositing of food particles.
---
Sound the money-saving klaxon! If you're after a cheap dishwasher that still does the job, Whirlpool WDF520PADM dishwasher is an excellent choice. The added bonus is that you can find it on the market for under $500, making it great value for money.
Although it is 'no-fuss', it has practical features for cleaning dishes and glassware to a high standard. The AccuSense soil sensor determines how dirty dishes are and adjusts the normal cycle as needed. And if you only have lightly-soiled items, the one-hour wash cycle is designed to clean items in half the time. Also convenient for saving you time and water consumption.
A minor drawback is that it doesn't have a third top rack. However, the in-door silverware basket can be attached to the door, freeing up more space on the bottom rack. This may not be high-spec to do heavy-duty cleaning in a hurry, but it is ideal for a basic yet efficient dishwasher.
---
The Samsung DW80R9950US goes a long way to make your life easier, with its ultra-quiet running and smart features, such as sending you a notification via an app when your cycle is done. It's also excellent for anyone who wants to squeeze an extra item in, with its adjustable third rack opening up a lot of extra space.
This dishwasher is so quiet that man reviewers had to check if it was actually on. That means that you can kick back and watch your favorite TV show without being disturbed. Inside the dishwasher, there's also a sliding arm spray bar so that you can tackle those stain-prone pots and pans. There's no doubt this model would also look great in your kitchen, and benefits from a fingerprint-resistant exterior.
---
If you're tired of your dishwasher not getting everything clean, it's time to upgrade to the LG LDF5545SS. Its big draw is its QuadWash technology – instead of the two arms that sit at the bottom and propel water around the machine, this dishwasher has four. This means water can get into more awkward gaps, so everything comes out sparkling. If you want a tough clean in a hurry, there's also a 59 minute Turbo Wash.
It can fit up to 15 place settings – not the most on offer, but more than enough for all but the largest families. making it perfect for family use, and has an extensive range of cycles to choose from too. It also benefits from LG's technology when it comes to these cycles, with the NFC Tag On feature meaning that you can download new ones for your machine.
Cutlery goes in an upper tray rather than a lower basket, so this will be a factor depending on what you prefer. This machine also has an excellent warranty, as all LG models tend to. That's partly because they were the first manufacturer to widely offer 'Inverter Direct Drive' – an all-in-one motor that isn't powered by a separate belt and pulley, which would be more likely to break over time.
---
LG is known for producing high quality large appliances – and this dishwasher is no exception. Featuring QuadWash and TrueSteam technology, this appliance is designed to power-clean dishes from multiple angles and ensure that you get up to 60% less water spots at the end of the cycle. This dishwasher is also compatible with the free LG SmartThinQ app, which means that you can monitor its cycles from your smartphone and get an alert when the dishes are clean.
Inside the dishwasher you'll find the Glide Rail, which ensures that the upper rack moves smoothly without encountering any bumps along the rail. Meanwhile, the EasyRack Plus system can adjust the height of the upper rack to three different levels, which means that you can easily fit even your biggest pots and pans inside.
For those interested in saving energy (and money!), you'll be pleased to discover that this dishwasher features varying water intensity in the upper and lower racks, i.e. more delicate glasses, mugs and dishes have a softer setting, while the more durable pots in the lower rack are washed with a stronger intensity to blast off any stubborn stuck-on particles (LG's advanced filtration system is designed to handle food residue even if you don't pre-wash).
Receiving an Energy Star certification and a 10-year warranty on the motor, there's not much more that LG could pack into this dishwasher to make it more appealing. Yes, it's an expensive buy, but you wouldn't expect any less for these features.
---
Not everyone has space for a full-size 24-inch dishwasher – if you live in an apartment, for example. Or you might decide to fit a second smaller dishwasher for convenience. Either way, the GE PDT145SGLWW dishwasher is small yet packs a powerful punch.

It's a dishwasher so simple to use you can even get the kids to help. Never sure how hot the wash should be? AutoSense can work out the soil level of your load and adjust the temperature accordingly, so you're never running it hotter than you need, saving energy and water. The Sanitize option significantly reduces bacteria and enhances drying, while the hard food disposer prevents any long-term clogging of the washing arms.
Set in a quality, stainless steel tub, it is durable and looks attractive. Although it only has two racks, the folding tines provides sufficient space for couples or smaller households. If you do require more loading space or have large families, this is probably not ideal.
For a dishwasher of this size, it's not the cheapest. But it doesn't compromise on quality and performance, which is reflected in the price. For its top cleaning results, practicality, and not to mention space convenience, these make it a worthwhile investment.
What to look for in a dishwasher
When choosing the right dishwasher for you, there are quite a few key elements to consider.
Dimensions and Capacity
Why you can trust Top Ten Reviews Our expert reviewers spend hours testing and comparing products and services so you can choose the best for you. Find out more about how we test.
Before starting your search, it is vital to properly measure the width, depth, and height of the spot you want your dishwasher to be. It is important to bear in mind that the average under-counter dishwasher is 24 inches wide, 24 inches deep, and 36 inches tall. It is possible to get more compact models or even custom ones if you need to. Average dishwashers tend to have up to 14 place settings and are suitable for a family of three while compact models can fit six to eight place settings.
Warranty
An item's warranty can be an excellent indicator of both its quality and how much confidence a brand has in the product. For dishwashers, the average warranty tends to last between one and five years, often being split to cover labor, parts, and motor. How long the warranty is and what is covered depends on the brand and is vital to know before purchase.
Energy
Modern dishwashers tend to be much more energy and water efficient than their previous iterations. While shopping for the best dishwasher of 2022, it is vital to ensure that you look for an EnergyGuide label, which will tell you its estimated energy use, and annual cost, and compare the model with other similar ones.
Dishwashers with an EnergyStar rating are the most efficient, costing around $35 per year to run and saving an average of 2870 gallons of water per year. More efficient dishwashers tend to be more expensive but can be worth the added price.
Sound Level
Appliances like dishwashers tend to make noise while running. The average noise level of each dishwasher's cycle can be measured in decibels or dB. Some who live in smaller homes or with thin walls may need to prioritize finding a quieter model for peace of mind. Most dishwasher models tend to run between 45 and 59 decibels, with very quiet ones running between 39 and 45.
We recommend finding a dishwasher model with a maximum sound level of 50 dB or less to avoid disturbing your home's cozy environment.
Rack Number and Design
The size of your dishwasher will also determine how many racks it has. Smaller ones may only have one, whereas most tend to have two or three. There also tends to be a cutlery drawer and wine glass supports, and some models feature removable racks.
The number of racks and their placement affects what can fit into your dishwasher; do you have large pans or batch cook in huge pots? Make sure they can fit into that dishwasher and see how much effort it is to get them to fit. After all, the point of a dishwasher is to minimize or eliminate doing the dishes, so making sure you can fit everything is important.
Cycles
Dishwashers have multiple cycles to choose from, including gentle, intense, drying, draining, and rinse cycles. However, different models may have unique ones that set them apart, such as an Eco or an auto sensor that adjusts to how soiled the dishes are.
While choosing a dishwasher, consider how many cycles there are and what is available. How long is each cycle? Is there a delay function for your convenience? Consider what would be best for your home and make sure you choose a dishwasher that provides those options.
Design
There are a wide variety of dishwashers on the market in 2022, each boasting a different size, shape, and design. It is possible to find them in a variety of colors and finishes to match your decor or to find some with a glass front. For those who would rather integrate their dishwasher into their cabinets, you can pay extra to fit a matching false cabinet door to the front. Consider the vision you have for its placement and your design preferences while looking to find the right model for you.
Additional Features
Modern dishwashers are designed for your convenience, which can come in the form of various additional features. The exact unique features will depend on the brand and model, but here are some examples of things that could be included in the desired dishwasher:
Anti-fingerprint coating on the outside
Delay start cycle
Internal dirtiness sensors
Leak detection system
Filtration system
RinseAid function
WiFi connection or app
Gentle close door
Multi-level wash system
Multiple dry cycle options
Consider carefully what you need from a dishwasher and see if the model you prefer has any useful features that could help with that.
Price
Each type of dishwasher can be found at a range of price points. Under-counter dishwashers can typically be found anywhere from $200 to $2000 or more. The average price for a dishwasher is around $500 with many people choosing ones at around $300 to $500. We would suggest calculating your budget in advance and trying to find a model in that price range. Alternatively, if you like one outside of it, wait for a sale or coupon to get a better deal.
Additionally, while you do tend to get what you pay for with dishwashers, we recommend doing your research on the models you like to see if the cleaning results are as good as the brand claims. As cleaning dishes is the main function of a dishwasher, it must clean well above all else.
Dishwasher FAQs
How much does a good dishwasher cost?
Dishwashers range dramatically in price – from a small countertop unit that costs $200 to a built-in unit that costs more than $2,000. The average price of the best-selling dishwashers on Lowe's and Home Depot is right around $500. At the upper end of the price range you get features like lighted interiors and windows, so you can see your dishes as they wash. The higher you go in price, the more customization you get. You can pay to have the dishwasher's exterior match your cabinetry exactly. That can be worth the extra investment, especially if you are doing major renovations anyway. Most buyers are staying in a much lower price range, though.
What do you get when you buy an expensive dishwasher?
Buying a top-rated dishwasher, no matter the price, should ensure you have sparkling clean dishes. But if you're prepared to spend more money on your appliance, then you can expect some other seriously impressive features as part of your purchase too.
In terms of the process of washing, higher-end models usually have a more extensive range of cycles to choose from. At the maximum, there are models with 10 cycles, which cater to many different types of dishes. That includes delicate cycles, for fine china and crystal, and others for bakeware. Then there are cycles defined by speed: Normal, Turbo, and Express for example.
Seriously high-tech models also have sensors to gauge how large and how dirty your load is, and cater the wash and the amount of detergent to get the cleanest kitchenware possible. New advances include additional spray arms to ensure the maximum space within your machine gets thoroughly cleaned. Expensive models also tend to have an emphasis on quiet running, as quiet as 39 decibels, so you won't have any bothersome background noise from your appliance if you're relaxing in your house.
If aesthetics are important to you then a high-end dishwasher is also more likely to look great within your home. They usually have stainless steel tubs and fingerprint-resistant exteriors to prevent unsightly marks, and you can get them covered with custom-made front panels if you fancy it.
Which are the best dishwashers for drying?
It's essential for whichever dishwasher you choose to have good drying capabilities so that the last stage of your process is complete when you go to retrieve your kitchenware. Models such as the Miele Classic Plus G 4428 SCU AM have a heavy emphasis on their drying features. The design of the machine aims to eradicate any moisture from your dishes, so that they're ready for your cupboards straight away.
The KitchenAid KDPE234GPS dishwasher is also designed with optimal drying in mind, with high temperatures used to end cycles. It's also aided by the stainless steel exterior, which can keep the heat circulating within the appliance. These are all extremely handy features to look out for when you're shopping around for your dishwasher, so that you can get dry dishes with ease.
When to buy a new dishwasher
When your trusty dishwasher starts making funny sounds as it chugs along, the question confronting you becomes, "Should I get this fixed or buy a new one?"
Cathie Ericson, writing for Realtor.com in 2018, outlines five questions to ask yourself before deciding whether to repair or replace any appliance. A key consideration is how old the device is.
In the article, Ericson quotes Tim Adkisson, director of product engineering for Sears Home Services, who says, "Appliances aren't made to last forever, and a general rule of thumb is that if your appliance has reached the ripe old age of 7 or more, it's probably time for a replacement."
Ericson says you need to think about other factors as well, using a washing machine as an example. "First, consider how often it is used—a single person's washing machine will typically last much longer than a family's because, well, never-ending kid laundry," she says. In addition, it's important to consider how well the appliance has been maintained and how involved and costly repairs might be. You'll also want to assess whether a new appliance would save money.