We've been looking for the best Cyber Monday Purple mattress deals so that you can upgrade your old, battered mattress without breaking the bank - we want you to get the best quality sleep for a good price.
If your current mattress is getting old and lumpy, then there is no better time to upgrade thanks to these amazing deals. If you are in the market for one of the best mattresses then purple has you covered with up to $300 off some of their best mattresses.
Finding good deals on mattresses can be difficult, to say the least, so we have compounded the best Purple mattress deals into this comprehensive guide so that you can save time and money. We have included a number of deals on their best mattresses including both gel and foam mattresses that use grid technology designed with comfort and health in mind. They will keep your spine aligned while keeping you comfortable, ensuring you get the best night of sleep possible.
Purple is an award-winning bedding brand, so you can rest easy knowing that they have sacrificed nothing - your spine will stay aligned while sleeping and you will wake up feeling refreshed and happy. We rated The Purple Original Mattress 4.5 stars in our review, and it came first place in our best cooling mattress buying guide.
These offers won't be around for long, but you can rest easy knowing that Purple offers a 100-night trial option and a 10-year warranty on all mattress purchases.
Purple mattress deals
• Purple: Save up to $300 on Purple mattresses + up to 25% on pillows & bedding (opens in new tab)
• Amazon: See all discounts on Purple mattresses at Amazon (opens in new tab)
• Macys: Shop up to $300 off Purple mattresses at Macys (opens in new tab)
• Mattress Firm: There are six Purple mattress deals available at Mattress Firm (opens in new tab)
• Raymour and Flanigan: Save up to 25% on Purple at Raymour and Flanigan (opens in new tab)
Purple mattress deals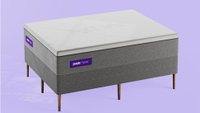 (opens in new tab)
Purple Hybrid mattress | was $2,399, now $2,199 at Mattress Firm (opens in new tab)
Grab 10% off any size Hybrid mattress from the Mattress Firm website. Combining ultimate comfort and pressure-relief from the brand's GelFlex grid technology with support from a responsive coil core, it's great sleep guaranteed.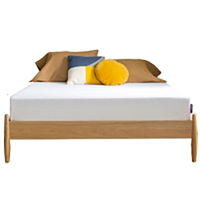 (opens in new tab)
Purple NewDay Mattress | was $1,095, now $995 at Purple (opens in new tab)
The NewDay mattress is one of Purple's newest offerings and comes at an affordable price. It has a firm two-layer design as well as the GelFlex Grid for pressure relief, so it might be a good choice for anyone suffering with back or joint pain. The air channels in the grid also draw heat away from your body - great if you run warm.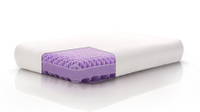 (opens in new tab)
Purple mattress discount on bundles: Get up to 25% off pillows, bedding and cushions (opens in new tab)
If you're after a whole refresh of your bedding, Purple is giving you 25% off select bundles including the Royal Treatment Bundle, the Double the Comfort Bundle and more. This is a bargain if you're looking for a comfy night's sleep.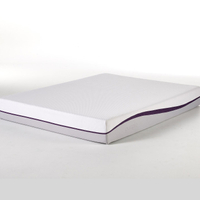 (opens in new tab)
Purple Original mattress | was $1,399, now $1,299 at Purple (opens in new tab)
The popular Purple Original mattress is currently on sale with over $100 off. Featuring Purple's proprietary grid technology that increases airflow and neutralises body heat, it's ideal for people who suffer from hot flushes or night sweats.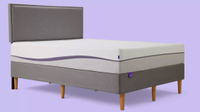 (opens in new tab)
Purple Plus mattress | was $1,899, now $1,699 at Purple (opens in new tab)
Get extra comfort and money off the Purple Plus mattress with this current deal at Purple. This luxurious model features a premium foam layer for a less bouncy feel compared to cheaper mattresses. If you need the cushioning, then shop this deal before it runs out.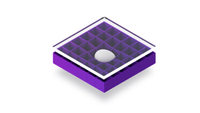 (opens in new tab)
Purple Hybrid Premier 3 mattress | was $2,999, now $2,699 at Mattress Firm (opens in new tab)
If you're looking for the best of both worlds, this medium-support mattress will offer the perfect balance between pressure relief and ease of movement. To all back sleepers and side sleepers, this one's for you - and you can now get 10% off at Mattress Firm!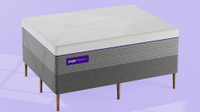 (opens in new tab)
Purple Hybrid Premier 4 mattress | was $3,799, now $3,499 at Mattress Firm (opens in new tab)
For the firm support lovers, this extra firm Purple premier 4 mattress will tick all boxes. It's the most luxurious model of them all, so make the most of this 10% off discount before it's too late.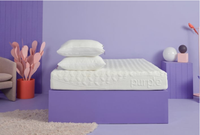 (opens in new tab)
10% healthcare worker discount at Purple (opens in new tab)
As a thank you to doctors, nurses and other healthcare professionals, Purple is offering 10% off your basket. Just verify your eligibility and checkout using a coupon to save on your next mattress or bedding purchase.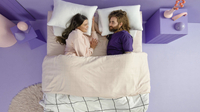 (opens in new tab)
10% military discount at Purple (opens in new tab)
If you're a veteran or military member (active, retired or reservist), you're eligible for 10% off any Purple mattress order, whether it be for you or a gift for family or friends. You'll just need to verify your eligibility before you can take advantage of this great perk.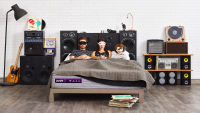 (opens in new tab)
0% APR finance on all Purple mattresses (opens in new tab)
Sleep well tonight and pay later with 0% APR finance options at Purple. There are 6-48 month payment plans available across any Purple mattress model. No matter your budget, you can benefit from great sleep now.
Purple mattresses to consider
Choosing a new mattress can be tricky, and considering the amount of time we spend in our beds, it's one of the most important home purchases you will make. Not only is there price to think about, but also firmness, depth, and filling. It's easy to feel lost when choosing a new mattress, especially online, which is why we've rounded up what we believe are the best Purple mattresses to choose from. They're all of varying prices and have a 100-day test period, so you can rest easy knowing that if you have a bad night's sleep, you can still find the right mattress for you.
Black Friday is also just around the bend, so it's worth holding out to make your new mattress purchase to get the lowest price possible.
The Purple Mattress, also known as the Purple Original, is one of the mattress-in-a-box forerunners, and is affectionately known as 'the mattress that broke the internet'. That's because when it first launched, no-one had quite seen a mattress like it (keep reading), and buying a mattress online, then having it delivered in a box on a free 100-night trial, was simply unheard of.
The original Purple Mattress is now the entry-level model in the Purple mattress range and is usually the one people scope out first when shopping among the best Purple mattress deals. It's a bit of a 'Goldilocks mattress' in that it suits a variety of sleep positions and needs, and it's on sale thanks to the Purple mattress Cyber Monday sale.
That's because the original Purple Mattress, like the more expensive Hybrid and Hybrid Premier, is designed with Purple Grid Technology. This ensures the mattress constantly adapts to your body for enhanced support and comfort from the moment you lie down.
Open air channels boost airflow throughout the Purple Mattress, making it an ideal choice for hot sleepers experiencing disturbed sleep due to feeling too hot and stuffy.
The original Purple Mattress is available in all standard mattress sizes from Twin to Split King, and each size utilizes motion isolating tech. That won't matter so much on the Twin sizes, but for the bigger sizes where you might be sharing with a partner, motion isolation tech comes in handy. How come? If your partner tosses and turns, you simply won't notice it that much and shouldn't be woken up by it.
Who is the Purple Mattress suited to? Hot sleepers, combination sleepers, couples
The Purple Hybrid mattress is a step-up from the Purple Mattress, and therefore carries a slightly higher price tag. Happily though, it's always included in the best Purple mattress deals, so you'll either nab a free gift or discount when buying it.
Whereas the Purple Original uses foam only, the Hybrid also has a base layer of individually wrapped coils to improve the responsiveness of the mattress, plus the overall comfort and support it gives you during sleep. No wonder it has proved popular with tall people, as well as those with a heavier body weight (250lb+).
The Purple Hybrid is a very durable mattress consisting of thin layers of transition foam (there to boost comfort and contribute to the overall study structure of the mattress), followed by 7.5-inch Responsive Support Coils. In tandem with Purple Grid Technology, these coils help the mattress relieve any pressure along key points of your body during sleep. The coils should also help the mattress last longer.
Next comes the two-inch 'no pressure support' Purple Grid layer, filled with a flexible gel material that instantly adapts to your body. So look forward to being cradled by the mattress, rather than swallowed alive.
The final layer – the one that comes into contact with your skin – is a Premium StretchMax Cover. It's soft, breathable, and designed to let air flow freely so that you don't overheat during your sleep.
Who is the Purple Hybrid mattress suited to? Hot sleepers, big and tall sleepers, back or stomach sleepers
The Purple Hybrid Premier is the brand's flagship mattress, and therefore contains every bell and whistle Purple has made to help its customers experience better sleep. Here you'll find Purple Grid Technology, a comfort layer consisting of hyperelastic polymers that adapt to your body in a similar way to memory foam.
But you won't feel like you're stuck 'in the mattress', as Purple has designed the Hybrid Premier to be more responsive, creating an almost floating sensation as soon as you lie down upon it.
The Purple Hybrid Premier mattress also utilizes a transitional layer of polyfoam, plus a support core of pocketed coils (encased in high-density foam) and a polyfoam base layer to boost your comfort in bed, and to relieve any pressure you feel.
Best of all, you can select between two fitness and comfort layer thickness on the Purple Hybrid Premier. Firstly there's a 12" model with a 3" Purple Grid layer, and which provides a medium fitness feel. Secondly, there's a 13" model with a 4" Purple Grid comfort layer. The mattress costs from $1,999 normally, and is currently on sale in the Purple mattress Cyber Monday sale.
Overall, the Purple Hybrid Premier's deep comfort layer and sturdy support system delivers consistent pressure relief across your waist, hips and back, while also better supporting your neck and back. The open-grid design and pocketed coil base mean this is a brilliant mattress choice for hot sleepers, as the Hybrid Premier will work hard to keep you cooler during sleep.
Finally, Purple's motion isolation tech comes in handy for partner's who toss and turn during their sleep. The responsive coils are quiet, so you won't hear them as your partner moves around, and the motion isolation tech should mean you won't feel your partner wriggling either.
Who is the Purple Hybrid Premier mattress suited to? Hot sleepers, couples, side, back and combination sleepers.
Purple has a mattress for kids, aptly called the Kid's Purple Mattress. It comes in Twin size and retails for $699.
The Kid's Purple Mattress is recommended for children up to the age of 14 or who weigh up to 115 lbs. Purple recommends the original Purple Mattress for youth aged 14+ or for children who weigh over 115 lbs.
The new Purple Kid Mattress itself weighs 42 lbs, and is designed to be comfy and breathable. A 2" Purple Grid comfort layer takes pride of place in the center of the mattress, instantly adapting to your kid's body for better pressure relief. Underneath is a layer of dual-layered comfort foam for further cradling and support.
Purple has protected the Kid Mattress with a removable, machine washable cover that also promotes better airflow to help your child sleep cooler.
The Purple NewDay mattress is the newest offering in the line-up, and one of their most affordable options to date. It's quoted to have a "firmer feel" and is a sure-fire choice for those looking for a mattress from a quality brand, at a lower price point. Prices start at $995 for a Full size and go up to $1,395 for a King - luckily there are also Black Friday discounts that lower it even further.
Despite the cost, it still offers the classic GelFlex Grid construction that forms the basis of Purple's mattress collection. This consists of 2 inches of the breathable, super stretchy material that immediately flexes to support your position and springs back to it's original shape when you move. So if you're looking for back and joint support, but don't want to opt for a purely firm mattress, then this could be a good option. It also has air channels that draw heat away from your body - great if you tend to run warm and enjoy a cool night's sleep.
If you're looking for a great all-rounder mattress that will offer support where necessary, then this is a strong choice. However, at 8" tall it's not the thickest and mot luxurious mattress on the market, so it may be a better option for a spare bedroom or for those who are less fussy about their sleeping set-up.
Is Cyber Monday a Good Time to buy a Purple mattress?
Cyber Monday is a great time to buy a new mattress - if you act fast. Cyber Monday tends to have a huge amount of generous deals, but once they're gone, they're gone.
If you're not very deal-savvy or used to scouting around for the best Cyber Monday deals, or if you just don't have the time, then we are here to help. We've written this guide with the best Cyber Monday Purple Mattress deals, to save you both time and money.
Cyber Monday and Black Friday see larger savings than any other time of year, and Purple are currently offering up to $300 off of their best mattresses, as well as a 10% military and healthcare worker discount.
Cyber Monday is also a great time to get a new mattress for your children, with Purple having sales on children's mattresses as well as adult ones. Utilizing these deals is a great way to ensure your children get an undisturbed night of sleep and grow up being as healthy as possible - all while saving your hard-earned money.
Should you buy a Purple mattress?
Purple mattresses are so-called because of their innovative Purple Grid technology. This nifty design relieves pressures on your back, neck, and hips. Another big draw is that the grid increases airflow and neutralizes body heat.
If you're looking to take advantage of the Purple Grid technology for less then look no further than the Purple Original Mattress (opens in new tab) which is the cheapest option. Check out the best Purple mattress deals and discounts in our round-up so you can save money on the mattress of your dreams.
Don't miss these savings if you're looking for a mattress that:
• Eases back, neck, and hip pain
• Keeps you cool and comfortable all night long
• Has the bonus of a reasonably decent trial (100 nights)
• Offers free shipping and returns
• Comes with luxury free sleep gifts or a big cash discount
What's more, you still get the benefits of the 10-year warranty and the 100-night trial period even when you shop the deals so you get the same peace of mind. The price of a Purple mattress without discounts is as follows:
• Purple Kids Mattress - $499
• Purple Original Mattress - from $599
• Purple Hybrid Mattress - from $1,499
• Purple Hybrid Premier - from $2,099
Purple mattress FAQs
How thick are Purple mattresses?
To recap on the above, the thickness of each Purple mattress is as follows:
• The Purple Mattress: 9.25 inches
• The Purple Hybrid Mattress: 11 inches
• 3" Purple Hybrid Premier Mattress: 12 inches
• 4" Purple Hybrid Premier Mattress: 13 inches
Is there a Purple mattress topper?
Purple don't currently offer a mattress topper which is likely due to the quality of their mattresses which means a topper is not essential.
If you're wanting to protect your new Purple mattress though, you may want to consider the Purple Mattress Protector (from $79 (opens in new tab)). There's an option available for a Kid Mattress Protector (also $79 (opens in new tab)) which will fit the Kid's Mattress.
Are Purple mattresses good?
Purple's three most popular mattresses are the original Purple Mattress, the Purple Hybrid mattress, and the latest model to join the family, the Purple Hybrid Premier mattress. If you're on a budget, the Purple Original offers great value for money coming in at half the price of the Hybrid mattress. You can take advantage of the brilliant Purple Grid technology without breaking the bank at a very reasonable $649.
Looking for more customization? Check out the Purple Hybrid or Hybrid Premium mattress, both models taking comfort to the next level with the option to tailor support for your body's needs.
It's what's on the inside that makes Purple mattresses special with their Purple Grid technology. In essence, each mattress is filled with a gel layer that flexes under pressure to support your body and help you get a restful night's sleep. It's designed to cradle your shoulders and hips for the ultimate in comfort. The grid design with air channels allows air to circulate keeping you cool, reducing your chances of a restless night due to excess heat.
Don't miss out on the best Purple mattresses so you can get all of the benefits for less.
When it comes to mattress feel, the Original Purple is described as medium. The all-new Purple mattress (which comes in three thicknesses: 11, 12 and 13 inches) is available in options ranging from medium-soft to medium-firm so you can pick a thickness to suit you.
Whatever your sleep style, there is a Purple mattress out there for you. Another great benefit of the technology is that it minimizes motion transfer, meaning that movement at one end of the bed doesn't affect the rest of it. This could be a game-changer if you're unlucky enough to share your bed with a restless sleeper as it can minimize disturbance.
If you're apprehensive about buying a mattress online, you can rest assured that all Purple mattresses come with a 100-night trial period. If you decide it's not for you within that period, Purple will arrange a collection for free and you'll receive a refund.
Purple mattress unboxing: How to unroll a Purple mattress
All Purple mattresses are delivered in tough purple colored plastic wrapping called The Tube. The mattress itself is encased in another layer of protective wrap to keep it free of dirt and grime during delivery.
Once you get the mattress into your room of choice, follow these Purple mattress unboxing tips:
1. Bring in a helping hand
Get someone to help you move the mattress. These are heavy and unboxing should not be attempted alone.
2. Move the mattress
Lift the mattress, still in its Purple Tube, onto your bed base.
3. Locate your tool
Unzip the Purple Tube at the top and pull out the 'cutting tool'.
4. Start opening the tube
Beginning at the zipper end, cut through the Purple Tube itself.
5. Pull out the mattress
Remove the Tube entirely and pop it to one side on the floor.
6. Remove the packaging
Take off the clear protective plastic layers.
7. Clear up, lie down and relax!
Discard of the packaging and enjoy your new Purple mattress.
Discover more mattress deals...
Best Casper mattress deals
(opens in new tab)Best Saatva mattress discounts (opens in new tab)