If you're planning on attending or hosting a Christmas 2020 gathering with people outside of your household, it's advisable to wear a face covering to help slow the spread of the coronavirus. However, encouraging younger members of the family to wear one can be tricky, as they might find them intimidating or scary. That's why we have rounded up five festive face masks for kids aged two and over, and for adults.
Masks wearing helps protect you as well as those around you, but there are some exceptions. According to the CDC, face coverings should not be worn by children younger than two years old, or by a person who has breathing difficulties. Also, they shouldn't be put on anyone who is unconscious or 'otherwise unable to remove the mask without assistance'.
After initial shortages earlier this year, there are now plenty of reusable fabric face masks to choose from. If you enjoy crafting, you may want make your own homemade face covering instead. Either way, a good mask covers your nose and mouth, and is made from a material that's easy to breathe through. Here are five festive face masks for kids and adults this Christmas...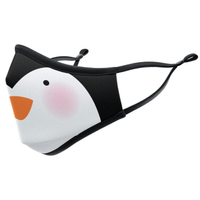 Penguin Filter Face Mask | $13 at Vistaprint
This reusable face-covering with cute penguin design comes with a replaceable-filter system (filters available separately) for 12 hours of active filtering. The mask itself is comfy, breathable and stretchy, with adjustable straps to fit around most little ears. Latex-free, it's made with moisture-wicking material that can be machine washed.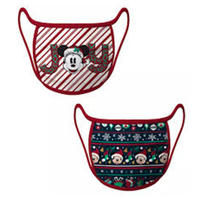 Mickey & Minnie Cloth Face Mask | 2-Pack for $7.19 at Disney
Bring on some festive cheer with this two-pack of super-cute face masks, available for both kids and grown-ups. Wear once and wash in the machine or by hand, ready for the next time. Disney has also donated masks and profits to MedShare, giving even more reasons to wear one of these fun face masks.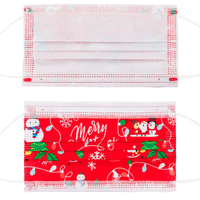 Disposable Festive Face Masks for Kids | 50-pack for $8.99 at Amazon
These essential, disposable masks have three layers of effective filtration, ideal for younger family members to grab and go for indoors or out. Made with soft, environmentally friendly material, a built-in nose bridge and adjustable ear-loops make these a comfy fit. 50 in a pack.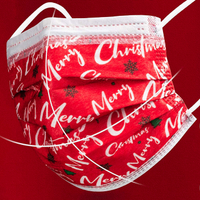 Disposable Festive Face Masks for Adults | 50-pack for $16.99 at Amazon
Less medical-looking masks can often put younger family members at ease where worn by the grown-ups, and these disposable face masks for adults offer the perfect solution with a cheery Christmas design. There are 50 in the pack, so you'll always have plenty to hand over the holidays.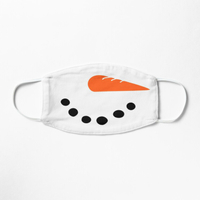 Christmas Fabric Face Mask| 9-Pack for $19.99 at Daily Steals
A handy pack of nine reusable fabric face masks in fun Christmas themes for kids aged 3-8. Made from soft and breathable cotton and polyester fabrics, these masks can be washed and reused. Designs include Santa, gingerbread man and cool Christmas lights.
People of any age can spread or contract COVID-19, with the most common coronavirus symptoms being a new cough, loss of taste or smell, fatigue and a fever, which can be tracker using one of the best digital thermometers.
Wearing a face mask is essential if you are mixing with other people from outside your household. The CDC has published guidelines on how to wear a mask.
When wearing a face covering, ensure it covers your nose and mouth, and that there are at least two layers of fabric that fit snugly against the sides of your face. If you have a disposable mask, wear it once then dispose of it safely.
Other protective measures to take this Christmas
There are plenty of other extra measures you can take to help slow the spread, including staying six feet apart from people outside your household, and keeping your hands clean with a sanitizer that contains at least 60% alcohol. If you are able to, wash your hands often using soap and water for at least 20 seconds each time.
If you suspect you might have been exposed to the coronavirus or are displaying symptoms, follow the CDC's advice on what to do if you think you have COVID-19, are infected, or are caring for someone who is. This involves staying at home unless to receive medical care, isolating yourself from other people, and wearing a medical mask at home and avoiding touching shared objects and surfaces to reduce the risk of infection to those you live with.
Looking for more health content? Then take a look at our guides to best health insurance and the best Medicare Part D plans to see how coverage could benefit you. To look after your reusable face coverings, read our guide to how often you should wash your face mask.