Capacity: 5 quarts
Weight: 29lbs
Warranty: 1-year warranty
The KitchenAid Artisan Stand Mixer combines versatility, durability and timeless style. It offers an excellent all-rounder for any kitchen chef or keen baker, featuring 10 speeds for kneading, mixing and whipping ingredients for a wide range of foods.
With three attachments, including a coated flat beater, spiral dough hook and 6-wire whip, it's easy to conjure up most of your favorite recipes, from cakes to pizza. Meanwhile, up to ten optional attachments are also available to purchase separately, including food grinders and pasta makers.
For
Timeless style
Easy to operate
Excellent performance
Against
Some units may leak oil
Attachments can be expensive
Cuisinart SM50BU Precision Master Stand Mixer
Capacity: 5.5 quarts
Weight: 21.5lbs
Warranty: Limited 3-year warranty
The Cuisinart Precision Master™ Stand Mixer not only looks great - but its extra capacity and high performance put it ahead of most of its competitors.
A 5.5-quart mixing bowl allows any enthusiastic baker to whip up huge batches of bakes, breads, meringues and more, while a sturdy splashguard helps to keep mopping up to a minimum if you are whipping liquids or adding flour. This stand mixer offers three attachments alongside the splashguard, which provides enough tools to carry out pretty much everything you want to do.
For
Great capacity
Includes splash guard
Variety of colors available
Against
You may need to scrape the sides of the bowl
The central consideration when investing in a new stand mixer is whether to opt for a KitchenAid vs Cuisinart model. Which performs best, and more importantly since you're spending a lot of cash, which is the best value for money? We've created a guide specifically for the best KitchenAid deals if that's the brand you decide on, so you can scoop a saving on your small appliance.
We've been considering the differences between KitchenAid vs Cuisinart models for some time now and weighed up their respective pros and cons. And if you've seen our guide to the best stand mixers, then you'll know that we think KitchenAid mixers come out on top, thanks to their robust mixing performance.
With that in mind, there's still plenty of KitchenAid models, for different tasks, to sort through. And with Cuisinart battling it out in second place, it's clear they have plenty to offer too.
There's an extent to which the KitchenAid vs Cuisinart debate comes down to style and popularity. The KitchenAid brand has a place in many people's minds due to their mixer's iconic look, and you'll probably recognize them from their part in the Great British Baking Show too. They're also a staple on baking bloggers and Instagrammers' feeds as a must-have item for whipping up cakes and other treats. But, looks aren't everything, and Cuisinart does take the biscuit when it comes to offering up more affordable options. Keep reading to establish which is best for you, Kitchenaid or Cuisinart?
You can also get the full picture of the most suitable multicookers with our Ninja Foodi vs Instant Pot guide.
Black Friday mixer deals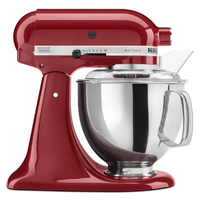 KitchenAid Artisan Series 5-Quart Tilt-Head Stand Mixer | was $419.00, now $349.00 at Walmart
Another great option, the KitchenAid Artisan Series Stand Mixer is another great option. With over 10 compatible attachments, this mixer can do everything from kneading dough to beating eggs. It also comes with a 5-quart stainless steel bowl for all of your mixing needs.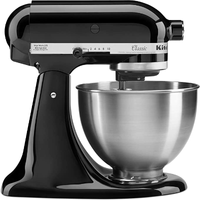 KitchenAid Classic Series 4.5 Quart Stand Mixer | was $329.99, now $259.99 at Amazon
In a dark black design, this KitchenAid Classic Series Stand Mixer comes with a stainless steel bowl, a dough hook, a flat beater and a 6-wire whip. It can do everything from slow stirring to fast whipping, making it perfect for a range of food from fresh bread to meringues.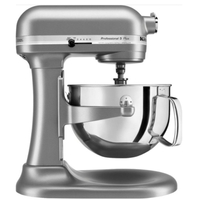 KitchenAid Pro 600 6-qt Bowl Lift Stand Mixer with Flex Edge | was $499, now $429.99 at QVC
You won't have a hard time kneading, mixing and whipping up a storm with this KitchenAid stand mixer. With 10 speeds and multiple colorways to choose from, this is a deal you'll want to snap up while you can.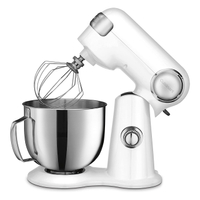 Cuisinart Precision Stand Mixer: was $249.99 now $199.99 at Bed Bath and Beyond (save $50)
The Cuisinart Precision Stand Mixer has a large capacity that's perfect for big bakes, and it's generally cheaper than the KitchenAid. This saving makes it an even more reasonable price.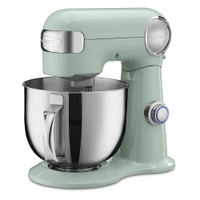 Cuisinart Precision Master 5.5 Quart Stand Mixer: was $249.99, now $199.99 at Best Buy (save $50)
The Cuisinart Precision Master 5.5 Quart Stand Mixer is available in its latest shade, Agave Green, at Best Buy with $50 off this Black Friday. Other colors include a classic Red and Blushing Coral.
KitchenAid vs Cuisinart mixers
KitchenAid vs Cuisinart: The main differences
KitchenAid produces some of the most beautiful kitchen appliances out there. In particular, the KitchenAid Artisan Stand Mixer is one of the most coveted additions to kitchen counters everywhere. Mixers are increasingly bought for style and visual appeal, as well as the advantages they provide when it comes to home baking and making your own bread and cakes from scratch at home.
KitchenAid stand mixers deliver on style, and you'll have over 40 colors to pick from if you opt for the iconic KitchenAid Classic Plus. The Classic Plus was a contender for the top spot in our stand mixer roundup, along with the Cuisinart Precision Master, because this is an unusually affordable model of KitchenAid stand mixer. When on sale it can even come in at a lower price than its Cuisinart competitor.
However, the Precision Master comes with a better warranty, bowl capacity, and number of speeds than either of its KitchenAid counterparts. It doesn't have the iconic KitchenAid style and it's available in fewer colors, but it's still an attractive choice of stand mixer.
With the Cuisinart, you can expect a less flawless execution with your baking. It's a common complaint (and something we noticed in our review) that the whisk and paddle attachments on the Cuisinart stand mixer will leave any ingredients at the bottom or side of your bowl un-incorporated into your batter or mix.
This is simply fixed with a spatula, but it's still not ideal for those recipes where you want to throw everything into a stand mixer and watch it come together. Instead of a lever control, the Cuisinart comes with a dial. This is slightly more difficult to get accustomed to than the typical KitchenAid lever control, but it's a matter of preference, and you may even end up preferring the dial control.
KitchenAid vs Cuisinart attachments
KitchenAid vs Cuisinart: Extra features to consider
If you're wondering if you should buy a KitchenAid or Cuisinart stand mixer, you only need to read our guide to see that KitchenAid took the cake for us. The KitchenAid Classic Plus has the iconic KitchenAid style and reliability but at a super reasonable price. Pair that with the deal of the day, and these stand mixers don't have to break the bank.
The Cuisinart Precision Master stand mixer is typically lower price to the KitchenAid Artisan, but it does pack in a marginally larger capacity and more speed functions, which makes it a great value pick.
In terms of optional attachments, this is where KitchenAid really shines. KitchenAid stand mixers come with the ability to run dozens of attachments. These include:
Spiralizer
Food processor
Vegetable sheet cutter
Food sifter and scale
Slicer/shredder
Sausage stuffer
Food tray
Meat grinder
Fruit and vegetable strainer
Grain mill
Five pasta roller attachments
Ice cream maker
Pasta press
Citrus juicer
KitchenAid's high-end pasta makers actually feature in our roundup of the best pasta makers, so these aren't second-rate products you'll get when you invest in an add-on KitchenAid appliance.
By comparison, Cuisinart has only a handful of attachments. These are less readily available to buy, and clearly offer fewer functions than the KitchenAid:
Pasta roller and cutter
Pasta extruder
Meat grinder
Frozen dessert maker
Spiralizer
KitchenAid vs Cuisinart: Which stand mixer should you buy?
If it's just a stand mixer you're looking for, a Cuisinart is a great choice, but if you want a mixer which can double as just about any kitchen appliance you could want, we suggest buying a KitchenAid.
Regardless of which KitchenAid stand mixer you buy you'll still get the advantages of numerous extra attachments. However, these attachments aren't a cost-saver. Many of them cost as much as you'd expect to pay for a standalone appliance.
If you've already got a spiralizer, meat grinder, or pasta maker, then it's worth considering if the advantages of having a KitchenAid still apply to you. KitchenAid is the more premium brand, but Cuisinart still offers a few more features (such as a larger bowl and better warranty) for the money.