The status Dutch oven is, virtually without question, the much-coveted Le Creuset Dutch oven. However, much to the dismay to many home chefs, it has a rather hefty price tag. It's normally priced at $350, give or take, though the occasional sale knocks a few dollars off.
However, cast iron cookware company Lodge makes a nearly fool-proof dupe of Le Creuset's Dutch oven - and for just $60, too! What's more, it has thousands of reviews and a near 5-star average rating.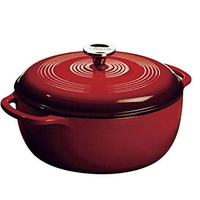 And if you care about appearances and want to fool your friends and guests into thinking that you bought a Le Creuset Dutch oven, you can buy the brand's signature stainless steel knob for just under $20. Just screw the knob off your Lodge Dutch oven and replace it with this one - we won't tell anyone, we promise!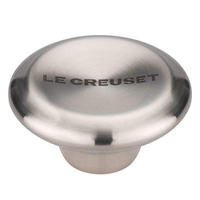 Le Creuset is unquestionably superior in quality to its competitors, hence the price: heat distribution and retention are unparalleled, and its enamel is long-lasting and resistant to chipping and cracking. This kitchen classic is in high demand, but you can nab a 5 1/2-quart Dutch oven off Amazon for the advertised $350, if you want to buy the best quality product.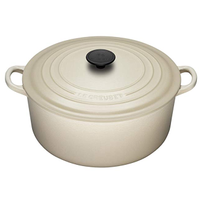 Whichever Dutch oven you pick, it will essentially do whatever you need it to do: be a cooking and presentation vessel for all the various meats, stews, and other delicious home-cooked meals you will make!