If you're obsessed with waffles and Tik-Tok (and frankly, who isn't?), this might be the Prime Day deal to top all Prime Day deals. The internet-breaking Presto Stuffler stuffed Belgian waffle maker is just $29.99 and we've already put in our order.
Given this viral sensation was selling at $79.99 on Amazon this time last year, you're making a $50 saving. As Amazon Prime Day deals go, that's enough to make us choke on our cornflakes!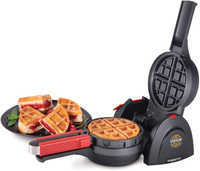 Presto Stuffler stuffed Belgian waffle maker | was $49.99, now $29.99
Make delicious stuffed waffles in minutes with the Presto Stuffler. Fill its non-stick plates with batter and add delicious fillings in between for new takes on breakfast every day. Plus, built-in tongs will help you grab your waffle safely.
Anyone not aware of why 'The Stuffler' has caused such a stir should first check out the video below...
There's no doubt about it – The Stuffler is going to take your at-home brunches to the next level. And it's so easy to use. Simply pour batter onto the bottom plate, add your filling(s) of choice, load another layer of batter on top, then shut the lid.

Minutes lates and hey 'Presto' (we see what they did there), you get the perfect stuffed waffle. Presto recommends filling your Stuffler with 'fresh fruits, pie fillings, candy, chocolate, cheese, meats and more'.
However, genius Tik-Toker Amana.W. takes things up a notch, using her Stuffler to perfect a waffle filled with scrambled eggs, salsa, spinach and cheese. Her inspired idea quickly got fans conjuring up more mouth-watering combinations...
'Blueberry cheesecake waffles', suggests one fan. 'Nutella and strawberries!', says another sweet-toothed convert. Then there's our personal favorite – 'Mac n cheese stuffed waffle'.
And the fillings aren't the only things to get excited about. There's plenty to love about the Stuffler. Like the rotating design that flips 180° to evenly spread your batter mix. Or the built-in waffle tongs that will help you lift, remove, and serve your waffles safely.
Then there's the nonstick grid that divides waffle into four easy-to-cut sections, and which is a piece of cake (or should that be waffle?) to clean.
For added peace of mind, Presto is an established brand here in the States – the company has been around since 1905 and we are big fans of its products. For example, we also rate the Presto GranDaddy deep fryer, and its range of popcorn makers. Anyone else hungry for this deal?
Discover more Amazon Prime Day deals…
Amazon Prime Day deals for the home
Amazon Prime Day scams
Amazon Prime Day kitchen deals
An Editor's Amazon Prime Day wishlist