It's quite possible that you'll be working at home a lot more in the wake of the Covid-19 pandemic, so having your own printer could be very useful. And with Epson offering a fabulous Prime Day discount on one of its best printers, now could be the perfect time to invest in one. The Epson EcoTank ET-4760 Wireless Color All-in-One Cartridge-Free Supertank Printer is a truly next-gen home office solution, not only delivering superior-quality reproduction for professional-looking documents and photos, but also packing a range of advanced features to make your home working as simple and efficient as possible. It's currently on sale for $469 at Dell.
You're saving $30 here on the purchase price, which isn't huge, but you are getting a seriously efficient printer, which will save on ink costs for years. It's one of the best all in one printers available.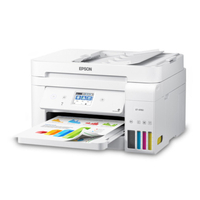 Epson EcoTank ET-4760 printer: Was $499 now $469 at Dell
Save $30 The Epson EcoTank ET-4760 Wireless Color All-in-One Cartridge-Free Supertank Printer usually retails for $499.99, but the tech giant is offering a generous $30 discount to mark Prime Day. But that's not all you'll save, as the price of the printer includes two years' worth of ink, meaning you needn't worry about running out for a good while yet.
Tech lovers have been making the most of some great Amazon Prime Day US deals this year – and you can get in on the action, too. If you're looking to establish a modern and professional home office setup, then a good-quality printer is absolutely essential – and they don't come much better than the Epson EcoTank ET-4760 Wireless Color All-in-One Cartridge-Free Supertank Printer. Powered by a PrecisionCore high-density print chip, this sleek, white machine can wirelessly print up to 40 million precise dots per second, ensuring your documents are delivered with amazing speed and accuracy. That isn't quite good enough to be a good photo printer, but it's great for all office-based uses.
In keeping with the EcoTank's futuristic aura, the printer operates completely without cartridges. Instead, you refill the machine's super-sized tanks with Epson's unique EcoFit ink bottles. Not only will this save you a lot of time in the long run, it'll also benefit your bank balance, with the manufacturer claiming that you can save up to 90% on replacement ink costs. Mind you, you'll get two years' worth of ink when you buy the printer anyway, so that's not something you'll have to worry about for a while.
The Epson EcoTank also supports Amazon Alexa and Google Assistant voice activation, meaning you can print out your projects with just a few simple words. Speaking of Amazon, the tech giant is offering $30 off the price of this printer to celebrate Prime Day, slashing the cost from $499.99 to $469.99 (finance deals are available). With so much to gain, what have you got to lose?
Want more printer info? We've got a guide to the best compact printers, and a look at the best home computers to run them from.