A small army of Oral-B electric toothbrushes are on sale at Amazon right now, with some big savings on the cheaper and high-end models. Right now you can save $60 on the Oral-B iO Series 7 at Amazon, now $159.94 (was $219.99) and that's not the only tempting offer on the table.
One of Oral-B's best electric toothbrushes, the Genius X is also on sale. In fact, thanks to this gleaming early Cyber Monday electric toothbrush deal you can save 31% on the Genius X at Amazon, making it yours for $138.97 instead of the usual $199.99. This brilliant toothbrush uses artificial intelligence to instantly recognize your brushing style, and then gives you daily personal coaching to ensure you're covering all areas evenly for the right amount of time with the right pressure.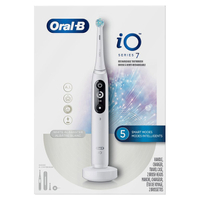 Oral-B iO Series 7| Was $219.99 | Now $159.94 at Amazon
Get 27% off the Oral-B iO designed with powerful vibrations for a professional clean. The smart sensor ensures you don't brush too hard, and AI recognition offers live coaching with a visible timer to make sure you brush for the dentist-recommended 2 minutes.
If you're wanting to give an electric toothbrush a try but can't justify the price, why not check out the super-affordable Oral-B Pro 500, now on sale for just $29.97 (usually $43.99). It may not come with as many bells and whistles but it removes up to 100% more plaque than a manual toothbrush and the 2-minute timer is great for making sure you're brushing thoroughly.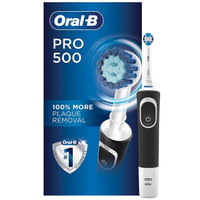 Oral-B Pro 500 | Was $43.99 | Now $29.97 at Amazon
There's 32% off this beauty with a 2D oscillating head that breaks up and removes plaque. The 2-minute Pro Timer signals every 30 seconds to help you brush evenly, and the bristles fade over time so you know when to replace the head.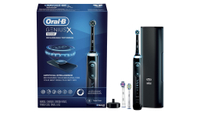 Oral-B Genius X | Was $199.99 | Now $138.97 at Amazon
Save $61 on the Genius X with Bluetooth technology that lets you view your daily brushing habits on your smartphone and get real-time feedback. Choose from 6 modes, including sensitive and whitening, and brush for more than 2 weeks on one charge.
If you're wanting to give your oral hygiene a boost, an electric toothbrush is a great option. While more expensive initially than a manual toothbrush, they can remove higher levels of plaque, food, and debris, and alongside the best dental insurance, a good toothbrush can help protect your teeth in the long run.
The Oral-B iO 7 and the Oral-B Genius X both come with a variety of brushing modes, including sensitive and whitening, although we recommend grabbing yourself one of the best teeth whiteners if you want to get rid of stubborn enamel stains. Both the iO Series 7 and Genius X feature AI recognition to help you brush evenly and for the recommended time.
For a more affordable option, the Oral-B Pro 500 is a great choice. Simple yet effective, it removes 100% more plaque than a manual toothbrush and comes with a 2-minute timer that alerts you every 30 seconds, helping you to brush thoroughly.
More great Oral-B deals
Want more great health and beauty buys? We've rounded up the best Cyber Monday deals, including early price-cuts for health, tech, hobbies, home and more. To complete your grooming routine, check out our guide to the best hair dryers for the perfect blow-dry at home, or learn how to cut your own hair using the best hair clippers.