Electric toothbrush design hasn't really come on a lot and most brushes are minor variations on a theme. That's why it's so nice to see the $189 Foreo ISSA 2, a toothbrush that looks like it's from the future - it was even used in an episode of Star Trek: Discovery.
Funky looks are one thing, but the Foreo ISSA 2 delivers on its futuristic credentials with a battery life that can last for up to one year and brush heads that only need replacing every six months. That's far more durability than other brushes provide.
For all of this technology, the large brush head can make it hard to get into some parts of your mouth and the controls could do with some simplification.
Features
16 intensity settings
Year-long battery life
Two-minute timer
In a world where most toothbrushes have battery life measured in weeks, it's refreshing to see a model that promises up to one-year of life. That effectively means that you can mostly forget about charging and don't have to worry about carrying a charger when you go away.
Rather than using a wireless charger, the Foreo ISSA 2 has a flap at the rear that lifts up to reveal the charging port. The provided cable plugs into this and then into a standard USB power adaptor. The port is a little fiddly to get open, but given you'll only be doing this once a year or so, we can forgive this. And, the benefit of the USB cable is that if you do need to take the cable with you, it's easy enough to pack.
Key specifications
Brush power and type: Sonic brush with 11,000 pulsations per minute
Brush modes: 16 intensity settings
Provided accessories: USB charger and soft travel case
The Foreo ISSA 2 is available in two packs, one with the standard brush head, and one with a sensitive brush head. The standard brush head has a similarly futuristic design to the brush body. It's a large head, with tougher bristles on the inside for polishing and silicone bristles on the outside for getting between gaps in teeth.
The sensitive brush head is purely silicone bristles, designed to tease food out from gaps while being gentle on teeth and gums. Impressively, brush heads are designed to last for six months, although there's no visual indicator to show when it's time to replace them
While longevity is good, the replacement price is quite high at $20. Rivals work out cheaper, even factoring in more frequent brush replacements.
Control of the ISSA 2 is via the on/off button and the power controls, which let you cycle through the 16 intensity settings, topping the sonic toothbrush out at a maximum of 11,000 pulsations per minute.
While the number of modes sounds impressive, the difference between each setting is minor and we didn't notice any difference between setting 10 and setting 11, for example. It doesn't help that there's no indicator on the side of the brush, so you can't even see which intensity you've selected.
It would have been better if Foreo had used a smaller set of intensity settings with a bigger difference between each, or a set of pre-programmed cleaning modes, such as gum care, sensitive and standard clean, with icons on the handle to show you which mode you were in.
As with most modern toothbrushes, the ISSA 2 has a two-minute timer built in, with 30-second pulses prompting you to switch quadrant in your mouth. It's a shame that there's no pressure sensor to help you brush properly, especially given the high price.
Design and build
Exquisitely made with a soft-touch finish
Large brush heads can be hard to use
Simple controls
Style is one area where Foreo wins hands down over its competition. The handle and brush heads are finished in a soft-touch silicon that feels great in the hand. It's the design that catches the eye and the ISSA 2 is the first toothbrush that we've seen that actually looks really nice and would be something you'd be quite proud to have out on display.
There's a range of color options, too. The standard brush is available in black, cobalt blue, pink and mint; the sensitive edition is available in pink and mint.
As well as looking good, the ISSA 2 feels well made and tough, too. For travel, there's a basic soft travel pouch that the toothbrush slips into. This helps keep the brush clean when you're on the move, but we prefer a hard case that provides protection as well.
The single power button is easy enough to reach with a thumb, as are the power controls located above and below.
The brush heads are very large. With the standard model you get a set of silicone bristles for cleaning between teeth and a harder core for tackling the surface of teeth. The sensitive brush is silicone bristles only. While the silicone bristles are flexible enough to fit between teeth, the size of the head can make maneuvering the brush difficult, particularly to reach the back teeth.
Performance
Powerful enough to clean well
Easy to miss spots due to large head
Very quiet
We'd want the toothbrush of the future to work like a futuristic model, delivering the best performance that we'd seen, but results do vary a little. Starting out with the standard toothbrush head, we set it to work with our false teeth.
With the teeth loaded with both beetroot and green leaves between the gaps, we set to work cleaning them with standard toothpaste, using the two-minute timer to ensure that we tackled each quadrant for the same amount of time.
The biggest issue that we came across was the size of the brush head, which made it hard to get into all areas of our test teeth. Brushes with smaller heads are more nimble and that bit easier to maneuver.
Even so, the silicon bristles managed to get between the teeth, with the sonic brush slowly vibrating and pulling out food debris. When the two minutes were up, our teeth were mostly clean bar one spot of beetroot that we couldn't get to easily because of the large head.
Testing on ourselves over a period of a couple of weeks, we came across similar issues, and we found it hard to get the large brush into every area of our mouth. Our teeth were noticeably clean and felt fresh after each brush, although we occasionally had to go back and re-clean an area.
With the sensitive head, the results were quite different. The soft bristles all round made it harder for the ISSA 2 to pull food out, and in the end our test teeth were left with quite a few bits of remnant food.
That's always the trade-off with sensitive brushes, as the softer heads may be more gentle but they don't clean as well in our tests. Some additional cleaning, such as flossing and using mouthwash, would help.
We also measured the sound of the toothbrush on maximum setting, recording from our ear, with the toothbrush in our mouth and operating. At 62dB, the Foreo ISSA 2 is as quiet as we'd expect from a sonic model, with just a high-pitched buzz coming from it.
Verdict
There's no denying that the Foreo ISSA 2 is something quite different to the other electric toothbrushes, with its smart design making it stand out. While the brush looks fantastic, it's the longevity of the battery that really makes the brush impress, lasting for up to a year on a single charge. That's a feature that other manufacturers should be paying close attention to.
Brush head longevity is great, too, although this would be more impressive if the brush heads were cheaper to replace.
For all the good points, the ISSA 2 is slightly let down by the controls on the side, which give no indication of the power level you're on. And, as there are 16 settings to choose from, each a minor change from the previous one, it's hard to work out what you actually have the brush set to.
Cleaning performance is very good with the standard brush, although its large head can make getting to those hard to reach areas of your mouth quite hard: a smaller, more nimble brush would fix this.
Ultimately, the Foreo ISSA 2 might not quite be the brush of the future that its looks promise, but it's a step in the right direction battery-life wise and a few tweaks would make the performance better.
Need a better alternative?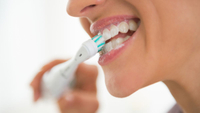 Best Electric Toothbrushes 2019
Top Ten Reviews has reviewed the Best Electric Toothbrushes 2019 so that we're able to offer you the authoritative buying advice you expect.