Instant Pots are known for bringing together the best pressure cookers, best slow cookers, and just about every other kind of kitchen appliance you need to create almost any meal. Until now, there's been one jewel missing from Instant Pot's crown - but a new attachment could relegate your air fryer to the back of the shelf. Instant Pot's new Air Fryer Lid can air fry, broil, bake, roast, reheat and dehydrate your food, and all you need to do is attach it to your existing Instant Pot.
Air frying is one of the easiest ways to cut down on your fat intake, delivering delicious fried food but without using up lots of oil. Frying can generally create a lot of mess and an unpleasant odor which can be difficult to remove, but Instant Pot's new attachment is aiming to change that, with a wipe-clean lid and less oil involved. In fact, according to Instant Pot, its EvenCrisp technology can " make perfect chicken wings, crispy French fries and onion rings, and golden battered vegetables the healthy way, using less than 2 tablespoons of oil."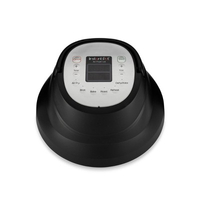 Instant Pot Air Fryer Lid: $79.99 at Target
This fryer lid fits on to most 6 quart Instant Pot models and adds an additional six functions to your cooker. A major space-saver. It also comes with a basket for efficient air frying.
The major drawback of this fryer lid is its steep price. You can find many Instant Pots for under $80 these days, which makes this add-on more expensive than the pot itself. That being said, it does offer more than just air frying. Instant Pots have seven functions: pressure cooking, slow cooking, rice cooking, steaming, sautéing, yogurt making, and warming. There are also 14 smart programs (soup, meat/stew and so on), plus adjustable temperature settings. However, this fryer lid adds a further six functions, nearly doubling your Instant Pot's powers and effectively giving you a range of kitchen appliances for the price of one – and freeing up valuable kitchen space in the process.