Amazon Prime Day 2022 is finally here - the two-day event (12th - 13th July) includes hundreds of great deals for Prime members, so kitting out your home has never been easier.
The Top Ten Reviews team has been hard at work sourcing the best Amazon Prime Day deals so that you can browse the sales with ease, but this also means we have inevitably been adding to our own baskets.
Our editors have expert knowledge in picking home, garden and home office products that are stylish, top-rated and practical, so you can rest assured that these choices come highly recommended. So, want an insider look at what the Top Ten Reviews team have splurged on this Amazon Prime Day? Well, then look no further.
Louise Carey, Editor
A functional, yet stylish laptop stand has been high on my to-buy list for quite a while – and I was finally able to grab myself the perfect stand in an early Prime Day deal. In fact, the quick Amazon Prime one-day delivery means that my laptop is nestled snugly on this stand as I write!
Aside from the sleek wooden design that fits in beautifully with my home office aesthetic, this laptop stand also sits at the perfect height, matching my eye-line. With a repetitive strain injury in my wrist that will occasionally flare up, I'm acutely aware of the dangers of forgoing ergonomic office equipment, so I'm glad that I've finally snagged myself a great laptop stand without having to sacrifice my personal style.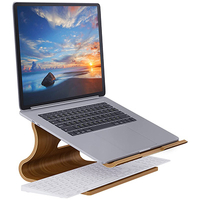 SAMDI laptop stand | was $65.99 | now $48.99
Featuring built-in breathing slots to help circulate air and cool your laptop, this laptop stand from SAMDI combines ergonomics and style. The cutout at the back is perfect for organizing cables and charging cords, while the wooden design will complement even the most stylish home office.
Mina Frost, Deputy Editor
I'm a coffee enthusiast, and I've been dreaming about having my own coffee machine at home. With the rising cost of living affecting my daily morning takeaway coffees, I've finally decided to take the plunge and invest in a quality espresso machine so I can up my coffee game!
I was delighted to find out that the Philips 3200 Series Fully Automatic Espresso Machine is 30% off this Prime Day, lowering its price to $419.99. It comes complete with a milk frother, meaning you can recreate your coffee shop favorites at home, from americanos to frothy cappuccinos.
This trendy coffee machine also has a touch display, a 12-step adjustable grinder, and some parts are dishwasher safe to add to the convenience. I'm sold!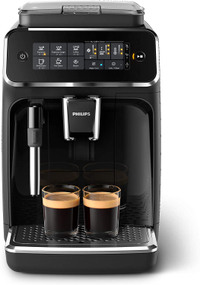 Philips 3200 Espresso Machine | was $599 | now $419.99
This top-of-the-range espresso machine comes with a milk frother to create all your favorite barista drinks. It is completely adjustable to fit your taste, and comes with an intuitive touch display and some machine washable parts. Quality and convenience all in one? Yes, please!
Holly Cockburn, Features Editor
With a flat move on the horizon, I'm using this Amazon Prime Day as a chance to save some money on the appliances I know I'll need, like a vacuum cleaner. Floorspace and storage will be minimal in my new digs, so I really need one that is lightweight and slimline, so it's easy to tidy away.
This Tineco option fits the bill, with a sleek frame that will fit in my cupboards, and a powerful suction to make sure floors are free of dirt. What ultimately sold me was the ultra-quiet noise level - perfect for keeping my new neighbors happy!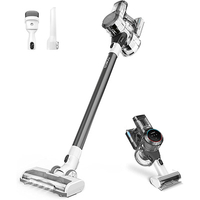 Tineco Pure ONE S11 Cordless Vacuum Cleaner | was $349.99 | now $244.94
High performance and ultra-quiet are two features I can get on board with. This Tineco vacuum is cordless, lightweight, and has $105.05 off so will be easy to store, and easy on your wallet. It also includes a handy LED display that shows cleaning progress, battery levels, and suction performance.
Amy Cutmore, Editor in Chief, Homes Audience
We're all friends here, so I will be the first to admit to you that I'm lazy. And messy. And something needed to be done about it. So this Prime Day, I'm treating myself to a robot vacuum cleaner to tidy up after me. And I'm going to save myself $500 in the process!
The iRobot Roomba i7+ (7550) Robot Vacuum with Automatic Dirt Disposal is my dream vacuum. And it's – wait for it – half price!
Why is it such a dream? Well, not only does it provide amazing suction and cleaning on any surface, it also empties itself for up to 60 days. I don't even need to press a button to turn it on, because it works with Amazon Alexa. If I want it to clean up dropped cornflakes from breakfast, all I need say is 'Alexa, clean under the kitchen table', and my wish is Roomba's command.
It can pick up pet hair, or indeed my hair, and works on carpets and hard floor, which I have a mix of at home. It promises to be ten times more powerful than previous Roomba models, too. I can't wait to see how it performs...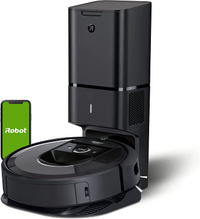 iRobot Roomba i7+ (7550) Robot Vacuum | was $999.99 | now $499
A robot vacuum that turns on, cleans and empties itself without me having to lift a finger? You had me at Roomba...
This Alexa-controlled cleaner can clean and empty itself for up to 60 days straight. And it's far more powerful than previous Roomba models.
Oh, and I'm also investing in this Presto Stuffler stuffed Belgian waffle maker, reduced from $49.99 to $29.99, because I can't resist a TikTok hack....
Discover more Amazon Prime Day deals…
Amazon Prime Day deals for the home
Amazon Prime Day scams
Amazon Prime Day kitchen deals
An Editor's Amazon Prime Day wishlist