I can admit I'm not the most experienced chef, and I certainly don't have an extensive butler's kitchen to match, but what I do have is years of experience reviewing and staying on top of the must-have kitchen appliances.
There's a lot out there, so it can be tough to dig through and figure out exactly what is worth your money. Whether you've just started building your kitchenware collection or you're looking for the best picks to add to your home, I've rounded up my recommendations of the appliances and tools that will make the daily grind faster, more streamlined, and add a stylish touch to your cooking space.
From the pan you didn't know you needed to the all-essential air fryer, there will be a pick in here for everyone, so read on to learn more about your next buy.
1. Do-it-all pan
Although not technically an appliance, a pan is arguably one of the most-used kitchen tools, so it's important to get it right. As much as I dream of a full Le Creuset collection, my kitchen simply doesn't have space for an entire set of pots and pans, and I don't have the budget either. I used to think that I needed frying pans of different sizes, as well as a Goldilocks-inspired 'Mommy', 'Daddy', and 'Baby Bear' collection of pots, however, I've recently found the ideal solution.
My cupboard space (or lack of it) has forced me to become a kitchenware minimalist, and in turn, I've discovered that one pan really can do it all. Last Christmas I was gifted an Our Place Always pan, which is designed to replace 8 traditional pieces of cookware, so whether I need to fry, sauté, steam, boil, sear, or braise I can do so with one pot. It has a spatula and spoon rest too, so I can avoid leaving the dirty spoon on my countertops.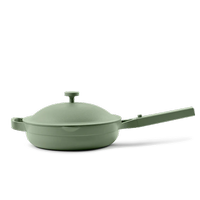 Our Place Always Pan | $145 at Our Place
The Always pan is a cult favorite for a reason. It replaces eight pieces of typical kitchenware so you can accomplish almost every cooking style with just one singular tool. It's lightweight, compatible with all cooktops including induction, and it comes in a range of highly aesthetic colorways.
2. Air fryer
Air fryers have quickly become the most-loved kitchen appliance of the moment and for good reason. My weeks are busy, and whether it's with dinner prep or working lunches, I need my meals to be as speedy as possible. An air fryer has made this possible and has also encouraged me to experiment more with cooking thanks to the time I'm saving. It's also been great for saving on electricity as it uses less energy and cooks much faster than my oven.
I love this smaller option as it's perfect for one or two-person meals, but if you have the space then a larger volume model is great for cooking as much as possible in one go.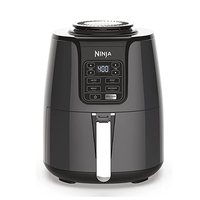 Ninja AF101 Air Fryer | was $129.99, now $95 at Amazon
Ninja is one of the top brands for air fryers, offering innovative technology combined with an attractive design. This model has a gloss finish and a four quart capacity, including a non-stick basket and crisper plate. It's also dishwasher safe, taking the fuss out of post-dinner clean ups.
3. Counter-top grill
While this choice might sound counter-intuitive to my all-in-one pan claims, I think there's still a strong case for having a countertop grill in your kitchen. I'm a grilled cheese lover, so for that purpose, alone my George Foreman grill is a cookware essential, but it has so many other uses that make it entirely worthwhile.
It's great for searing meat and giving it a charred taste that mimics outdoor grilling, and you can do so super quickly and in all weather. It has instantly upgraded my mealtimes and made it easy to impress guests, so for that alone, it easily makes my top five kitchen essentials.
George Foreman Grill | $36.99 at Amazon
With four removeable grills, it's super easy to whip up a family meal with this George Foreman grill. It has an advanced non-stick coating that is two times more durable than previous models and removes the need for excess oils. The removeable plates are also dishwasher safe, making it even easier to clean up.
4. Coffee machine
I've written before about how much I love my Nespresso machine, so it's no wonder it's made this round-up too. A coffee machine of any type is the perfect way to upgrade your mornings and impress your weekend guests.
I have the Nespresso VertuoPlus which is super easy to use - you simply load the capsule, press the button and wait for your coffee to start pouring. I recently discovered how to clean a Nespresso machine too, and I'm pleased to report it's a simpler feat. What's more, they make a very attractive countertop companion so you'll be happy to leave it sitting out in your space.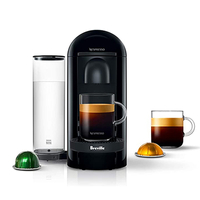 Nespresso VertuoPlus | $169.95 at Amazon
If you want a simple coffee routine that requires a push of a button, then the Nespresso VertuoPlus is a good choice. It has an adjustable water tank and it's slimline, making it great for tucking away on a countertop. The compatible capsules are fully recyclable too, making your mornings more eco-friendly.
5. Food processor
The final esteemed appliance in my top five must-haves is a food processor. I have mentioned before that I'm not an advanced chef, but a food processor is a quick way to make me feel like Martha Stewart. My favorite method is roasting veg and blending them up with some stock for a weeknight homemade soup.
This Ninja model has four functions for chopping, slicing, making smooth sauces, and even kneading dough. It also has a 1000-peak-watt motor that can process the toughest ingredients. One of the most important factors to consider when buying a new appliance is the ease of cleaning it, and fortunately, these attachments are dishwasher safe and fast to assemble, removing any fuss from the process.
Ninja BN601 Professional Plus Food Processor | was $119.99, now $109.99 at Amazon
This Ninja food processor is a powerful choice that won't break the bank. It has four Auto-iQ intelligent preset programs and three speeds, so you can easily customize it to your needs. The XL processing capacity also means that the 72 oz processing bowl consistently delivers amazing results.
Discover more guides for the home…
Best steam mops
Best robot vacuums
Best handheld vacuums
Best carpet cleaners