There's a good reason we recommend Ashampoo Winoptimizer 18 for fixing slow PCs. Ashampoo is a prolific developer of utilities, office and media software from Germany, and we rather like the firm's enthusiastic attitude and conviction that you should be able to use its products without reading a manual first. Many of its apps fill a specific niche, like working with compressed files or uninstalling programs better than Windows can itself. WinOptimizer 18, despite being one of its more expensive apps (there are frequent discounts, and the 30-day free trial is fully functional) is one that can appeal to almost everybody. We've all suffered from slow computers, and this is the best repair software for PC right now.
WinOptimizer 18 is packed with features, but makes itself easy to use. There's a fully automatic mode that can be activated and forgotten about, cleaning away temporary files from applications, accelerating app launches, and adjusting the priorities of processes without any input from you. It seems to work too, although we were initially nervous about leaving something so technical up to an application, and set a restore point before turning it on.
If you decide to take manual control of the optimization process, then there's a lot for you to do. An initial scan from the Overview page kicks off an analysis of your system, with metrics like the number of unnecessary files and settings the program has flagged as 'incorrect' mounting up as it progresses. It only takes a few minutes on a modest system, and unless it's brand new will probably find something to alert you to. Then it's up to you - do you click the Optimize button immediately and let WinOptimizer take care of all the problems? Or do you inspect each category individually, deciding what to fix and what to leave as-is? After all, one program's 'unnecessary registry entry' may be very necessary for another application.
To save time, you can set WinOptimizer to run a scan every time you start it, then hammer the Optimize button every time, but the app is probably at its best when you delve into the depths of the settings available to you. A cogwheel icon at the top right opens up a rich options window, allowing you to switch parts of its analysis on and off, set security password, choose which parts of the app integrate with your Windows Explorer right-click context menu (which is how we discovered the app's ability to empty your Recycle Bin securely, overwriting the files up to 35 times instead of simply marking them for reuse) and more. There's a separate options tab for all the tabs in the app itself, making it easy to customize the app to your exact specifications.
Before it fiddles with your Windows registry - a database you probably don't need to see that contains low-level settings and information about Windows and the way it interacts with your PC's hardware - WinOptimizer backs it up. You can manage these backups from within the app, setting them to auto-delete after a set period of time or restoring them in the case of something going wrong.
The All Modules page is where you can wring the most power from the app, however. From here, you can review the health of your hard drives, track down files that are taking up a lot of disk space, benchmark your system for comparison to others, encrypt files, defragment your drives and even reduce your PC's startup time. For an app that is sold on the promise that it will speed up your PC, it's good to see that it takes such a well-rounded approach, coming at the problem from every conceivable angle.
Coming from a small German developer with a slightly amusing name, it would be easy to write off Ashampoo WinOptimizer as just another shovelware utility out to get your dollar without providing much in the way of a product. The reality couldn't be further than that - WinOptimizer is clearly in constant development, and while Ashampoo could maybe lay off the marketing emails a bit, its product is a strong one, with plenty of power and options backed by great customer service and a generous 30-day free trial. Buy WinOptimizer once, for example, and you can install it on ten different PCs.
Should you use Ashampoo Winoptimizer 18?
Ashampoo WinOptimizer is our favourite system utility - there's little to beat it in the paid-for space, and its close competitor Glary Utilities has the benefit of being free for private use. WinOptimizer beats Glary for sheer depth and number of tools and options, however, though they both offer the one-click maintenance that's so attractive when compared with slogging through lists of registry entries and start-up items. WinOptimizer is worth the money when you consider all the other things, such as file encryption and shredding that it brings on top of its core optimization functionality.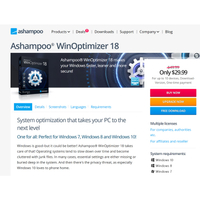 Buy Ashampoo Winoptimizer 18 at Ashampoo for $29.99
If you want to start cleaning your PC right now, there's currently an offer on at Ashampoo that gets you $20 off the latest version of Winoptimzer. This link takes you to their website, and does not activate a software download.