ASLdeafined is a video-only platform for American Sign Language learners of all ages and abilities. It's aimed at those with hearing loss, their families and friends, and anyone in the hearing community that would like to learn and use ASL.
On the ASLdeafined site, you will find over 300 themed lessons, a comprehensive video dictionary, and the chance to search and practice signs/words based on hand shaping, different parts of the body, or fingerspelling. If you follow the lessons, you will also have the chance to test your knowledge with quizzes and retention exercises. You'll be able to follow lessons that match your ability and watch your progress on your personalized dashboard, or you can take a more relaxed approached and just have fun picking signs that you'd like to learn to share.
When we tried it out as beginners we found it to be very reasonably priced, but lacking in some tips and resources that would have made it a complete learning experience. If you're looking for more learning resources, try having a browse through our list of the best online learning platforms, many of which offer their own ASL courses.
ASLdeafined review: Teaching format
ASLdeafined is a video-only, self-learning platform where you work through a series of lessons at your own pace, first watching and signing along with the videos, and later on working through the retention exercises and quizzes in each section.
When you first sign-up you can pick your ability level, and there will be recommended lessons to the right side of the screen, with a full list accessible through the top menu bar. The site also asks you to choose why you are learning American Sign Language, which could be personal interest, having hearing loss yourself, or being the parent/carer of a deaf child.
There are a broad range of lessons on offer, starting from the basics like alphabets and numbers, animals, food, feelings, and emotions, moving through to more complex topics like politics. These are divided up into the ability levels below:
Beginner: Example topics include greeting people, clothing, grammar, adverbs, and celebrations.
Intermediate: Topics featured are illness, Christmas, locations, numbers in the thousands, at the library, and career planning.
Advanced: The ocean, weather, menu items, school, and life events are included.
Advanced+: The highest ability level available, with signing for time, nature, U.S history, Easter, space, military terms, and deaf jokes.
Within each topic, the signing words are broken down into individual videos to make them easier to follow along with. There are also reading comprehension style exercises, quizzes to test your progress, and regular 'storytime videos'. These are in a conversational style to help progress your understanding from single words to full sentences.
You can use either the website or a dedicated app to work through the lessons, which is handy if you like to learn on-the-go. That said, it can be tricky to hold your phone and sign at the same time when you're a beginner, so the app might be best used as a kind of 'refresher' when you've forgotten certain sign language words.
ASLdeafined review: Course quality
On the whole the course quality is pretty good. The videos are signed by deaf experts and are easy to navigate through, with the person signing often mouthing the words alongside signing. They sit face on to the camera with no noise or distraction, against an unfussy background so you can fully concentrate on their hands as they sign.
For the most part, the experts were sharp and distinct in their signing, but there were a couple of video lessons, particularly with the more involved hand shaping that were too quick for us to catch even with the 'slow playback' option selected.
We also found that each video only had the word signed once, which is unhelpful when you are trying to look at the screen, click on the mouse and get ready to sign using both hands. Again it's all too quick and would have benefitted from the experts signing each word a few times in each video, or the option to loop the video.
ASLdeafined review: Ease of use
We joined as beginners with a personal interest in learning ASL and found the support options onsite a little limited. Also, because it's designed as a self-paced learning platform, you are being marked on your progress in terms of retention, not accuracy in signing, and there's no way of getting feedback on this important aspect of language learning. We also had some problems navigating the site, as it's not totally clear how to organize and order your own lessons.
The lack of text or diagrams to refer to is also quite noticeable. Although they are not always needed, some tips on signing more complex letters and words would have been helpful, to clarify, for example, which fingers to use and which direction to point.
ASL Deafined review: Cost
The website works on a yearly subscription model with different price points for educational, personal, and group student rates. It works out at $12 for educational and $36 for personal per year which is a pretty reasonable price for self-paced learning in this format. The price includes access to all video content, exercises and quizzes, articles about deaf culture, and a mobile app.
For comparison, a similar set of lessons on a platform like StartASL would set you back around $24.95 a month. And a 'complete' course on the Sign It platform costs around $159.99. So this is definitely a relatively cheap option.
ASLdeafined review: Should I use ASLdeafined?
This very much depends on what your expectations are, and whether you have any knowledge of ASL before signing up. The lack of any real introduction into ASL as a whole, and tips as you move to different levels is quite noticeable, and beginners especially will miss guidance on the more complex signs.
But if you are looking for a learning platform that will work alongside other resources, then this is definitely worth the price. For a year you get 24/7 access to a wide range of themed lessons, and if they get a bit boring, you can use the dictionary to make up your own.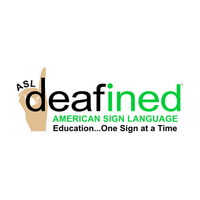 Check out the courses on ASL Deafined
At just $36 for a full year's access, this is one of the cheaper ASL courses that we've found. Absolute beginners might find it a little bit of a steep learning curve, but clear videos and extensive dictionary make this a good option for most confident learners.