The best digital scrapbooking software brings the crafty art of photo organization into the modern digital age. Collate your online pictures, digital clippings and artistic flourishes in a scrapbook that can be saved to view and share anywhere.
Many of the best digital scrapbooking software programs will allow you to crop, re-size and even touch up images as you arrange them in your scrapbook. This allows you to sort out your pictures for a project, as part of a gift, to get your thoughts down and any other reason you might want to scrapbook.
For those making the leap from physical scrapbooks to digital scrapbooking, fret not, there are even services that allow you to get prints of your final project. These can be great options for those looking to create a photobook, although if that's your only goal then you're better off checking out the best photobooks.
For the best scrapbooking software out there right now read on and you can get the ultimate pairing for exactly what you need. Alternatively, if you just want to keep your images tidy, we have a guide to the best photo organizing apps.
---
1. MyMemories Suite 9: Best digital scrapbooking software overall
Why you can trust Top Ten Reviews Our expert reviewers spend hours testing and comparing products and services so you can choose the best for you. Find out more about how we test.
MyMemories Suite 9 is the best scrapbooking software out there right now, bar none. This is thanks to a massive selection of features including the fact this is both Mac and PC friendly, offers 465 free kits with 20,000 you can buy and – crucially – easy to use templates.
Each template is customizable and there are so many options to choose from you won't have to spend a lot of time designing things in another program to add them. If there are particular design elements you like in each template, it's easy to simply copy and replicate them as much as you want.
You can add text boxes, and there are a ton of fonts to pick from. You can even change the opacity and stroke width. You can also work with different page sizes so you can determine how large or small you want the scrapbook to be. You can't add videos, links or music to your albums unfortunately. You can use the Color Picker to see a preview of your image or pick a color you want to match elsewhere on the page.
Aside from page design you can also edit photos. This includes red-eye reduction and cropping but not the detailed editing you would get from another application like Adobe Photoshop.
---
2. MemoryMixer: Best budget option
Memory Mixer 4 gives you a lot of tools and convenience for your money making it a great budget option. It comes with 236 kits ready to use, but you can find 9,000 more to be bought from the company's site.
This works on both Mac and PC with dedicated programs for each. You get a variety of designs, embellishments, fonts and other design elements and have the option to edit page designs or simply use them as they come, if you're in a hurry.
This program doesn't offer paintbrush tools or text effects, so you can't create your own graphics. It also won't allow you to add video, music and links to your digital scrapbooks.
Despite that, it's still incredibly comprehensive, especially for the price, falling well below the price point of many other scrapbooking programs. It's also easy to share your creations digitally.
Support is also great, with customer service on the phone, email or traditional mail, plus a FAQ section on the company website.
---
3. Forever Artisan 5: Best for customization
Forever Artisan 5 is best for customizing every aspect of your digital scrapbook. The package comes with a rather meager 77 free kits but there are 8,969 additional kits available to choose from.
The photo editing tools are extensive. You won't need to use another program to edit before uploading to the scrapbook. This lets you you crop, fix red eye and even put filters like black and white or sepia over your images. There's a little bit of a learning curve with the interface, but it's not an issue if you're experienced digital scrapbooker.
The program automatically places your photos for you but then allows you to drag and drop them using the page's rulers. This level of customization isn't always available with scrapbooking software and the auto feature certainly helps on saving time. You can print your creations or save as a JPG or PDF to share digitally.
---
4. PhotoMix 5.3: Best for beginners
For a simple to use digital scrapbooking option, this is the place to start. While other programs have a lot more editing and design options, PhotoMix 5.3 is bare bones. That is one of its main strengths.
The Getting Started tutorial shows you how to use every feature. If you're still unsure how to proceed, each feature icon has a brief description of what it does that pops up if you hover your mouse over top of them.
It's so easy to use that this is also a great program to use if you're in a hurry. You can save and share your finished creations as a JPG, GIF or BMP.
There are basic photo editing tools available but you can't add an audio or musical component to your designs. There are plenty of borders, backgrounds and clipart you can use to personalize your creations.
If you have a lot of images saved you can also package them together as a ZIP file. This software has a help section, but if you still need more help, you can also reach out to the company by phone or email.
5. Adobe Photoshop Elements: Best for image editing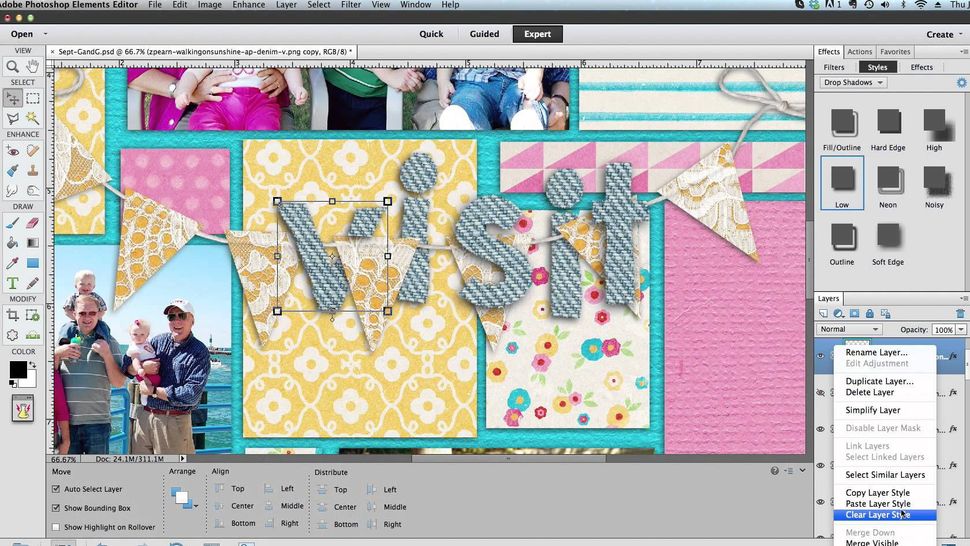 Adobe Photoshop Elements is the less complex version of the pure Photoshop editing software. As such it's more affordable, easier to use and far lighter on hardware processing. Yet, compared to most dedicated scrapbooking software, it's far more powerful.
Elements offers some of the best photo editing tools and skills of any software. This means a lot of freedom to crop, color, organize and share your photos. Of course this does mean you won't have audio or video support, but since many scrapbooking programs don't offer this anyway, it's not a major issue.
Output in lots of different formats, making this easy to share and view projects on a host of different platforms and devices. Expect the price to be higher than some programs but since this can be used beyond scrapbooking it could be well worth the price.
6. Smilebox: Best free online digital scrapbook
Smilebox is a great free and online based scrapbooking option. Since this is accessed through a browser it can work on most devices, doesn't require downloading and is intuitive to work with. It also means everything is stored online so you can access it easily from wherever you need, without the worry of losing saved work.
For a free offering this really is impressive. There are plenty of templates to pick from, created by professional artists, and you can arrange and edit to personalize that layout as you need. It's not as comprehensive as some of the paid for downloadable software, nor can you expect lots of photo editing, but it's still enough for most users and even includes audio, which some paid options don't offer.
You will need to sign-up for an account but that only takes a short while and requires very little personal information.
---
How We Tested Digital Scrapbooking Software
We used each program in our lineup to create multiple scrapbook layouts. We were not judging final designs but rather the tools available to create them. We prefer software that offers easy access to a wide selection of embellishments and other graphics so you can always make the page you want.
We had in-house design experts evaluate the quality of graphics available from each software publisher. The designs that come with each program represent raw materials only, so the designs you create with them will depend on skill level, personal taste and other factors. For truly professional-level designs you would want to hire a professional.
Editing tools can make a big difference in terms of convenience because you can edit and make your layout in one place rather than switching back and forth. We prefer the programs that have a long list of ways to manipulate your photos – virtually cutting them into shapes, adding filters to make them appear vintage or sepia-toned, removing red eye and many other interesting effects.
We took note of how easy it was to use each program. The best software makes features and tools easy to find. Most of them took just a few clicks to download, but some were not that simple. A few programs take a long time or make the process difficult, which we note in the side-by-side comparison. We also tallied the number of different ways you can share your final creation to highlight the companies with a variety of sharing options.
There is a learning curve for this type of software, especially if you are new to it. The best software companies make it easy to get customer service when you need it in a range of different ways – FAQs, forums, email and tutorials.
Finding the Best Digital Scrapbooking Software
There are some basic features that feature in all the the best digital scrapbooking software found here. These include templates to get you started, editing software and various options for sharing your end results.
But some are better than others, with more impressive template options or a greater number to pick from. Some may have more graphics to pick from, making editing easier with the ability to be more personalized.
Some will even add options to help you work on the photos themselves. From removing red-eye to adding in filters to give a different finish to your images.
Digital Scrapbooking for Mac Users
For Mac users there are certain digital scrapbooking software options that are designed for that particular operating system. MyMemories and Memory Mixer, for example, both offer Mac versions of their programs.
There are other products like iScrapbook, The Print Shop, Scrapbook Crafter and iCollage that offer decent alternatives for making digital scrapbook pages with your Mac, too. For more information on your options for Mac software, see our full comparison.
How to Create a Digital Scrapbook With personality
Scrapbooks can grow beyond the 2D prints that you end up with. There are lots of ways to work with other additions where your limit is your imagination. Print off buttons and stick real buttons on top, for example. Or perhaps attach a real fyler from your child's pageant where you have a photo selection printed off.
Or go the other way and stay entirely digital, with no printing, and enhance it virtually by adding music or commentary and sound effects, for example.
How Do I Share My Digital Scrapbook Designs Online?
Since your digital scrapbooks will be saved when you're done it leaves you with lots of options to share them digitally. Direct on social media or sent via email are just a few choices you have.
You could also upload to photo sites like Flickr, Shutterfly or Google Photos. That means you've got them backed up, can access them anywhere and can share easily. These even organize them for easier search options. Just don't expect all the best feature to be free on all of these services.
Or get on social media and share with the likes of Snapchat, Pinterest, Ello, Visual.ly or Tumblr, where it's usually free and you may find like-minded people to share with and inspire each other.