Best Vacuum Storage Bags 2019 - Space Saving, Sealed Storage Bags
We researched vacuum sealer bags for more than 120 hours to find the brand that is best for most people. Our top selection: the versatile and strong SpaceSaver Premium Jumbo Vacuum Storage Bags, which offer plenty of interior space (40-by-30 inches) and can be compressed by as much as 80 percent. These bags work well for home storage as well as for packing clothing for travel so you can fit more into your suitcases. The bags also come with a hand-pump, which is handy if you are traveling and find yourself in an area where you don't have access to a vacuum cleaner for suction.
Best Overall
The bags are quite large.
They effectively protect clothing.
These are particularly good for travel.
You should avoid sharp objects.
You must dewrinkle clothes later.
The hand pump takes effort.
You can buy these in a six-bag set, so you will have plenty of SpaceSaver Premium Jumbo Storage Bags on hand.
As long as you keep them away from sharp objects that could puncture them, you can reuse them. Given their 40-by-30-inch size and their durability, these are reasonably priced bags for travel or storage.

Although you can buy this brand in medium and large sizes, the jumbo-size set can hold stacks of clothes, towels, puffy jackets, quilts, duvets and more. And if you're planning a long trip, these storage bags let you pack far more clothing than if you simply put folded items into a suitcase. Using a vacuum cleaner hose, you can reduce the bag to 20 percent of its original size. The set also comes with a useful hand pump that pulls the air out of the bag, though it will take some work on your part.
Best Budget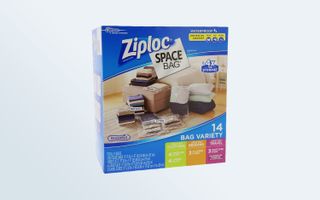 Affordably priced
You get 14 in a set
Come in various sizes
Must avoid sharp objects
If torn, the seal is lost
Somewhat breakable
If you have lots of items to store, but not necessarily lots of money, the Ziploc Space Bag 14-Bag Set is an economic choice.
This set includes 14 bags, but the overall cost per bag is quite reasonable. You can store a variety of items because this set includes four medium bags, four large bags, three extra-large bags and three suitcase bags.

Although rather inexpensive, these bags are waterproof and airtight, and you can reuse them to protect your clothing, bedding, seasonal items and other soft articles from mold, bugs, debris and dirt. Since the bags are see-through, you can easily spot what's inside, so you can find what you need without opening several bags. A vacuum cleaner hose sucks the air out of the bag once it is packed, and they stay nicely closed because each bag has a double zipper closure.

The variety of sizes in the set is particularly useful for storing seasonal items of various sizes, or for traveling. Note that overfilling a bag can cause it to rip, destroying the seal and rendering the bag useless. You will also need to avoid anything sharp, since even a tiny pinprick hole will ruin the bag.
Best Under-bed
Compresses 95 percent
Large capacity
Double zipper seal
Not suitable for travel
Doesn't compress flat
Deteriorates over time
These vacuum sealer bags don't lay flat as other bags, but are cubed-shape, so they stand upright as you fill them. As you remove the air during the sealing process, the MightyStor Cube retains a bit of its square shape that makes it easy to stack several on top of each other without warrying about slipping.
They're also easy to slide under a bed. Because they don't compress flat, the Household Essential MightyStore Cube isn't the best choice for travel.
These bags compress down to 5 percent of their original size. With an original size of over 9 cubic feet, you can easily store two large comforters, 12 sweaters or several pillows in one bag. There is a double zipper to seal in your clothes and keep moisture and bugs out, and there is a valve at the top of the bag that makes it easier to vacuum out the air. These bags can handle a few uses, but the plastic can deteriorate over time if they are exposed to sunlight or abrasive surfaces. It is suggested you cover the sealed bags with a dust cover or tarp if you need to store them in harsh conditions, like in the garage.
Best for Travel
Manual compression
Too small for storing bulky items
The Travelon bags are reusable and work with or without a vacuum to remove excess air. They are designed to press on or roll them to manually remove most of the air yourself.
But the bags do have a vacuum nozzle, so you can attach your home vacuum and suck out the air. As you compress the Travelon bags they compress to 75 percent of their original size. Each of the two bags that come in the package are big enough to hold several pieces of clothing, though neither is large or sturdy enough to store bulkier items, like comforters. They are made with PVC, a study, flexible material compared to other vacuum sealer bags, which helps it hold up to several uses, even if you use your vacuum to seal them. The Travelon Space Mates have a press-down rather than a zipper-style seal. This type of seal is easier to use and are less likely to break because there are no small parts that may pop off during sealing.
Jumbo Storage Bags
Includes a hand pump
Not suitable for smaller items
The SpaceMax Premium Jumbo Vacuum Storage Saver Space Bags come with four bags that measure 40 x 30 inches, which is plenty of room to store comforters and quilts, puffy jackets and your seasonal wardrobes out of the way.
Using your vacuum, you can suck out enough air for these bags to compress 80 percent, and the vacuum nozzle make it easy to seal without damaging the bags. These bags have a double zip seal to make them airtight, so moisture, dirt, or insects can't get in to ruin what's being stored. And these bags flatten enough to be used for traveling if you'd like to save space in your suitcase. The SpaceMax Premium jumbo bags come with a hand pump that you can take along when you travel to help repack for your journey home. And if you're not happy with them you can return them since they come with a 100 percent money-back guarantee. The only downside is they only come with the jumbo-sized bags, which can be too big for storing smaller items.
Why Trust Us?
We spent 120 hours researching vacuum sealer bags, carefully evaluating each product until we arrived at the 10 best on the market. We wanted to find 10 excellent vacuum storage bags, but did not want them all to be the same type. Instead, we searched for a variety of top-quality bags to provide a wide-ranging selection of styles that would work for homeowners, apartment dwellers, frequent travelers, people who have plenty of soft items to store but little space, anyone who might have to close a summer house or cabin, parents storing still-usable children's clothes (possibly for use as hand-me-downs) and basically anyone who wants to keep valued soft items safe and clean for later use.
Armed with a thorough background in how these bags work not only to save space, but also to preserve soft items, we checked further to see what consumers had written about particular brands.
We sought out good value: strong bags that are reusable, sets of bags, and those that would be economical and versatile. We wanted to find a range of bags that could be used for various purposes, as well as a range of price points.
How We Researched
There's a lot out there to learn about vacuum storage bags. We scoured the internet for information about vacuum sealer bags and watched user videos. We read specialized blogs and watched television shows that dealt with decluttering homes; checked out travel advice columns; read about the perils of insects, mildew and mold in articles published by home economists in county extension offices throughout the United States; and examined the vacuum sealer bags now being produced by various manufacturers.
We eliminated vacuum sealer bags that many consumers denounced as too flimsy and looked for durable plastic bags that would offer the best value in terms of use and cost.
How much do vacuum sealer bags cost?
The most economical vacuum sealer bags cost about $20 for at least six bags. You can purchase packages of 14 or more bags for over $30 and a single specialty sized bag for about $10.

What Features to Look for in Vacuum Sealer Bags?
Size
When you have big, bulky items to store, such as puffy quilts or ski parkas, it's important to have bags big enough to handle everything. Often it's best to get a set of bags with different sizes so you can organize your storage so, for example, you've got sweaters in one, bedding in another and easily folded summer clothes in another.
Durability
All plastic bags can puncture or tear, but good-quality plastic bags are less likely to break. That means the extracted air stays out of the bag, it stays nice and flat, and your closet or shelf storage area looks tidy. Even more important, the things inside the bag stay protected.
Bag Reuse
It can certainly save money and provide plenty of convenience if you can reuse vacuum sealer bags. Only the really strong bags are reusable, and they typically cost a bit more. However, being able to use a bag, empty it for a season, then reuse it once you need to put away those Christmas sweaters or summer capris is worth the investment.

What are the best bags to use for vacuum sealing food?
The bags you use for vacuum sealing food are designed to withstand the heat from the sealing process, so Ziploc-type bags won't work. They're also much smaller than the vacuum storage bags we've discussed on this page. Additionally, the inside is textured instead of smooth, allowing the air to be sucked out more efficiently and drawing the bag closer to the food to prevent spoilage.
Most manufacturers recommend using the bags specifically designed for their vacuum sealer, and most machines come with several premade bags or a roll of plastic for creating your own. We did use the bags interchangeably during our testing of the best vacuum food sealers, since not all machines came with their own bags. But we also created our own bags using the Housable Vacuum Sealer Roll, a roll of plastic specifically designed for food sealing, because we wanted to see how well a non-brand bag would work with each of the vacuum food sealers. These worked just as well as the name brand bags, and in some cases were better. Bags we made with the Housable Vacuum Sealer Roll laid flat, sealed well and didn't smudge when we wrote on them.
Related Guides:
id:1343
Related Product Reviews