There's a reason that social media has blown up with everything to do with air fryers in the last year, so if you were wondering whether to pick up a Black Friday air fryer deal, let us assure you it's a good idea!
The best air fryers offer far more than a healthy way to cook fries – in fact, an air fryer is more like a mini fan oven for your countertop, and can do so much. Even the most basic models can roast meat and vegetables, or bake a cake. But get the right attachments and you can stir up a curry or risotto, cook up eggs, make crispy tacos, or cook the perfect pizza.
If you're new to air fryers, there are a few vital considerations to make before you buy, The first being how many mouths do you have to feed and how much worktop space do you have to spare? Larger capacity fryers are good for big family meals, but will take up more room in the cabinet or on the counter.
Next, what do you want your air fryer to do? As we've said, some models are great little multi-taskers and have the ability to reheat, roast, or grill as well as fry – but you'll want to check that list of functions before you buy.
Finally, look for the extras included. Some will come with a host of accessories to up the versatility of your oven. With others, you may need to pay extra, or sadly, struggle to get hold of extras at all.
if you're short on time but your ingredients list is long, look for an air fryer with cooking rack included, which offers an extra compartment for cooking two different foods at the same time; or one with a mixing paddle, so you don't have to hover over it.
And now, here are the best deals around today...
Black Friday air fryer deals, at a glance
Our favorite Black Friday air fryer deals right now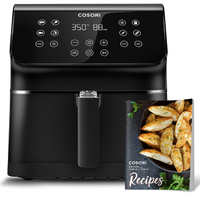 (opens in new tab)
COSORI Pro II Air Fryer Oven Combo, 5.8QT | was $129.99, now $99.98 at Amazon (opens in new tab)
Its generous capacity makes this air fryer a great choice for families. There are 10 including steak, chicken, seafood, shrimp, frozen foods, french fries, bacon, vegetables, toast and bake, and there's a handy reminder to shake your food if the recipe requires it.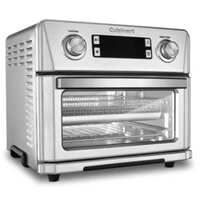 (opens in new tab)
Cuisinart CTOA-130PC2 Air Fryer/Toaster Oven (Renewed) | was $265.99, now $129.99 at Amazon (opens in new tab)
If you are happy to take the renewed route, you can get a really good air fryer for a great price. This Cuisinart model really earns its place on your countertop, since it can cook 14 ways – including AirFrying, Baking, Broiling and toasting. For small households, it could probably replace your main oven.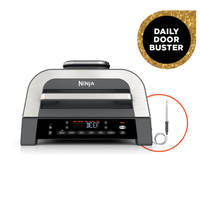 (opens in new tab)
Ninja Foodi Smart XL 6-in-1 Indoor Grill & Air Fryer | was $279.99, now $189.99 with code THURSDAY90 (opens in new tab)
For today only, you can save $90 on the excellent Foodi Smart XL, which is a great pick for meat lovers. It can grill, fry, roast, bake, dehydrate, and broil food. But it's particularly great at meat. Its Smart Cook System is designed to give great results and char depending on the protein you're cooking, and it can even cook meat from frozen.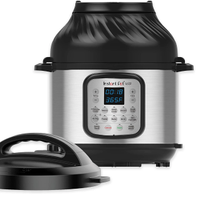 (opens in new tab)
Instant Pot Duo Crisp 11-in-1 Air Fryer and Electric Pressure Cooker Combo| was $199.99, now $129 at Amazon (opens in new tab)
The Instant Pot is a well-loved kitchen appliance—not only does it function as an air fryer, but it's also a top-quality pressure cooker. Currently, on sale for a generous $70 off, this will really help out if you're looking to speed up the cooking of Christmas dinner. Alternatively, if you like to slow cook, it does that, too!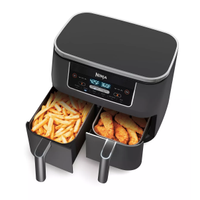 (opens in new tab)
Ninja Foodi 8qt Original Dualzone 2 Basket Air Fryer | was $199.95, now $109.95, Macy's (opens in new tab)
There are lots of deals on this dual-basket air fryer out there, but this is the best price we've found. The joy of this model is that you can cook two different things at different temperatures and with different methods at one time. you options? Air Fry, Broil, Roast, Dehydrate, Reheat and Bake.