If you need to upgrade your kitchen space, getting one of the best Black Friday refrigerator deals will save you a fistful of dollars. We've rounded all the top discounts from makes like LG, Beko, Whirlpool and more. You'll find French Door refrigerators and some of the best side-by-side refrigerators too, along with smaller apartment fridges and even some mini-fridges too.
Many Black Friday refrigerator deals include smart fridges, and this is often where you find the biggest savings (although, that's also because they're the most expensive too. These high-end models often include features like adjustable or flip-up shelving to craft ice makers and those with smartphone connectivity or viewing panels to see food from outside – you can have the very best for less.
If you're looking to swap out all the appliances in your kitchen, it's definitely worth looking at this year's Black Friday washing machine deals to help your laundry get better results too.
Refrigerator deals
Today's best cheap refrigerator deals
We're searched the web to bring you today's best cheap refrigerator deals that will make unpacking groceries and planning dinners much easier. You may be set on a French door refrigerator, or perhaps you're looking to buy a mini fridge for office-ready snacks - whatever your choice, it's always worth waiting for the best price you can find. Black Friday is also round the corner, so make sure you check back for updated offers.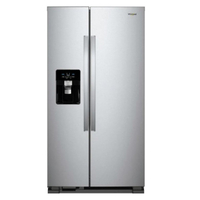 Whirlpool 25 cu. ft. Side by Side Refrigerator | was $1,619.99, now $1,299.99
With $160 knocked off this sleek Whirlpool refrigerator, this discount is a good one. Not only does this refrigerator look good with fingerprint-proof stainless steel, it's also all about organization. The refrigerator has features such as a flexible in-door can caddy and frameless glass shelves, among others.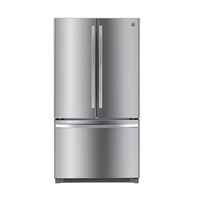 Kenmore 26.1 cu. ft. French Door Refrigerator | was $2,499.99, now $1,863.99.
If you opt for this sizable Kenmore fridge, you'll benefit from an internal ice maker and a full width pantry drawer. There's $650 off right now, so make sure to act fast if this is the one for you.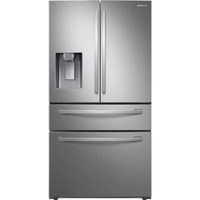 Samsung 28 cu. ft. 4-Door French Door Refrigerator | was $2,879.99, now $2,199.99
Save a massive $700 on this stunning fingerprint resistant stainless steel refrigerator that comes with Samsung's FlexZone drawer, adjustable shelves, Wi-Fi and voice controls, LED lighting and this is Energy Star certified to save you on running costs.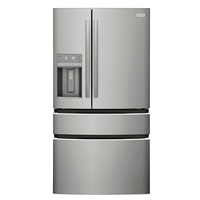 Frigidaire GRMC2273BF | was $3,149.99, now $2499.99
This French Door refrigerator from Frigidaire has an impressive capacity with custom-flex temperature drawers that work well for extra storage. It's also got an Open Access door and a water filter that makes grabbing snacks and drinks quick and simple.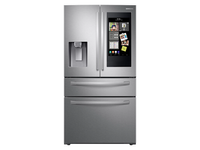 Samsung Family Hub RF28R7551SR | was $3,899.00, now $2,999.00
Configure a truly smart home with the Samsung Family Hub refrigerator that connects to other appliances in your house. Whether you want to leave your family a note on the fridge or share calendars, you can do it all on the built-in screen. It also has plenty of storage for large households.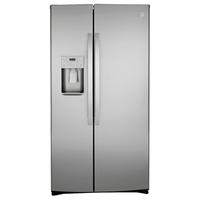 GE GSS25IYNFS | was $1,799.99, now $1,399.99
If you're looking for extra fridge and freezer space, this GE model has a significant 25 cu. ft. capacity that will house plenty of produce. Fingerprint-resistant stainless steel means it stays looking clean for longer, while the ice and water dispenser has advanced filtration that reduces trace pharmaceuticals.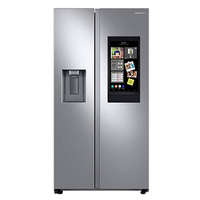 Samsung RS27T5561SR | was $2,099.99, now $1,799.99
Samsung is known for their smart home appliances, and this side-by-side refrigerator is no different. It has a 21.5 inch touch-screen family hub that can be posted on via an app, whether it's updating shopping lists or posting FYI-notes to your kids. Plus, its got a 26.7 cu. ft. capacity which is great for storing family-size groceries.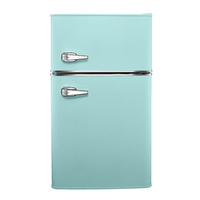 Insignia NS-CFR32MT1 Mini Fridge | was $219.99, now $179.99
If vintage is what you're looking for, then this mint green Insignia mini fridge will be the ultimate addition to your space. It has the classic silver handles that make it easy to access, whether it's below a desk or in the corner of a room. The shelves are adjustable too, so you can organize it however you want.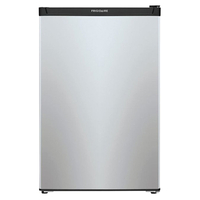 Frigidaire FFPE4533UM Mini Fridge | was $259.99, now $219.00
Complete a dorm room or apartment with this Frigidaire mini fridge that has a sleek stainless steel design. It has 4.5 cu. ft. storage capacity and two shelves, so you can easily organize groceries. It also has a reversible door which is handy for fitting in compact spaces, as it can be fastened on the left or right.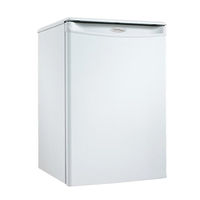 Danby DAR026A1WDD-6 Mini Fridge | was $299.99, now $230.99
Upgrade your mini fridge set up with this Danby option that has an automatic defrost setting - ideal for fuss-free use. It has 2.6 cu. ft. capacity, 3 shelves and tall bottle storage that makes it easy to fit in both snacks and drinks. It also has a scratch-resistant top that doubles as a mini stand to store small accessories.
Best value refrigerator deals
Choosing a new refrigerator can be tricky. There are lots of styles and sizes on the market which makes it hard to find exactly what will work for your space and household. We've searched high and low to bring you the best value refrigerators to help you find one that will suit your needs and budget.
These five choices are all varying types, from French door refrigerators to side-by-side models, so that you can explore the full variety. They also all have customer review ratings of 4 stars or above, offering you peace of mind that they come highly recommended.
With a huge 27.4 cubic feet capacity, this side-by-side refrigerator from Samsung has plenty of storage. Whether you enjoy batch cooking or hosting, there is ample space that will make it easy to keep all of your food fresh. The top shelf can be easily adjusted to fit taller items, providing flexible storage for different uses.
The water and ice dispenser are a great addition to this model. They make it easy to grab drinks which is ideal when entertaining. The indoor icemaker also saves sought-after shelf space for your frozen foods.
Luckily, this Samsung refrigerator has a fingerprint-resistant finish so your stainless steel appliance will look far cleaner for longer - essential if you don't have much time for household chores or have children.
Smart refrigerators are increasingly popular and for good reason. They connect to other smart home technology, such as Amazon Alexa and Google Home, so that you can control your fridge with the ease of your smartphone. This LG French Door refrigerator is a great option if you're looking to upgrade to the newest tech as it combines smart features with a large 27.9 cubic feet capacity - essential for big, busy families.
It connects to the LG ThinQ app that controls key features like the temperature and gives you notifications if you leave the door open. The app also contains ThinQ Care to keep you up to date on usage and maintenance information. This ensures your refrigerator runs at its best and can be fixed quickly. When spending a significant amount of money on a large appliance, you want peace of mind that it's built to last. This LG model is built with a linear compressor that operates more efficiently and has a 10-year limited warranty.
In terms of the organization of the fridge itself, it has a Glide N'Serve drawer with touchpad control, so you have plenty of space for large dishes when hosting and you can keep it at the optimum temperature.

This Frigidaire top-freezer refrigerator is a simple option that will work well for most households. The stainless steel design looks sleek, and despite not including smart features like other models, it offers modern appeal.
The flexible interior storage system allows you to make the most of every inch of space. It includes glass shelving, a deli drawer, and roomy door bins that mean you can fully organize the refrigerator to meet your needs. It also has a humidity-controlled crisper drawer that keeps produce fresh for longer, so you create less waste and save more money.
In busy households, organization and closing doors can often fall by the wayside, which is why Auto-Close doors are a handy feature to look out for. If the door is left ajar by 5 inches or less, this model will automatically close them, ensuring your food is kept at the right temperature. It's also Energy Star certified, offering you peace of mind that it's kind to the planet and your energy bills.
If you're looking for a vintage-inspired refrigerator to upgrade your kitchen space, then this red option from Galanz will be ideal. It has classic curved silver handles that make for easy access and a top-freezer. The freezer section is on the more compact side, but offers plenty of room for couples or small families.
This refrigerator is definitely a no-frills buy, but if you're prioritising style then it's still a great option for the price. It has an overall capacity of 10 cubic feet, along with 4 refrigerator shelves, a crisper drawer and door storage.
It's important to be energy-conscious when purchasing a new large home appliance, and luckily this refrigerator uses a 5600A high-efficiency and low-energy consumption compressor. This cools food quickly with lower energy, helping to keep your household bills lower as well as the impact on the environment. It's also low-noise, making it a great choice if you live in a smaller space or work from home in your kitchen.
French door refrigerators are a great choice for big households as they often have a large capacity and easy access, thanks to the double door opening. This choice from GE has a sleek stainless steel exterior with a fingerprint-resistant coating, making it handy for those with kids with sticky fingers.
It offers plenty of flexibility in terms of storage, with 7 refrigerator shelves that are positioned at various heights. This makes it easy to fit in larger dishes when needed, as well as organize smaller ingredients. It also has 2 humidity-controlled drawers that keep fresh produce at the right temperature so they last for longer.
The ice and water dispenser are a bonus to this refrigerator, making it super quick to get a cold glass of water. Advanced water filtration also reduces trace pharmaceuticals from water and ice, ensuring it's of better quality. And for those of us who are prone to being forgetful, a door alarm will help you ensure the fridge is always kept shut.
What to look for in a refrigerator
The best refrigerators have so many different features and come in so many styles, it can be difficult to know what exactly to look out for. Firstly, capacity should be the biggest thing to look out for. It isn't necessarily best to go for the largest capacity you can find, you should instead think about your the size of your household and your grocery shopping habits to determine how much space you need.
You'll also want to think about which style refrigerator will be best for your home. French door refrigerators generally have a larger capacity and work well for larger kitchens, whereas a side-by-side refrigerator offers a full length of freezer and fridge space.
Many refrigerators also now come with the latest smart tech. This varies from app-controlled temperature settings to complete smart home integration, so you can connect all of your appliances around your house. There are also a whole host of other features to consider such as ice and water dispensers and humidity-controlled drawers that will keep produce fresh for longer.