Not surprisingly given how many fans these unique crafting machines have, Cricut deals are hard to tack down and often sell out in a matter of days... or even hours. So, whether you've dreamed of owning a Cricut for a while, want to buy one as a gift for a loved one, or are new and curious about the Cricut creative world, you'll want to keep tabs on these latest, greatest deals on Cricut machines... and all the materials and tools that go with them.
In simplistic terms, a Cricut is a smart cutting machine that cuts shapes you could never cut by hand, and out of all sorts of materials. That list of materials grows longer the more 'advanced' a machine you choose. They work a little like our best all-in-one printers – except that rather than print, scan and copy, they cut, write and foil, and in some cases, score, engrave and emboss.
Inevitably, Cricut has developed a cult following in the crafting community, and has plenty of celebrity crafting fans. They include official Cricut endorser Zooey Deschanel, who calls her Cricut Joy "truly mindblowing". In fact, you can watch Zooey teach another famous pal how to use a Joy to print a greetings card on this clip from The Drew Barrymore Show. She loves that it's "tiny, it's really light, and you can make any kind of decal or iron on" with it. "I can't actually think of a thing you can't customize with it," she adds.
These deals ensure you won't waste a dollar on your die-cut dreams. The best Cricut deal currently available?
Best early Black Friday Cricut deals and bundles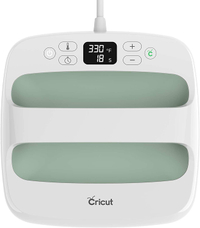 Cricut EasyPress 2 Heat Press Machine (9 x 9) | was $189 | now $99, Amazon
Bring precision to any heat-transfer projects that come your way, and cover more ground, more consistently than even the best irons. Use it on T-shirts, tote bags, pillows, aprons and more for hard-wearing, long lasting personalised fabric transfers. Auto shut-off makes it safe... and at close to half off, it's a great deal.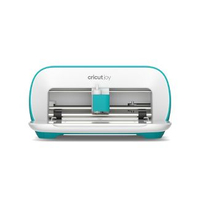 Cricut Joy Machine | was $179 | now $129, Amazon
Anyone new to the Cricut world should start here. Similarly, if you're thinking of gifting one, it's the most low-risk price point, particularly with 28% off. It works well with vinyl stickers, iron-on transfers and cardstock, so it's perfect for making cards and customising anything from water bottles to a baby's bib.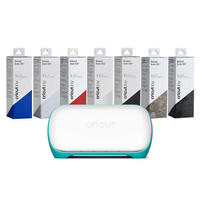 Cricut Joy + Smart Iron-On Bundle | was $235.92 | now $149.99
The ultimate gift for anyone that loves to customize clothing, this Cricut comes with seven Iron-On materials to try. Use them to create decals for sweatshirts, t-shirts, caps, wallets... even bags. The motifs are designed to last for at least 50 washes and you'll save $85.93.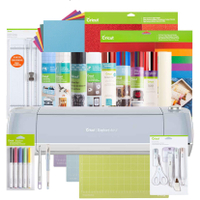 Cricut Explore Air 2, Blue + Everything Bundle | was $497.82 | now $279.99
This Explore Air 2 machine bundle lets you explore its full potential straight out of the box. The accessories are worth $250 alone, and feature iron-on samplers, various vinyls, card and poster sets, transfer tape, handy tools and three cutting mats. A great compromise – more advanced than the Joy, and more accessible than the Maker 3.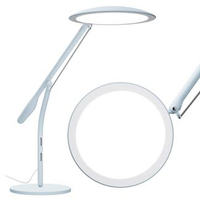 Cricut Bright 360 Ultimate LED Table Lamp | was $199.99 | now $149, Target
Shed light on all your Cricut crafting products with this branded table lamp, reduced by $50.99. It has a soft grey-blue Mist finish and will cover 4 sq ft of workspace with a head that smoothly tilts or pivots into exactly the right spot.

It has a high 95 CRI (Color Rendering Index), which essentially means you'll see colors far more accurately than with a standard lightbulb. You can also adjust brightness (up to 1500 lux) and the light's color temperature (warm to cool white) for a better visual on your crafts.
Best value Cricut machines
If you're new to Cricut printing and cutting, the Joy is the place to start. At 8.5 x 5.5 x 4.25 inches in size and under 4lb, it weighs less than a two-litre bottle of soda, and is easily stored. If you don't have a dedicated craft room, you'll still easily find space for it.
You can't do as much with the Cricut Joy as you can with the more advanced models, so it's important to ask yourself what you really see yourself using it for. The three main factors are that it can't cut the number of different materials that an Explore or Maker can, it can't work on bigger scale makes, and it's not capable of more advanced tasks, such as scoring and engraving.
If you see yourself getting hooked, or are planning to use the Cricut for your business, it may be more cost-effective to choose a more advanced machine.
And unlike its bigger siblings, the Cricut Joy relies purely on Bluetooth connectivity – the others have a USB cable option, which can be handy if your computer doesn't have Bluetooth.
However, if you are going to be happy making cards, labels and smaller decals for walls and household items, the Joy is a compact, convenient and fun option.
We have yet to fully test the Maker 3 by Cricut, so we have had to go with our impressions from a quick hands-on session, and from other users' comments.
First impressions are that this machine is fast and efficient – it can cut a small but intricate crown design from vinyl in under a minute, with no rips or mishaps. It's also a sleek design and we like the storage built in for your craft tools.
This is the largest machine in the Cricut range and you'll need a decent size tabletop to accommodate it. Having said that, though, it's quite shallow, so could easily sit on a wall shelf when not in use.
A common complaint of users is that unlike the original Maker, the Maker 3 doesn't come with any cutting mats. The machine is designed for some mat-less cutting, but you will need the mats, and indeed a rotary wheel, for certain materials, so you might prefer to find a bundle that includes these items. It also comes with the one cutting blade, so you'll need to fork out for the extra blades that unleash more of the Maker 3's capabilities.
It really does impress, however, in its performance and the sheer amount it can do. It will cut anything from delicate paper to felt to cork to plywood – and because it can cut wood, you can use it to make toys and jigsaws. It can also emboss leather, or create large vinyl signs for retail spaces.
If you're serious about crafting and intend to invest to unlock this machine's particular set of skills, the Maker 3 won't disappoint.
How does a Cricut work?
Cricut machines are controlled through an app, and connect to your device via Bluetooth, so set up doesn't even require tricksy WiFi – a boon for those that love crafting, but that are a little fearful of technology. Or that have a poor WiFi connection in their craft room.
To get started, you download the free Cricut Design Space app (there's a desktop version, for big-screen fans), where you'll be able to access thousands of design projects. This could be a die-cut thank you card, a decal for you to stick to your bedroom wall, an iron-on transfer for a t-shirt... the list is bordering on endless.
Next, connect to your Cricut via Bluetooth. If you struggle to connect, you can 'hardwire' your Cricut to your computer using the USB cable provided.
Once you've chosen your project, you add the material to the Cricut as instructed on screen, and then press a button on your phone, tablet or computer to start the machine. It will then automatically cut (or draw, or emboss, or stencil) your material for you.
As soon as the Cricut is done, an alert will pop up in the app to tell you so. You can then remove your creation from the machine.
What to know about Cricut machines
There are three main series of cutting machine in the Cricut family – the entry-level Joy, the mid-priced Explore (and Explore Air) and the advanced Maker.

There are also a variety of Presses that you can use in conjunction with your main Cricut machine to transfer your iron-on or 'fusible ink' materials onto items. The Hat Press is designed for baseball caps; the Mug Press will transfer your designs onto a mug; then there's the Easy Press series, which will do a better job than an iron of pressing motifs onto t-shirts, bedding, bags and more.
Discover more deals and best buys for the home…
Best printer deals
Cheap computer deals
Best sewing machines