Feeling stressed and sluggish? The new Fitbit Luxe wellness and activity tracker could be just the wearable you need to get moving again… and feel calmer day-to-day. As the world's best fitness tracker brand, Fitbit has long led the charge when adding wellbeing features to its wearables, with the Luxe being the culmination of the brand's wellness know-how so far.
The Luxe takes the stress detection elements of last year's Fitbit Sense and distills them into this beautiful, streamlined band that monitors your exercise, sleep, periods and stress levels. As part of the launch offer, the Luxe comes with a free six-month membership of Fitbit Premium, the brand's comprehensive online fitness program offering yoga, HITT, body strength classes and more.
The Luxe also offers skin temperature tracking (coming post-launch), HRV and SpO2 (for breathing rate and oxygen saturation), all displayed in the Fitbit Health Metrics section of the companion app.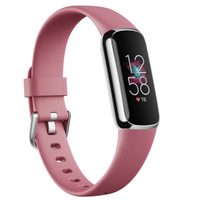 Fitbit Luxe | Pre-order now at Fitbit for $149.95
If you want a tracker to help you monitor all aspects of your fitness and wellness, the Luxe looks very good on paper. It offers activity, sleep, menstruation and stress tracking, and you can opt for a free six-month membership to Fitbit Premium.
The Fitbit Luxe, with built-in heart rate monitor, sports the same AMOLED display as the Fitbit Versa 3 and Sense, and offers five days of battery life per full charge. The one thing to note is that there are no physical buttons here, so you're dealing with touchscreen control. The stainless steel casing is also a step-up from other trackers at this price point, marking the Luxe out as a more luxury offering.
Fitbit Luxe: Price, release date and spec
The Fitbit Luxe is priced $149.95 for the standard version, or $199.99 for the sleek, Special Edition Gorjana Soft Gold Stainless Steel Parker Link Bracelet. Both are available to pre-order from Fitbit now, with shipping to begin late May.
Price $149.99
Battery life: Five days
Display: 0.76 inch AMOLED, 326 PPI
Display size: 9.672mm x 16.068mm. 0.76 inches
Width: 17.6mm
Length: 36.30 mm
Height: 10.05 mm
Colors: White, black, orchid (pink)
Fitbit Luxe: Design and features
In terms of design, the Luxe is the most stylish Fitbit band yet. The Luxe housing is pure stainless steel, while the standard band is made from silicone. The special edition device has a peony silicone band or a bracelet band.
The AMOLED color display, meanwhile, shows you your daily activity stats, with a variety of clock faces available via the app (iOS 13.3+ or Android 8.0+). The display also automatically adjusts its brightness to the environment you're wearing it in, come day or night.
If you enjoy swimming, the Luxe can safely take the plunge with you, as it's water-resistant to 50m and designed to track how long you've been swimming for. In addition to standard all-day activity tracking, the Fitbit Luxe has 20 individual exercise modes. You can select these yourself or let the SmartTrack technology automatically recognize your workout and track it, whether you're doing a treadmill workout or lifting weights with your home gym system.
If you're a person who menstruates, the Luxe also offers period tracking via the Fitbit app. There you can record the length of your period and any PMS symptoms, or what you're experiencing during a bleed. The Luxe also offers ovulation tracking, though if you already use one that works for you, we wouldn't recommend jumping ship until you are sure the Luxe is tracking your cycle accurately.
Other features include:
Sleep tracking
Guided breathing
Mindful minutes
Stress management tools (see below)
Heart rate variability (see below)
Silent alarms (no need to wake your bed buddy if you're up first)
Call, text and phone notifications
Google Fast Pair for Android users
How the new Fitbit Luxe helps you de-stress
April 2021 is Stress Awareness Month, so it's fitting that Fitbit has released its new tracker with built-in stress detection and management tools. Via the app you'll discover your own personal Stress Management Score, which aims to track any physical signs of stress in your body and score you from 1-100 in terms of how stressed you are.
This is also where the Fitbit Luxe's Heart Rate Variability feature comes into play, as this data (gathered by the tracker monitoring variations in your nightly heart rate) is used to determine if your body is showing signs of stress, fatigue and illness. But hey, this is just a wearable and is not something to be relied upon to the extent of any kind of diagnosis. So if you are unwell, or you're experiencing chronic stress, speak to your doctor and get the help you need.
To help you calm down, you'll be encouraged to take part in mindful minutes and guided breathing sessions to help you slow down, reconnect with breath, and get some of that damaging stress out of your body. Exercise that you enjoy, of course, is another way to better handle stress, along with good sleep, eating healthy foods, and being kind to yourself.
The Fitbit Luxe is available to pre-order now at Fitbit, priced $149.95 and $199.99.