The Carrier Corporation is known worldwide for its line of industrial cooling and forced air heating systems, and its residential gas furnaces provide homeowners with the same high quality. For home heating comfort, Carrier offers three product lines of gas furnaces, namely the Infinity, Performance and Comfort series. Many of its single-stage and two-stage models qualify for Energy Star ratings, and more than half of its models provide energy efficiency up to 96 percent AFUE and above.
Carrier is a leader in energy-efficient gas furnaces, with nearly half of its models qualifying for Energy Star certification. Five of the single-stage models operate at 80 percent efficiency, with select models performing from 92.1 percent to 96.7 percent AFUE. This is significant savings if your home is small and you don't want to spend much for the initial cost of the furnace.
The two-stage gas furnaces include two 80 percent models and three that function up to 96.7 percent AFUE. The majority of Carrier furnaces incorporate variable-speed blowers, reducing the amount of energy expended while transporting heat through the ventilation system. The best-performing Carrier furnaces capture more of the heat generated by burning the natural gas, delivering warmer air but burning less fuel.
Carrier offers original owners a generous warranty program with the purchase of a forced air heating system. All 80 percent AFUE models have a 20-year warranty covering the heat exchanger, while the higher-efficiency furnaces with ratings over 90 percent have a lifetime warranty. Carrier provides a 10-year warranty on parts for all its units regardless of efficiency rating. This is a great advantage for homeowners, as you will have less stress if a part fails due to defects.
The warranty transfers, with adjustments to 20 years for the heat exchanger and five years for parts, to new owners if you sell your home. As with most gas furnace manufacturers, you need to register your warranty within a set time disclosed on your warranty documentation to receive full coverage. Fortunately, you can register your newly installed Carrier gas furnaces on the Carrier website, saving you the hassle of filling out and mailing paperwork.
The Infinity 98 59MN7 is the best gas furnace Carrier has to offer. This modulating furnace is efficient up to 98.5 percent AFUE, giving you unprecedented efficiency and savings on your home heating bill. The ECM blower motor runs extremely quietly at variable speeds. This air circulator works well with your air conditioning unit, raising its efficiency and assisting with dehumidification during the muggy summer months. As expected, this top-tier model is the most expensive gas furnace in the Carrier lineup, and it's equipped with the best warranty and heat control versatility.
The Performance Carrier midrange lineup is home to quality single- and two-stage gas furnaces like the Performance 95 59TP5. This Energy Star-qualified two-stage furnace heats at up to 96.7 percent AFUE, running on a lower blower stage for nearly 90 percent of the time. These features combine nicely to reduce the amount of power and fuel needed to heat your home efficiently, resulting in lower power bills. The 59TP5 is designed with a separate air filter cabinet, making it possible to replace filters without opening the furnace itself.
Carrier offers an affordable line of single-stage furnaces with its Comfort series. The Comfort 95 59SC5 is one of the best gas furnaces of this line, operating at up to 95.5 percent AFUE heating efficiency. This is an excellent efficiency rating for a single-stage unit. The Comfort furnaces have fixed-speed blower motors, which make them run a little noisier than the two-stage Carrier furnaces, but because they cost less, the Comfort furnaces are an excellent investment for smaller homes and homeowners on a tight budget.
Carrier is a leading manufacturer of home comfort systems and has a wide range of quality, efficient gas furnaces to select from. While it has fewer modulating furnaces than other brands, its expanded lineup of energy-efficient single- and two-stage furnaces with excellent warranties make Carrier gas furnaces a reliable choice to replace your current furnace.
Need a better alternative?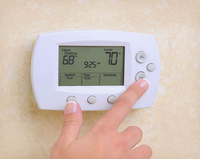 Top Ten Reviews has reviewed the Best Gas Furnaces of 2019 so that we're able to offer you the authoritative buying advice you expect.