The Sunny Health and Fitness SF-T7632 Folding Treadmill is designed to help you get your indoor exercise fix whenever you want, and is especially suited to beginners with a small budget. With a saving of $135 off in the Dick's Sporting Goods Flash Sale, you can currently buy it for $304.99 instead of $439.99. The space-saving SF-T7632 is made by one of the world's best treadmill brands for the budget market, and it's ideal for smaller homes too.
The Sunny Health and Fitness SF-T7632 also comes with plenty of great features to help you run, walk or jog at your own pace. For example, there's a clear LCD digital display so you can keep track of your speed, distance and time as you exercise. There are also some practical features including an emergency stop clip and transportation wheels to make it easier to move around your other home gym equipment.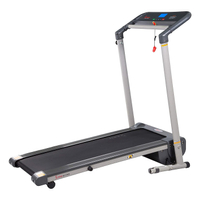 Sunny Health and Fitness SF-T7632 Treadmill | Was $439.99| Now $304.99
Get moving with this well-rated folding cardio machine, ideal if you're short on space and short on time too. With plenty of great features from a trusted brand, Sunny Health And Fitness's SF-T7632 running machine is an excellent choice for those new to exercise.
Sunny Health And Fitness, of course, also makes some of the best exercise bikes on a budget, and has a good reputation for decent and affordable cardio machines. The SF-T7632 offers the perfect solution if you're looking to fit in a fun way to exercise at home. No matter what your fitness levels, this super-convenient cardio machine comes with different speeds starting at 0.5 miles per hour all the way up to to 7 miles per hour. For a more challenging workout, use the incline feature to really work those legs.
Even though the SF-T7632 is compact and easy to store, there is still enough room on the belt (44.5 x 14 inches) for jogging, though we would recommend a bigger running surface for proper running, sprints and interval training as you need maximum leg room. Keeping tabs on your progress is simple, as the backlit LCD digital display shows you your speed and distance, as well as calories burned, much like a wrist-based fitness tracker would. For cheap devices, see our roundup of the best Amazon Prime Day Fitbit deals.
The Sunny Health And Fitness SF-T7632 also comes with some handy features that makes it easy and safe to use at home. This includes an emergency stop clip and transportation wheels, ideal for moving from your storage spot in order to unfold and use wherever you like. The convenient folding design also locks in place, so there's no danger of the machine collapsing when in use. There are also non-slip handles, so you can feel steady and secure as you work out.