Arranging auto finance for a new vehicle is nowhere near as complex and time consuming as in years gone by, yet it's not something to be entered into without careful thought neither.
If you're out browsing the car showrooms, sometimes the best auto loan can be arranged through the dealer right there and then, leaving you to drive away in a new car that will hopefully mean you won't need to call on the best roadside assistance services any time soon.
However, when it comes to car finance, you're usually well advised to consider all the options on the market first. This means comparing the various auto loan providers and working out which finance package fits with your budget and also your credit score. As most car loan companies can provide a clear indication of the rate you can expect to pay, and therefore the monthly payments that you'll need to meet, without making a hard inquiry credit check, there are few excuses for not securing the best finance plan for you.
Costs and budgets
Obviously, it's important to think carefully about what you can afford and the loan terms that you require before buying any car. If you need to keep your monthly payments low, a longer term is usually best. However, as with the best personal loans online, longer terms also usually come with higher rates of interest rates - this means they tend to cost you more overall than a shorter-term loan where your payments might be higher, but your debt will be cleared quicker. So if you have a rough idea of the most you're able to pay back each month, you'll definitely be able to make a more informed choice about the type of car you can afford and which loan service providers are available to you.
Remember, however, that not all service providers are the same - interest rates and loan terms can vary widely depending on where you look. If you have a high credit score, this should always work in your favor, and allow you to choose from the best APRs and terms around. Of course, a low credit score can have the opposite effect, and will usually see you offered higher interest rates and maybe less favorable terms. But don't despair if your credit score is not as good as it could be - it can often be easily improved using the best credit repair services and there's plenty of ways to build your credit score over time, such as paying your debts on time.
Shop around and be prepared
Regardless of what you can afford and your credit score, shopping around for an auto loan is always a must. You should think carefully about the type of loan provider you might like to use too.
Use a bank for your finance and reputation, reach and security will usually be the order of the day - you can put all your financial eggs into the one basket too, making your admin far quicker and easier. Each bank will have its own strengths - and maybe weaknesses - too, with someone like the Bank of America renowned for getting auto loans approved quickly, and U.S. Bank a better option if the car you're buying is second hand (if you are buying a used car, you'll want to consider the best extended car warranties too).
Credit unions - like Alliant Credit Union - are an excellent option for auto loans too, usually offering great APRs and fast turnaround times. And then there is the finance that can usually be sourced from the car dealer themselves as well - this is often the most convenient option, but usually better rates can be found elsewhere. Digital platforms are immensely popular too, but they can be risky. You will want to ensure that they're accredited, trusted and have some form of reputation before you hand your credit and loan over to them.
Applying for an auto loan
When applying for your loan, you will also need to prepare some paperwork in advance of sealing the deal. The following items are essential when you start the process:
Proof of residence such as a utility bill, bank statement or credit card statement
Proof of income such as a bank statement
Proof of insurance that you can get from your insurer ahead of time
Proof of identity with a photo ID and a proof of residence bill
Documentation of your existing vehicle if you're trading it in.
Choosing the right loan
When you've got in all your quotes from your different service providers it's time to assess each company on the following criteria:
The interest rate – always check and see if you can get a better APR for your credit and vehicle
The terms of the loan – aim for as short a payment term as possible to reduce the overall cost of the vehicle
Prepayment penalties and hidden fees – always ask what fees you'll be expected to pay throughout the process and on application, and make sure that you won't be penalised for paying off your vehicle early
The total cost of the loan – this includes the interest, fees and any hidden extras. This is the full amount that you'll be paying so make sure you understand what's made the amount add up
Customer service and accessibility – if there's a problem, you want to know that there's a way of resolving it before it hits your credit score.
If you take the time to find out all you can about your auto loan, then you'll always put yourself in the best position to pay it off. You may think that those few percentage points on your APR aren't worth worrying about, but they do add up... and it's always worth getting the right loan with the right company, especially when it comes to the amount of money you could save.
Best Value: Lending Tree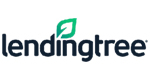 Compare auto loans at LendingTree
LendingTree is an online marketplace where auto loan providers will come to you with the lowest interest rates and best terms that they can offer.